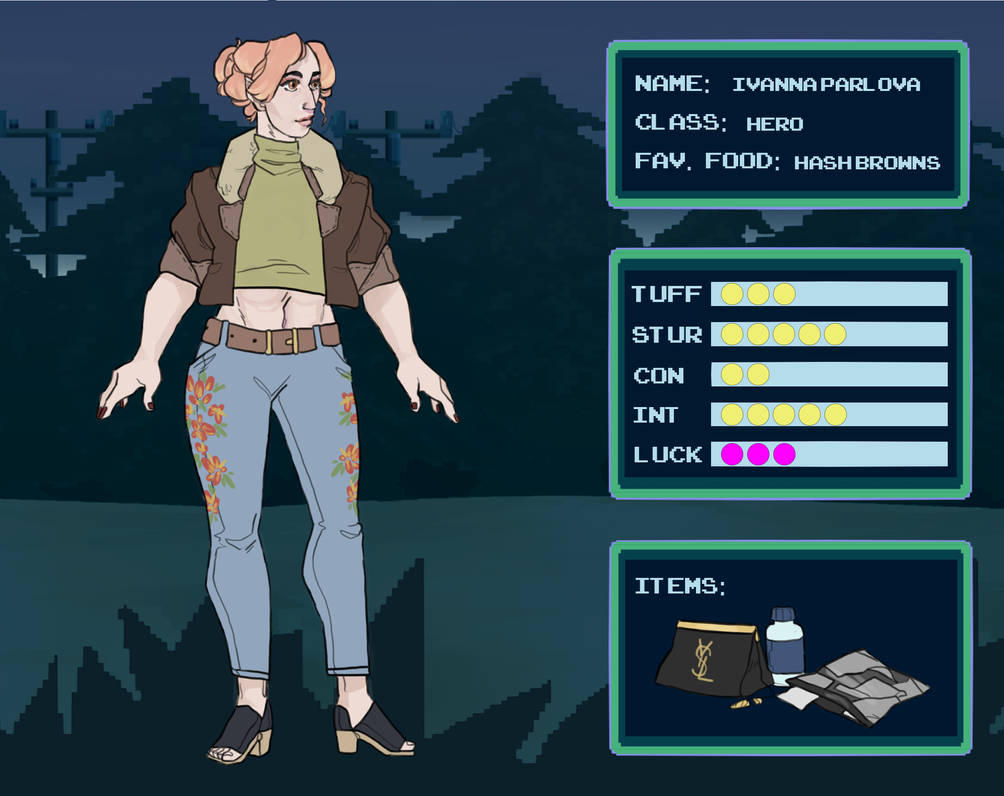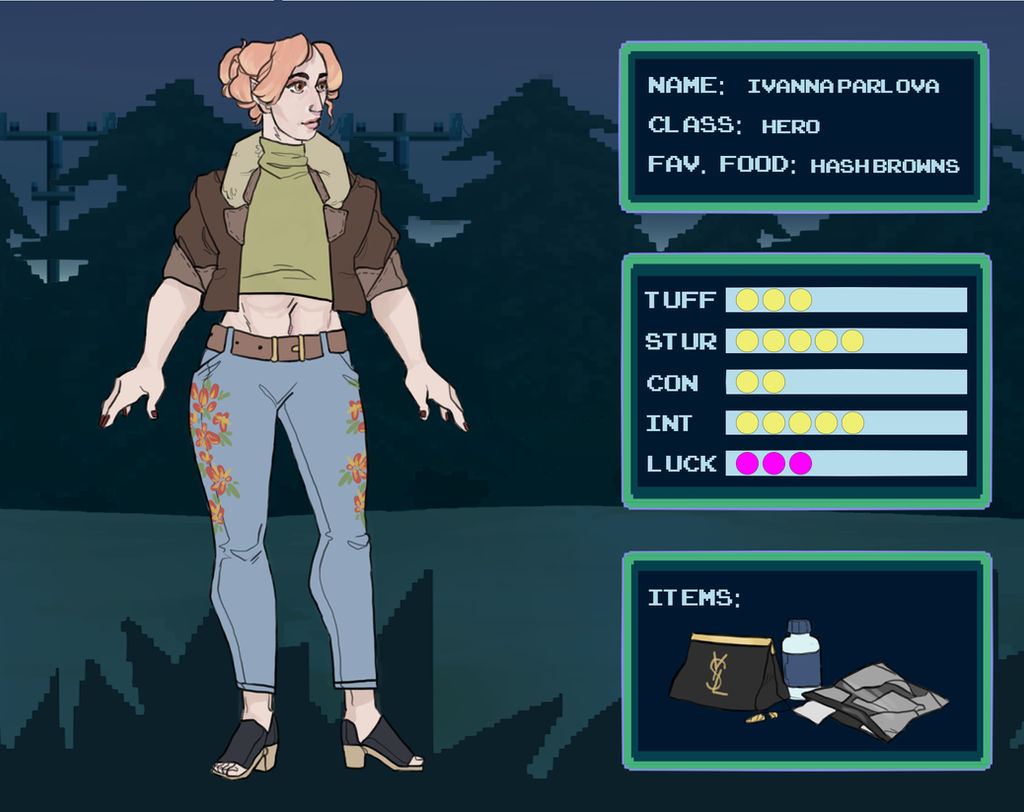 Watch
Name: Ivanna Parlova
Class: Hero
Favorite Food: Hashbrowns
Items:
Traveling make up kit
Pouch of Receipts
Bottle of Advil
Weapon: Sig Sauer P227 Nitron - A regulation pistol
Stats
Tuff: OOO
Stur: OOOOO
Con: OO
Int: OOOOO
Luck: ( OOO )
Abilities:
Shift: While still getting the hang of it, Ivanna can shift into a full wolf form
Hyper Sense: She can see, hear and smell better than humans. This also gives her a 'spidey sense' and a better than average intuition
Age: 26

Gender: Female
Race: Recently turned Werewolf
Ethnicity: Ashkenazi Jewish/ White
Height: 5'3"
Job: Police Officer
Sexual Orientation: Heterosexual
Shipping: Hell Yeah
Personality:
(+) Honest, Hard-working, Deliberate, Patient, Kind
( - ) Self Conscious, Judgmental, Easily riled
Background:
The Ukraine:
Ivanna was born in a Ukrainian farm just outside of the small village of Subotiv. She grew up working hard to help her family, which consisted of herself, her parents, and her grandmother.
She had dreams of moving to America, a dream her grandmother helped her save for by storing money in a tin can and hiding it under the floor boards so her parents wouldn't discover her secret funds, as they wanted her to stay.
When she was seventeen, a mysterious fire engulfed the farm house in flames, killing her parents and severely burning her grandmother, who told Ivanna to go back to the burned down house and dig for the money so she can finally move to America.
She had to sneak onto the land at night, to avoid being stopped by the investigators, and as she dug through the rubble, a beast charged and attacked her, catching a bite of her thigh before she reached for a sickle that survived the fire and beheaded it.
The bite would scar over, and would change her forever in her adult life.
Brooklyn:
Ivanna endured many hardships in her first years in America. She had emigrated to Brooklyn, as there was a good amount of Ukrainian people living there. Her accent is still as thick as when she first moved.
She studied criminology for two years at a community college and then entered the academy. Brooklyn is where she learned about America and how to be an American.
Indieville:
[LOCKED]
Likes/Dislikes
+ Alcohol
+ Makeup
+ Designer Brands
+ Cats
+ Working
- Modern Art
- YA Novels
- Being Judged by her looks
- Misogyny
- Laziness and Dishonesty
Trivia:
-Iva likes expensive brands but only when she buys them herself
-She is incredibly difficult to shop for
-Her accent is very thick and she often forgets or mixes up English words
-she becomes easily attached romantically to people and has had a string of boyfriends before moving