We the group

has introduced a new segment named " Artist of the Month" where we get up, close and personal with an artist, discussing about their artistic journey and most importantly what made them an "Artist".
So without further ado, let's welcome our first artist on spotlight, our very lovely

She's a talented artist from Ukraine with her own distinctive style of art and whose contribution to DA community is incomparable.
1. Could you tell us a bit about yourself and how you got started as an artist?
I live in Ukraine, I'm married and I have two daughters. I'm an engineer and a logistician, but I left my work 9 years ago when my youngest daughter was born. So, I was a dedicated housewife, when by chance I exploredthe world of photomanipulation 4 years ago. It happened when my husband asked me to make a couple of collages for his work. At that time I had an iPad mini, and I used Bazaart (a pretty simple app for IOS) to make those collages. This process so captivated me, that I can't stop to this day LOL. My first manips were quite simple, but my imagination just gushed, I could create 4-5 manips in a day! Sometimes I miss that time. Well, that's how I became an artist.


Except for a short period last year, when I tried to make friends with Photoshop, I create all manipulations on my iPad 9,7" just with my fingers. Now I use Affinity Photo for iPad, a fantastic app, almost as good as Photoshop.

2. Can you show us any particular piece of art as your favourite and any reason behind creating that art?

I would say it's Booksburg, my last Daily Deviation


Books always were my passion and the idea of a book city was the first one that came into my mind.
I created it for the contest, where you had to imagine how the world of your fantasies became a reality. This work is my favorite and am really proud of it as I invested a lot of my efforts and time into it and that was a very rare case when I was absolutely satisfied with the result.

3. If you could collaborate with any artist from the past who would it be and why?

I think this could be Rene Magritte. Why? Because men in bowler hats are my weakness LOL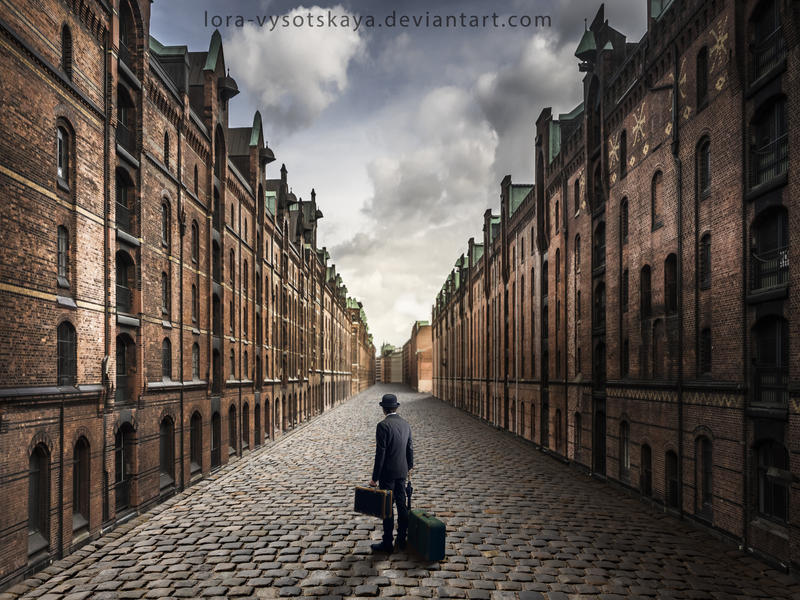 4. Are there any specific theme you aim to present/convey in your work?

Well, in my opinion this isn't about a theme but an object. It's actually about us, people in a way has always fascinated me. Their emotions, thoughts and actions. I can't create landscapes, for example (btw, Booksburg is a rare exception), but models are almost in every of my work.
And I always aim to create beautiful things and to avoid any unpleasing details, even if it's something dark.


I think art must give just positive emotions and a sense of beauty. It shouldn't be abhorred in any case
5. What artwork/project can we look forward to from you in the future?
I feel lack of inspiration lately and I'm afraid of promising something, but I have some idea of creating an unusual octopus (I can't say more

).
6. What makes your art stand out from the DA artist?
I think my profession is reflected on my creativity. As a logistcian, I love order and logic, I don't like to clutter up space with extra details, almost every element in my manipulations must "speak" and strengthen a general idea. I don't use a lot of textures and effects, if it isn't necessary.
You will not find any piece a la "a-girl-in-a-forest" style among my works.
I put meaning in every art work and I love to come up with interesting and unconventional titles for them, especially if they sound like a play on words