Hot off the presses! Heroes & Villains preview!
Well, not literally presses, but you know what we mean! Square Enix has decided to release the next two sets of exclusive game Concept Art a little early. The first set of concept art boards gave you a glimpse into the Developer's creation process for the awesome backgrounds in the game, "The World Ends with You".
And now we are giving you a preview of the next set of Concept Art, where we can see how the Developers came up with the heroes and villains of "The World Ends with You." We've taken some of the highlights of the developer's insights and posted them here… for more information about specific storyboards, click on the thumbs!
Slide 4. Character Design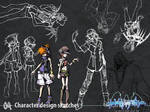 1. Is there a particular connection between each character's outfit and their personality?
Nomura-san:
I tried to exaggerate each character's image according to the essence of his/her personality.
Slide 5. "Joshua" Pose Digitization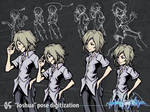 .1. What physical feature is most important in conveying a character's mood or emotions?
Kobayashi-san:
There are many body parts that are important in conveying mood or emotion, but I personally focus on the eyes and mouth. They are the parts that reveal the most subtle changes in a person's mood, so I keep revising until I am pleased with what I have drawn.
Slide 6. NPC Design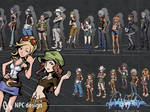 1. What other games have you designed for?
Kobayashi-san:
I was in charge of character design for Musashi: Samurai Legend and Mario Hoops 3-on-3, which was developed in Osaka.
Coming soon: How Square Enix makes Noise!