Make some noise!
Square Enix has released the next set of exclusive game concept art ! The first set gave you a glimpse into the developer's creation process for the awesome backgrounds and the second set allowed you to see how the developers came up with the heroes and villains of
The World Ends with You
Now with the third set release you are invited to see how the developers make noise!
We've taken some of the highlights of the developer's insights and posted them here but for more information about specific storyboards, click on the thumbs!
Slide 7: Noise tattoo design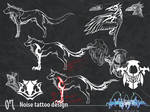 1. Why did you choose animal skeletons to define the tattoo shapes?
Hasegawa-san:
Artwork in this title is not based on polygons, and I was looking for an art form that can be expressed effectively in two dimensions. I came up with the tattoo style as a solution because it is meant for a flat surface. I used animals' bone structures to let the tattoo designs stand out from the overall silhouette. Also, I personally like the skeletal shapes.
Slide 8: Noise design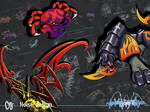 1. What was the general concept behind the tribal designs?
Hasegawa-san:
The tribal designs are meant to describe monsters that are different from the animals they are based on, existing between the real world and the two-dimensional game world. 
Slide 9: Noise animation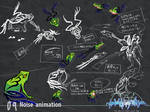 1. Is there any difference between animating for game systems and for television/film?
Hasegawa-san: We did not use any special animation software, instead relying on traditional pen and paper. We decided on the general animation direction in the planning stage before creating each series of frames. After manually preparing each frame, we digitized the artwork.