Psych!
Square Enix has released
a bonus
set of exclusive game concept art ! The first set gave you a glimpse into the developer's creation process for the awesome backgrounds, the second allowed you to see how the developers came up with the heroes and villains and the third showed you how they made Noise for
The World Ends with You.
This surprise bonus release includes aspects of Psych and Pin design!
Enjoy!!
Slide 10: Initial " Psych" concepts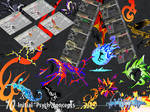 Hasegawa-san:
We arrived at the concept of " Psych abilities " to express the intuitive stylus control in battle. The board you see is from the original concept proposal. With the premise that Psych reflects a character's personality, and since his characterization includes an interest in graffiti, we represented Neku's Psych abilities in a graffiti style.
Slide 11: Psych and Pin digitization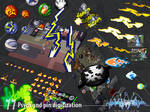 Hasegawa-san:
The above board shows how we realized the graffiti-style artwork in-game. We chose to use Pins as the source of Psych ability, since they fit the Shibuya style. We also saw the collection factor as important, exploring designs that are visible at the limited 26dpi resolution.
Slide 12: Brand logo and Pin designs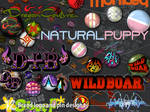 Hasegawa-san:
Some Pins carry associations with fictional brands that we created for the game. The same Psych ability can have different effects depending on its brand. We tried to keep the style of each brand consistent so that players could easily tell which brand a Pin is a part of. That way, players can easily collect and use the Pins within their favorite brands.
The World Ends with You
is
In Stores Now!!!