Square Enix has generously provided deviantART with the exclusive rights to distribute Concept Art Boards demonstrating the creative process used in their new game for the Nintendo DS
The World Ends with You
. Haven't you always wondered, "How did they come up with that?!" These boards can hopefully answer that question.
And now for the first installment of these Concept Art boards. We've taken some of the highlights of the developer's insights and posted them here… for more information about specific storyboards, click on the thumbs!
Slide 1: Initial Background Concepts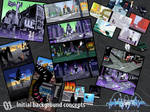 What do the four center panels demonstrate?
We explored colors and moods with game elements such as enemies as well as differentiation of the RG (real ground) and the UG (underground) worlds.
Slide 2: Background Angle Tests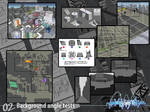 What is the significance of the angled backdrops?
In designing for this title, we kept the game's main concepts in mind:
- Shedding the conventional on-screen presentation
- A worldview grounded in Japanese urban culture
We over-exaggerated perspectives in order to preserve the unconventional style that the game is based on. For example, we displayed the "104" building and the poster large and extremely angled, so that it would look massive and eye-catching.
The "104" building was drawn in exaggerated perspectives, as if it is falling onto the town. We hoped to depict this tall lanky landmark in the horizontal DS screen by using this bold expression. The design centered on the iron bars in the entrance, rather than the building as a whole.
Slide 3: 104 Building Design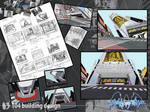 Could you explain the reasons behind the locations that were chosen?
We were originally planning to use all of Greater Tokyo to create a variety of battles and scenery. We eventually settled on Shibuya where we can best explore the iconic elements of contemporary Tokyo, such as fashion and subculture. We believed we could express those concepts with better focus by limiting the setting to Shibuya.
These Concept Art Boards are unique in that they were created specifically for challenging YOU to create your own backgrounds, dream up new heroes or villains using your awesome skills as a traditional or digital artist to show the development team just what you've got!
Are you up to the challenge? If so
click here
Check back soon for more installments featuring hero and villain creation!!

Why? Why did you end four years ago, contest? If I submitted this to Square Enix and the guys who created these epic awesome games saw my shit...
...Well, it wouldn't be like this crappy scribble. But the drawing has a double meaning, which should be easier to guess if you've played the "Game". (Hint- CAT is capitalized, Square Enix is my main inspiration, I like "connecting" things to each other...)
Go Square CAT, take over the world!