Description
Inktober 2019 #3 Theme: Goddesses of Mythology
"Laufey or Nál is a figure from Norse mythology and the mother of Loki. Eddic poetry refers to Loki by the matronym, Loki Laufeyjarson (Old Norse 'Loki Laufey's son'), rather than with a patronymic. She also is identified as the consort of Fárbauti."
I realize that I'm cheating on every single one of these, lol. I couldn't help but splash the orange in there to accent the leaves. Anyway, this one was a bunch of fun. Drop by
the poll
to suggest more goddesses for me to do, since I'm pulling these from there mostly.
Other Stuff: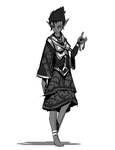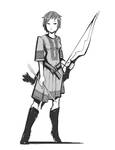 www.WestlyLaFleur.com


ArtStation

Discord

Facebook

Instagram

Patreon

Pinterest

Reddit
Tumblr

Twitch

Twitter

YouTube
Image details
Image size
2550x3300px 1.26 MB