Our new event, read everything SO you DO not make ANY mistakes.
This event is a tribute to the fantastic works of Georges Méliès.





---
Georges Méliès

Was a French illusionist and film director who led many technical and narrative developments in the earliest days of cinema. Méliès was an especially prolific innovator in the use of special effects, popularizing such techniques as substitution splices, multiple exposures, time-lapse photography, dissolves, and hand-painted color. He was also one of the first filmmakers to use storyboards.



1888–1923
---
We'll give two movies to inspire you, choose one of the themes below:
Theme 1:

A Trip to the Moon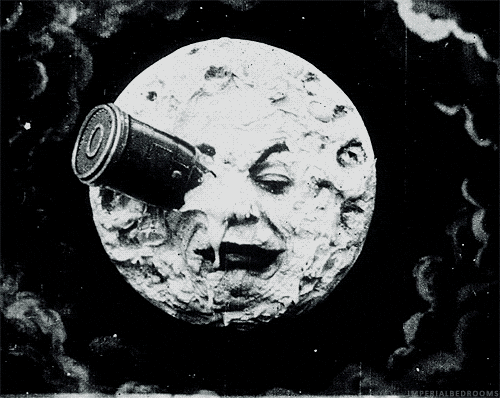 The film follows a group of astronomers who travel to the Moon in a cannon-propelled capsule, explore the Moon's surface, escape from an underground group of Selenites (lunar inhabitants), and return to Earth with a captive Selenite.


The moment in which the capsule lands in the Moon's eye remains one of the most iconic and frequently referenced images in the history of cinema. It is widely regarded as the earliest example of the science fiction film genre and, more generally, as one of the most influential films in cinema history.

This film is full of surreal scenarios literally from another planet, you can represent in your entry some of these scenes.
---
Theme 2: The Kingdom of the fairies
Kingdom of the Fairies is a 1903 French silent film directed by Georges Méliès.


While most of the film was shot indoors, the nuptial cortege scene near the end was filmed outdoors in Méliès's garden, with a real horse. Special effects in the film were created with stage machinery, rolling panoramas, miniature models, pyrotechnics, substitution splices, superimpositions, and dissolves.
Every frame of this film is an inspirational piece of art, this film is full of incredible underwater scenes with giant octopus, shipwreck, goddesses... etc.
---
More information about the theme:
You can represent any scene from both of the above movies, this image below is from the movie The Invention of Hugo Cabret, which can inspire you.
The scene below represents the movie
''Kingdom of the Fairies'' (theme 2).

- You can represent a specific scene, some of the characters or just the concept of the scenario.
- You can create a manipulation with a theatrical style or something realistic.

- Say in the description which movie inspired you, if you want you can put a print screen of the scene that you represented.
- It does not have to look exactly the same, probably will be difficult to find similar stocks, so you can just create something inspired by some of these movies.

---
Categories
As always our Big events, the competitors' entries are divided by levels, such as Advanced, Intermediate and Beginner. In this way everyone can participate and have a fair chance to win.

To be fairer, the founders of the group
Wesley-Souza
and
Whendell
(
and with the opinion of other jurors)
will decide which category you will enter, why? In past events members have sent their entries to the wrong categories, beginners submited into advanced for example, so this artist will not have a fair chance to compete with advanced skills artists.
Then will have only one folder for you submit, and we will tell you in which category you will be judged.
Amount of winners
3 winners ( 1º , 2º and 3º place) in each category, total: 9.

---
Rules:
- Credit All stock use.
- All stock and resources must come from legitimate sources.
- Artwork must be created specifically for this contest.
- All entries must include a link to this journal in the description.
Example: My Entry for the The Magic of Melies Contest at The-Imaginarium.



-
You
can enter
up to two
entries
per member,
but only one can receive award.
- We accept only
Photomanipulation
and
Mixed Media
.
- No D.A watermark,
just
your little
signature. A Trip to the Moon
---
Kingdom of the Fairies
D

eadline

New deadline: 9st June.
Where to submit
We
will
move
your entry
to the right
folder category
(
advanced,
intermediate
,
beginner)
.
---
Community votes

The same method of voting of the short challenge (link)

-
All the entries will to go to the public vote.

We'll inform better about this at the end of the contest, when the voting starts.

---
Prizes
1° Place :

- 2.725

+ more prizes.
2° Place
- 2.002

+ more prizes.
3° Place
- 1.050

+ more prizes.
See
the full list of
prizes
here: Full list of Prizes



Welcome to donate prizes, you can donate whatever you want.
---
Note the group if you need help or have further questions.
---