..
Okay...so...I'll try to keep this simple @_@; I lowered some prices a bit from the con xD
[(very)LIMITED Shippuden Naruto and Sasuke poster]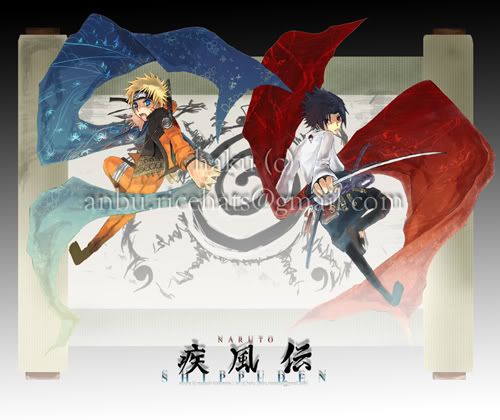 </a>

+SIZE: Aprrox 16x20 in
+TYPE: Glossy paper
+PRICE: $15.00 USD

SOLD OUT!
[Individual
Naruto and Sasuke
Shippuden prints]
+SIZE: 8x10 in each
+TYPE: Matte light cardstock each
+PRICE: $6.00 USD each, both for $10.00 USD
Update: Restocked prints!
[AIR GEAR Akito/Agito print]



+SIZE: around 8.5x12 in
+TYPE: Matte light cardstock
+PRICE: $6.00 USD

THIS SIZE IS SOLD OUT, however, I am selling an 11x17 in one for 10$!
[GINTAMA STICKERS]
+SIZE: each sticker is about 1x3 in
+TYPE computer sticker paper xDD
+PRICE: $5.00 USD for all 6 character stickers (since its pointless to sell 50 cents each online lol)
[OURAN HOST CLUB pins]
UPDATE: My button maker just came, so now I'll be re-stocking these as well :]
+SIZE: 1.5 in each
+PRICE: $1.50 each, $6.00 USD for all
[DEATH NOTE BOOKMARKS]
+SIZE: 2x5.5 in each
+TYPE: Matte heavy cardstock
+PRICE: $1.50 each
L IS SOLD OUT
[NARUTO TEAM 7 POSTCARD]
+SIZE: 6x9 in
+TYPE: Matte heavy cardstock
+PRICE: $4.00 USD each
[SASUNARU PRINT]
(i restocked on these for AX 07 so i have some leftovers xD; )
+SIZE: 9x12 in
+TYPE: Matte light cardstock
+PRICE: $6.00 USD
[ItaSasu Naruto fanbook PORCELAIN]
(yep i still have copies xD)
+PRICE: $5.00 (now lowered, last sale)
+TYPE: stapled-bound
+PAGES: 23
If you like to order and purchase any of these online, PLEASE NOTE ME ON DEVIANTART with this following form filled out:
+NAME: (must be legal name!)
+THINGS YOUR PURCHASING: (please tell me SPECIFICALLY which ones! Like if you are ONLY buying the L bookmark, or ONLY buying one pin, etc etc.)
+YOUR PRICE TOTAL: (it'll help me alot but i'll still go over the final prices xD)
+YOUR MAILING ADDRESS:
+YOUR METHOD OF PAYMENT ***
***
I ACCEPT THESE FORMS OF PAYMENT
-Paypal (preferred) send to anbu.ricehats@gmail.com
-Mail money order
-Cash
-Check (ONLY IF ITS ABOVE $20.00 USD)
I FORGOT TO INCLUDE!! @_@
Shipping and Handeling prices!!!
+PLEASE ADD $3.50 USD to your order if you live in USA
+ADD $5.00+ (depends where) if you live in a country OUSIDE OF US
[SPECIAL DEAL!!!!!!!!!!!!!!! lol xD]
-If your final price estimates to $10.00 USD or more, you will recieve a free bookmark with an original sketch on it drawn by me~ ANYTHING YOU REQUEST ON THE BOOKMARK SKETCH!!! XDD
okay uuuuuuuuh.......i hope i covered everything! If you have any questions, feel free to ask!
oh and i forgot...uh...NOT ACCEPTING COMMISSIONS FOR A WHILE! I still need to finish some T________T;