English/Inglês
-I
am a crazy dragon I do not have much to say about me.
I'm from Brazil and I live in a small town in the state of São Paulo, I do not speak English
I live in Brazil and i only speak Portuguese, I always wanted to learn English but I really am too stupid and
I can not learn this language so easy, I like anime, video games, i am a huge fan of Kingdom hearts series
and I love FPS games and especially those containing zombies and among other things, about my fursona, he is a white dragon who wears a purple bow on the left horn, and he is not female! is a male dragon! he is a femboy most often, he usually wears a collar
when his master this around, he is a pet faithful to his bear master and i dont like it when people use my fursona in drawings without my permission, specificaly people i dont know except close friends, so please keep from making any surprise drawings.
Portuguese/Português
-E
u sou um dragão louco Eu não tenho muito a dizer sobre mim.
Eu sou do Brasil e moro em uma pequena cidade no estado de São Paulo, eu não falo inglês
Eu moro no Brasil e eu só falo português, eu sempre quis aprender Inglês, mas eu realmente sou muito estúpido e
Eu não posso aprender esta linguagem tão fácil, eu gosto de anime, jogos de vídeo, eu sou um grande fã da série Kingdom Hearts
E eu adoro jogos FPS e especialmente aqueles que contêm zumbis e entre outras coisas, sobre a minha fursona, ele é um dragão branco que usa um arco roxo no chifre esquerdo, e ele não é do sexo feminino! É um dragão masculino! Ele é um femboy mais frequentemente, ele costuma usar um colar, Quando o seu mestre este ao redor, ele é um animal de estimação fiel ao seu mestre de urso e eu não gosto quando as pessoas usam minha fursona em desenhos sem minha permissão, especificamente as pessoas que eu não sei, exceto amigos próximos, por favor, mantenha de fazer qualquer surpresa desenhos.
--------------------------------------------------------------------

Partner in crime


--------------------------------------------------------------------




--------------------------------------------------------------------


Nintendo 3DS Friend Code


--------------------------------------------------------------------



My 3DS Friend Code: 4639-9029-8194
--------------------------------------------------------------------

My accounts on other sites


--------------------------------------------------------------------
DeviantART: Wellek.deviantart.com
FurAffinity: furaffinity.net/user/Wellek/
YouTube: youtube.com/user/WhiteDragonlv99
Twitter: twitter.com/#!/WellekDragon
Formspring: formspring.me/Wellek
Tumblr: Wellek.tumblr.com/
Livestream: livestream.com/Wellek
Orkut: orkut.com.br/Main
#Profile
?uid=15598641318496704105
MySpace: myspace.com/Wellek
F-List: f-list.net/c/wellek
Facebook: facebook.com/WellekTheWhiteDragon
Steam: Wellek
Skype: Wellek-Dragon
--------------------------------------------------------------------


Reference sheet of my Fursona - Main character


--------------------------------------------------------------------
- 2014 Update -> New reference sheet! -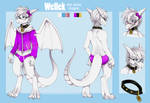 - 2012 Old reference sheet! -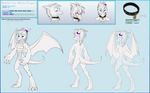 ---


















:thumb318844164: