EDIT: I WON!
The pin will be turned into a real one, and I'll get one to keep.





I'm so excited..! AAAAA


* * * * * * * *

Every year the Wisby Medieval Week hold a competition for the design of the annual pin.
This year I actually entered. My first ever attempt at Vector art/computer graphics. Eeeek!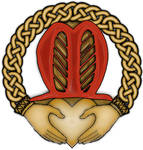 My motivation to my design is the love and devotion within the event. There are so many who connect and interweave for life, be it friends, comrades, colleagues or lovers. So I took my inspiration from the Claddagh-ring, having the medieval week "M" crown the heart. The Claddagh also hail from the roman "Fede"-rings, two hands holding eachother, a sign of loyalty and friendship.

If I win, this will be turned into metal pins with red enamel.. Aaaaa! *crossing fingers*
PLEASE vote for me. Number 3, looking like the posted picture.

sv.surveymonkey.com/r/Pin2020_…