Swan themed masquerade ball gown in a silvery white jacquard over crincled faux silk fabric, guipure lace, rhinestones, feather shape cut tulle mesh and cruelty free feathers.
Made for my original character, Mercuria.
Undergarments, skirts, gown, collar and headdress by me.
Made for a larp with a ball themed "magical animals". I went all in with the "turning into a swan"-trope.
Hoping to get a better image of the gown soon, photographing something white and shimmering silver is hard in a lowlight setting, hence the black and white photo.
Also, there's a lot of fine detailing on the gown that doesn't get justice in this photo.
Detail on the hip: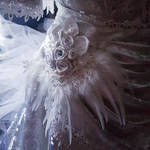 Image size
4000x6000px 11.93 MB
IMAGE DETAILS
Shutter Speed
10/600 second
Date Taken
Jan 10, 2017, 9:32:51 PM