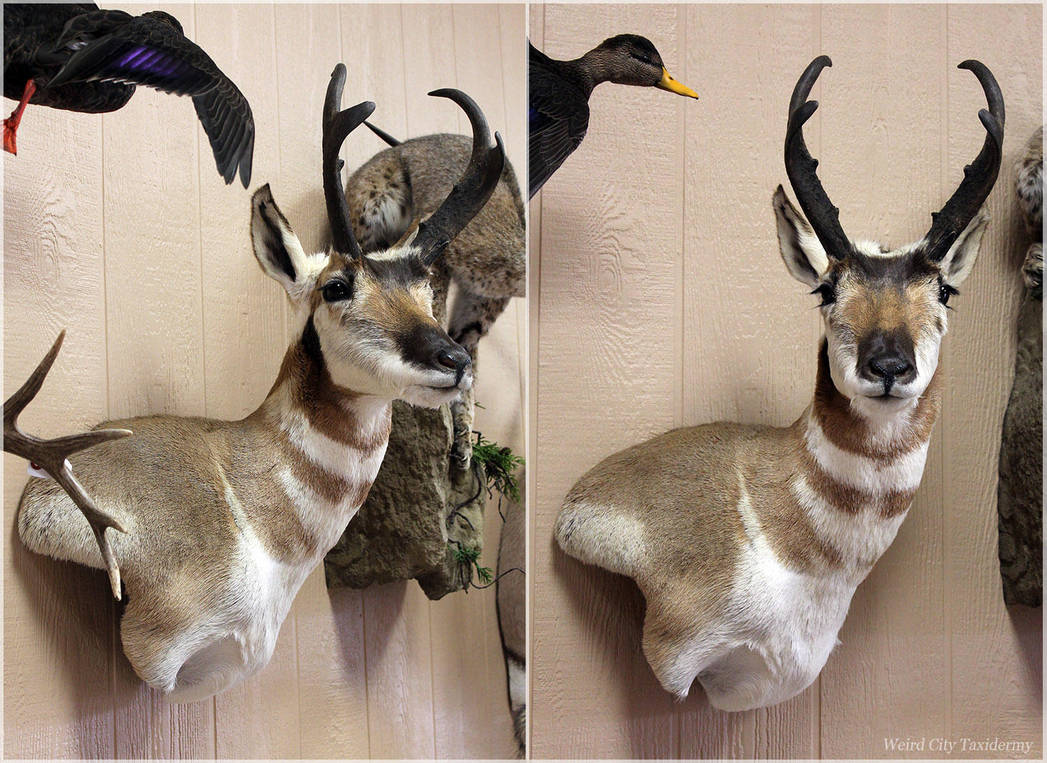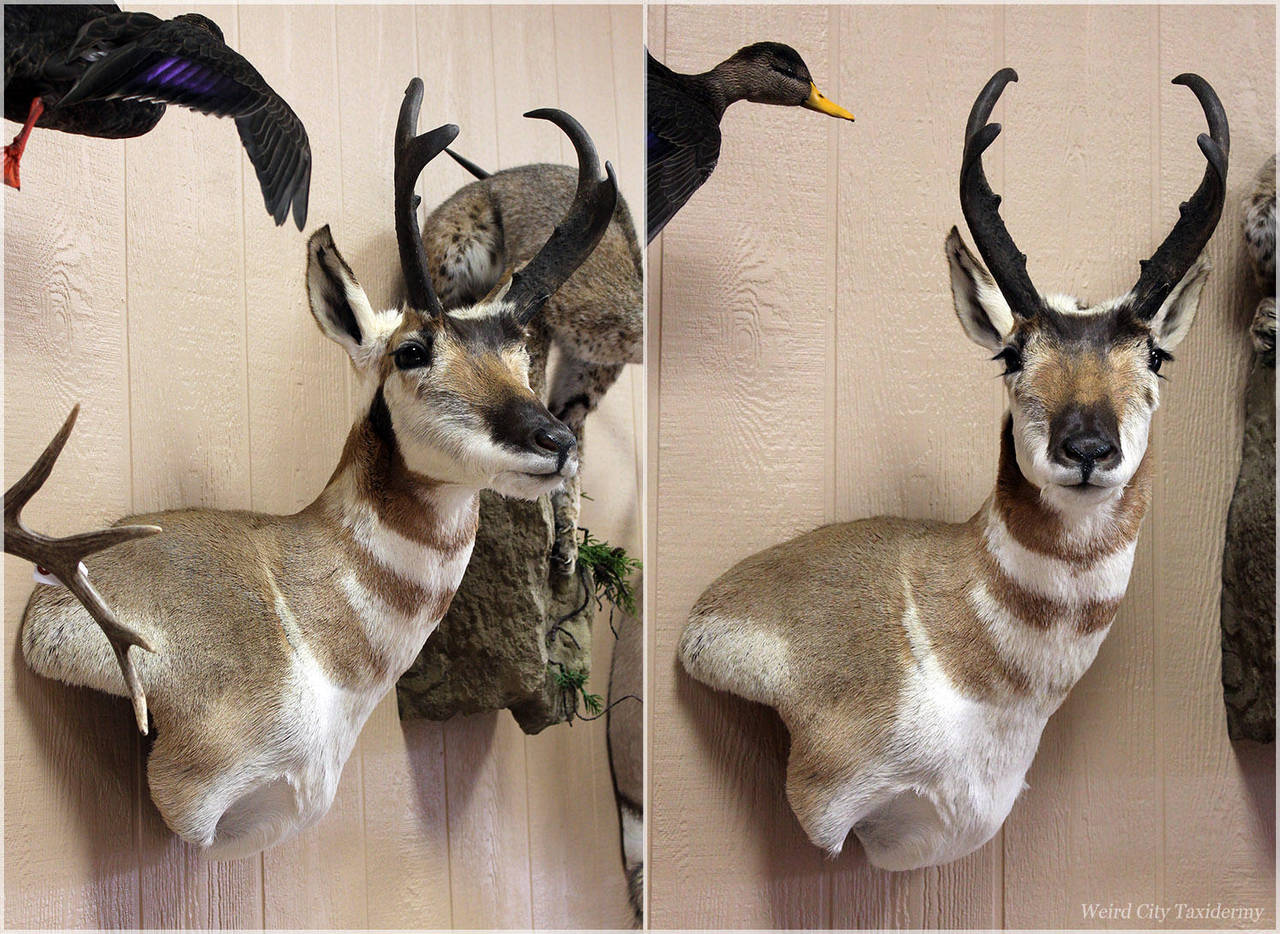 Watch
lol, I hear these guys called this ("speed goat") all the time and it cracks me up. My first pronghorn antelope!

This customer did not properly care for his cape and by the time he brought it to me the skin was turning GREEN in places. Slipped at the tanner. Had to buy him a replacement (at his expense).

Yikes (about the green thing)! Not to sound like a dummy, but why are they called 'horns' instead of 'antlers'? Or is the name mis-leading?
Reply

Horns and antlers are very different structures, biologically. Horns are composed of keratin (same thing hair and fingernails are made of... also claws) and stay with the animal throughout its whole life, continuing to grow with the passage of time. If you look at the horns of an antelope up close you can get the impression that they're basically just made of highly compressed hair. The horn itself is actually more like a "sheath" sitting atop a bony core, and between that core and the horn there is living flesh and a blood supply; so when preserving horns the horn sheath has to be slid up and off of the core for cleaning, otherwise that leftover meat underneath will attract bugs.

Antlers, however, are solid bone through-and-through and are not permanent fixtures; they're shed and re-grown annually (which I think is absolutely nuts). They're considered the fasting-growing tissue on earth. They fall off on their own in late winter / early spring, and then begin the process of growing all over again from nothing... And because they're just bone, antlers are super easy to preserve. Just cut 'em off the skull and you're done, it's great. You can even find shed antlers lying around on the ground in places where deer are present. I wish more people realized that antlers naturally drop once a year, so the next time they look at an antler chandelier they won't say, "I wonder how many deer died to make that." Because the answer is no deer died to make that! Antlers are a great renewable resource.

Anyway (now that I've told you way more than you asked for... I really like antlers okay) many people use the terms "horns" and "antlers" interchangeably. Like when someone calls asking for a "horn mount" even though it's a set of antlers they want displayed. But they are distinctly different features! So I tend to get picky about using the correct term. What pronghorns have are definitely horns, even though they do have a "branched" appearance-- which is, I'm guessing, why you were wondering. Only deer have antlers. All others (antelope, cattle, goats & sheep) have horns.
Reply

Wow-I didn't realize what a complex issue 'horns versus antlers' is! So, even though some horns may look like antlers to the novice, they are actually quite different. Some horns are readily identifiable as such-like the horn on the head of a rhinoceros (nobody mistakes those as antlers!) but now I see that they can be in the same place on an animals as antlers are (on the crown of the head). Well, of course this is the case! I just did a little research myself and it appears that male members of the 'bovidae' family have horns, not antlers. Even before I read your reply, I did a little research on antlers on my own. I went to a Flea Market over the weekend and I bought a small section of antler to use as an accent on the faux rock base that I am doing for the amber fox I am STILL working on. Where the antler was cut, I noticed that the inside of it was comprised of many, many tiny little holes. I idly thought "Hmmm...what are those all about?" I went to this page
www.google.com/search?q=what+i…
: and learned that the tiny holes were once filled with bone marrow. So, the whole 'antlers as bones' thing makes perfect sense! Thanks for your time.
Reply

What you're capable of mounting sometimes surprises me (I see this is a replacement, but I've seen others where you've had one heck of a time but it turns out amazing).
I always look forward to seeing your work in my notifications; great job once again!

Reply

Thank you! Honestly, the original cape was probably still mountable-- it slipped in a big way on one shoulder, and a little bit on the neck on the opposite side. Could have turned the bad shoulder to the wall, hid it with some habitat, cut out and stitched up the spot on the neck (especially since pronghorns have such thick hair). But this particular customer of mine is one of those guys who would rather just get a replacement cape than end up with something sub-par if something goes wrong along the way, so when I asked what he wanted to do there was no hesitation. Some people don't care as much about the cape on their mount belonging to the exact animal they hunted; it's the horns/antlers they're most interested in. *shrug* Not my favorite mindset, no, but it does make things easier for me, at least, and the end result turns out nice.
Of course, sometimes getting a replacement cape is the only way to go: i.e., when a deer isn't recovered until a day or two-- or a week!-- later.

And by then the only thing salvageable is the skull/antlers.
Reply

wow, he looks gorgeous!! great job.
Reply