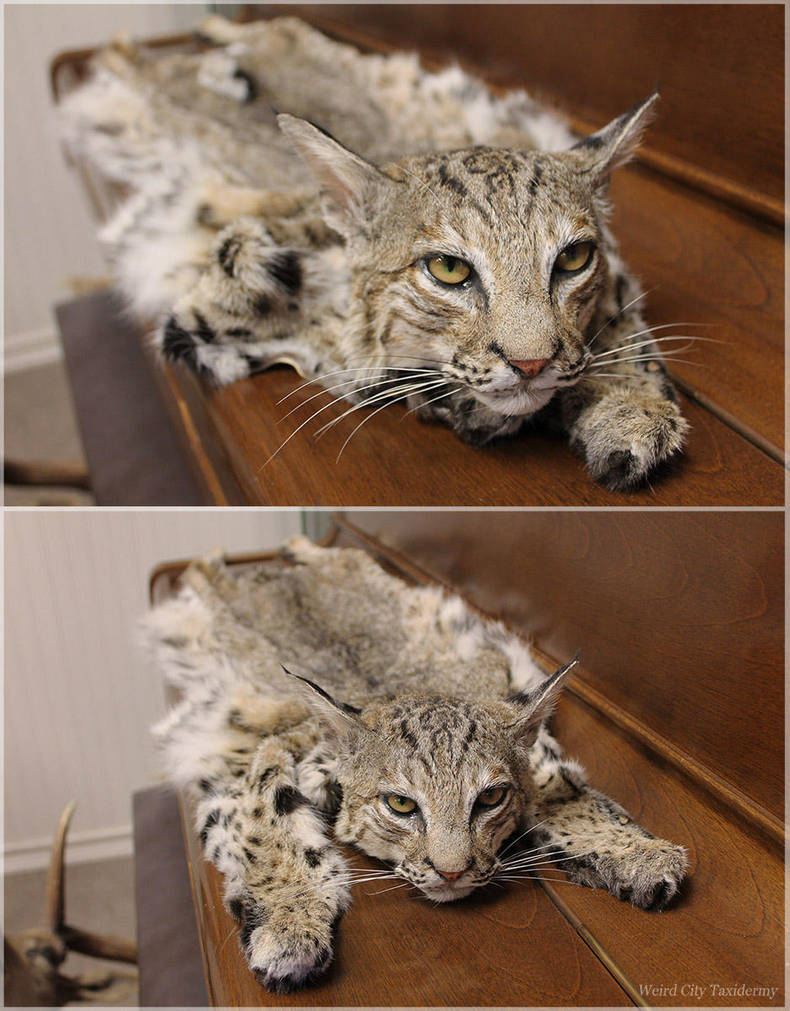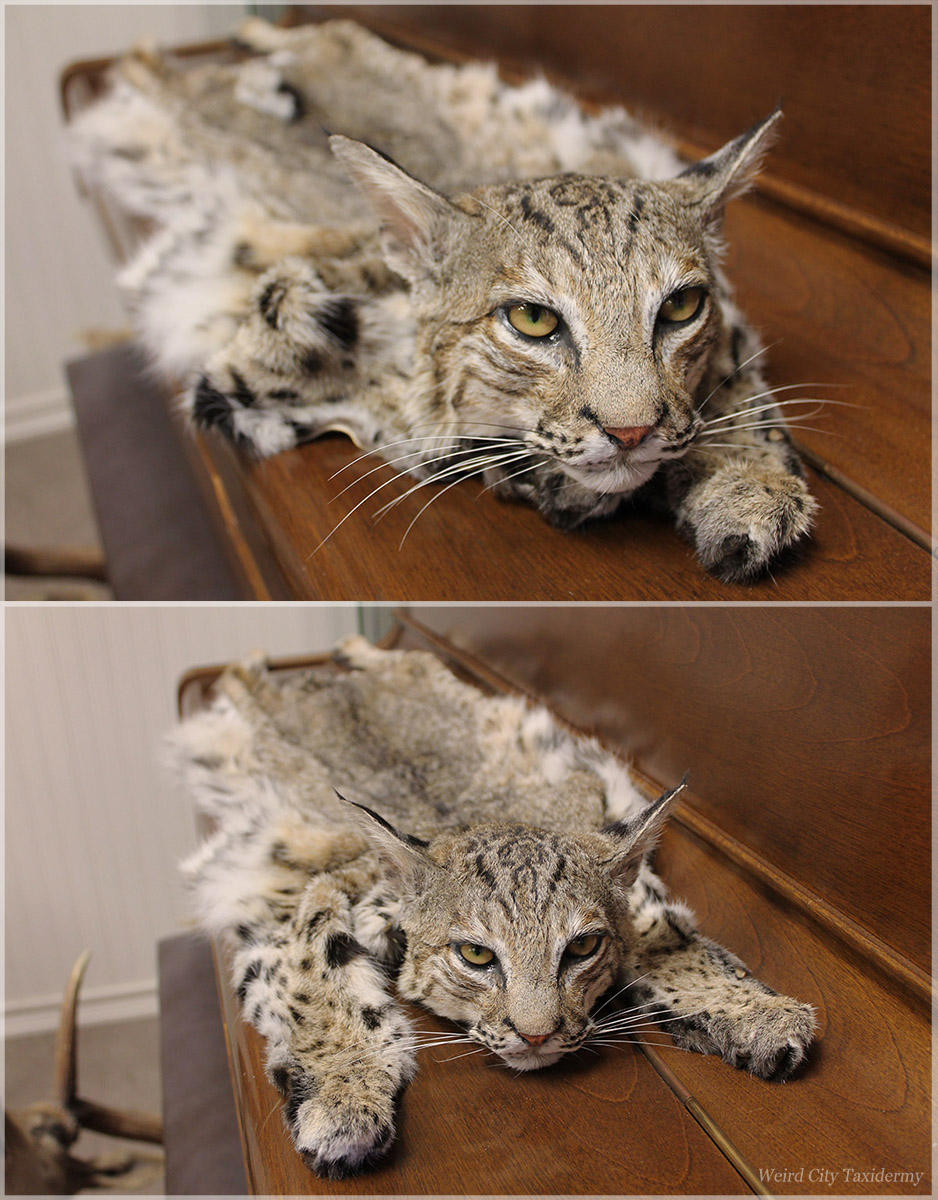 Watch
This guy wasn't quite ready to pay extra for the open mouth option on his cat, but his one request was to make sure that it didn't look friendly or cute. He made it clear that he didn't want the ears in a forward, alert position. So I put them back a little. Not pinned or flattened, but along with the eyes going for a slightly irritated/bothered look. I think it came out pretty nice, and he seemed happy with it when he picked it up!
This is a tanned hide (rug cut) with just the head mounted, btw. Also, it's
this cat
from before.

Hehe this cat has the typical "if looks could kill" face expression, really nice

Reply

You certainly nailed the expression for this customer!
Reply

Yep, this is exactly the expression my cat makes when she's had enough pets for the day

Reply

Is this roadkill taxidermy? Either way, me and my friend are pretty interested in this kind of thing
Reply

With this being a flat hide (except the head), it almost feels like you're making a joke... lol. But no, not roadkill. Like most animals that end up as taxidermy, this one was taken by a hunter.
Reply

(Ah sorry if I came across as rude, I didn't mean it that way) in my country there aren't much animals to hunt for sport so I'm not clear in this area.

You seem really experienced in this area, may I ask what you do with the organs once you've removed them? You managed to fix the bullet wound very well, looks so clean.

(English isn't my strongpoint so I apologise for any problems in what I type)
Reply

(wow, SUPER late reply, sorry!) I don't remove the organs; I usually don't even see the organs. For deer, the organs have already been removed by the hunter and the meat processed before the head even makes it to me. For small game like bobcats and foxes, all I'm doing is stripping off the skin; the rest of the carcass doesn't become a part of the mount. (I do, however, keep the skulls and clean them, and I've begun giving away my skinned small mammal carcasses to someone who cleans them and make jewelry from the bones. I hate throwing away anything that can still be used.)
Reply

It's not a problem at all

That's very interesting to me, I think it's good not to put the unused bones to waste. Thanks a lot for explaining it to me, I now know something new! I might stick around it see what else you taxidermy, sounds like a good business. (I think I may begin to collect the bones from rodents and avians)
Reply

Beautiful feline you have there! ♥️
Reply

Uhm pardon me, but I think your cat may have deflated


But honestly the face is mounted beautifully <3 I love the attitude
Reply

it looks like that cat in someones house that when you go towards it, it has this look, but you try to pet it and it starts getting real mean fast lol perfect
Reply

It's not quite a Do Not Want face, it's more of a Not Sure If Want... but you know it's going to turn into Do Not Want the second your hand actually touches the darn thing. Then get ready for claws!
Reply

I think looks like resting cat face lol XD
Reply

omg looooool

On a more serious note, it could also be interpreted as a resting face, that's true. Maybe if it was a full body mount I'd find it easier to view it that way, but to me, something about the rest of the body just being completely flattened lends to the idea that this cat is pretty annoyed at how it ended up. hehe
Reply

And by that meant resting bitch cat face lol. as that's what cats look like when they star up at you for disturbing them.
Reply

I know, it's the face my cat makes at me when she decides she doesn't want to be petted or cuddled anymore and is two short seconds away from tearing herself out of my arms. *sigh*
Reply

Oh cats why do they hate us? We feed and take care of them and all we get is glared at and scratched. What we ever do? Ps. have three cats XD
Reply

flat cat~ they definitely don't look happy~
Reply