Hállo everyone!
Wow, it has been a while. How have you been? What adventures have you crossed? Tell me about them!
I've found the time to return to dA for a bit, at least for the summer. Everyone seems to have grown so much while I was gone, and the amount of quality work in my message box is ridiculous. I want to comment on everything, but there simply aren't enough hours in the day. But for now, everyone -well done!
On this side, I have experienced the most bizarre year of my life, thus far. Seriously, it's been like a movie. From finding out I am related to my favorite professor, to being on Humans of New York, to having my college future wiped clean, it's been a dramatic, entertaining selection of months. I found my element in color (and David Bowie, but that is another matter entirely

), so I have a slew of new projects I want to work on with my newly discovered muse. I am also juggling a couple show dates and art fairs. If anyone is in the Newburyport, MA area, you can find my most recent series called "Camouflage for the Colorblind" at the Carry Out Cafe.
Also, I opened up a store on Etsy where I'm selling prints and originals of my recent work, and a series of dry humor mini-zines about famous artists. You can see them here if you're curious-
www.etsy.com/shop/Chromaclysmi…
Also, although it's just the beginning of summer, I've been drawn to mineral orange/green palettes. These three pieces in particular struck me in their beautiful color transitions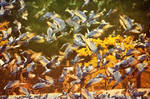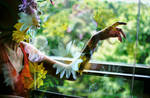 That's about it for now. It's great to be back!
-Albie