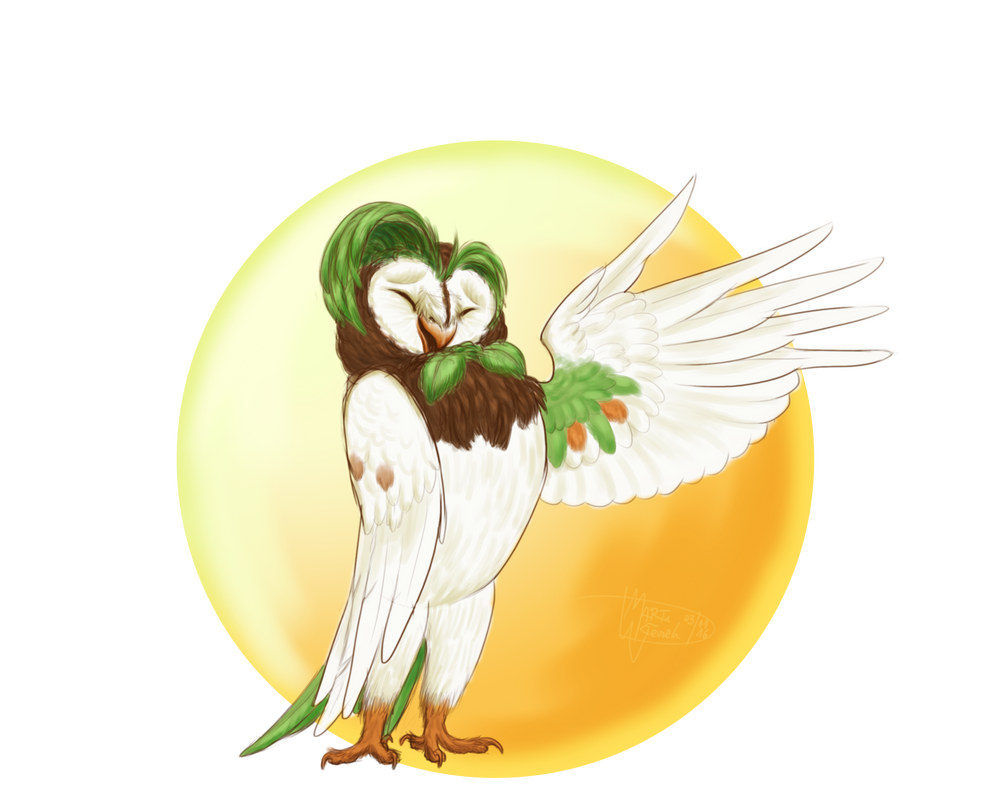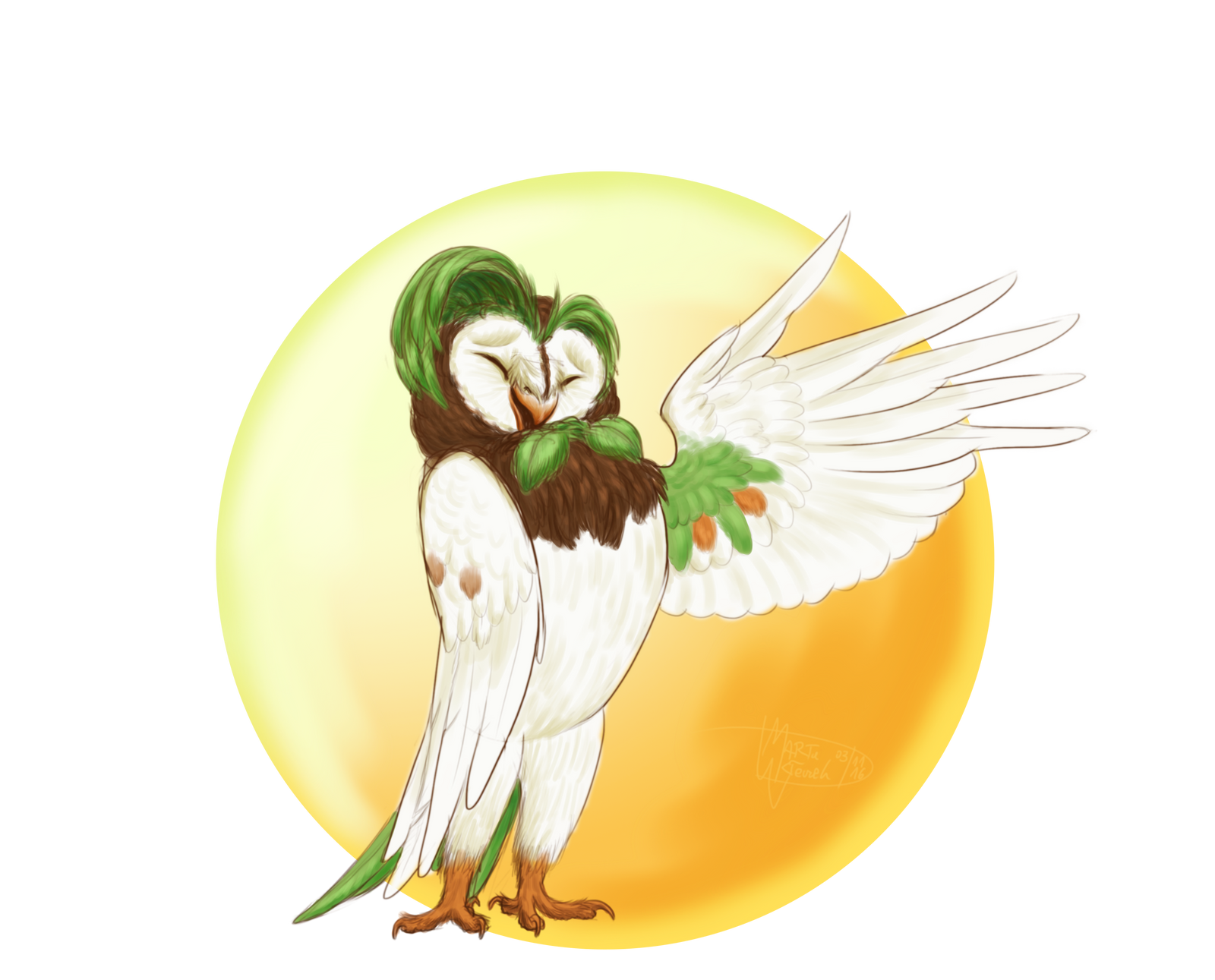 You like it? Maybe you will check it on my Redbubble?
www.redbubble.com/people/weird…
- - -
...or SEMI-realistic, if you want- I know face expression is something I could not do, but I couldn't resist -w-'
Maybe it's another distraction, but since I saw Dartix design...IT REALLY BOTHERS ME on many levels.
A weird eye when it's opened (one, not both, a shock face is fine by me~), the gesture straight from cartoony bird characters,
EVEN THE WAY ITS WING IS USED AS A HAND. Mind you, I never seen an owl with such....narrow edged feathers in wings,
which also bother me, because it's something I see naturally in other birds of prey.
There's also a DETAIL that bothers me in Dartrix- the upper white beak looks like big flat nose and down part like big swollen lips
- brain, you're craazyyy to see this...!

I'm not trying to say I don't like this design, I love how 7th gen Pokemon have sooo much personality and thought
behind the design- it really touches my imagination, I love it, but Dartrix...stretch your wings as wings from time
to time, okay dude?
Cool.
- - -
How I see Dartrix, a.k.a Poor stressed burb:
- for some knowledge about the owls, it belongs to Tytonidae family
- the green "hair" are feathers which evolved in convergent evolution similar way to Grovyle and Sceptile;
their structure is made of different proteins than other feathers, they contain some chlorophyll inside,
but unlike mentioned reptiles, Dartrix's green feathers have less plant cells and are easy to bend.
Still, if you could touch them, their surface reminds more of a leaf than feathers
Those feathers are also naturally partially waterproof- however, for better shine, Dartrix covers them with
special oils it produces from its wings- at their middle stage, when preparing to become mature sexually,
their bodies produce oils that imitate smell of flora they live in
- short wings are perfect for swift changes in direction when flying- maybe whole Rowlett family are bad long-distance
fliers, but they're very agile and can dodge almost every attack in flight.
- Dartrix are believed by most of people to have feather-fingers or muscles in their 5 long feathers,
while none of those are true- in fact, research done on grass types and Dartrix have shown that hormones and nervous system "communication"
developed into whole new level for grass type Pokemon. Dartrix can manipulate the flow of hormones inside biggest quills of its wings
to bend them inside or outside.
- it's said very often that in evolution only "the strongest will survive", while for many bird Pokemno it's actually "the most beautiful will survive".
Dartrix, same as Oricorio evolved more towards beauty than adaptation to natural environment, which is why it's one of endangered species.
- Dartrix have real problem when it comes to battle, unfortunately many people misunderstand this and put between jokes;
it's not the matter of "snobbiness" or caring about apperance in excessive way
- IT'S PROVEN TO COME OUT FROM PHYSIOLOGY OF THOSE BIRDS.
Dartrix's body is preparing to evolve into one of the most unique and specialized sniper-like hunters of the Pokemon World
with highly bendable feather quills,so at the middle stage their bodies go under huge change and the body produces lots of hormones
which affect its behaviour, so it's really hard for those Pokemon to stay calm all the time.
They sometimes even go through self-hatred stage of life because of how much hormones
overcome their mind and can change their mood. Even a small stress can grow into huge problem in matter of seconds, so they
retreat in panic of what's going on inside them rather than because they don't look perfectly in the middle of battle.
A Dartrix might look calm on the outside, but inside their minds and under feather coat they go through battlefield
of own thoughts and feelings.
Some act in a way most of people call "birdbrain", doing even nonsense things under the stress- many conflicting
impulses cause them to look for any activity or occupation to relieve the stress- so don't call a Dartrix a dork
when it made a mess and started to clean its feathers standing next to what it has done- it simply couldn't find
any solution that knew would work withouth making things worse- it might lack self-confidence or suffer from anxiety,
so decided to not touch anything at all.
Some Dartrix DO make things worse, because under the stress their mind is bombed with running thoughts
which burdens nervous system.
In natural habitat, those Pokemon survival depends on being able to stay perfectly calm, still and camouflage in a perfect
spot to sleep during daytime- that's why battling and messing up with the feathers seems totally againist their natural instinct!

(Weirda Mirrart's note if she could speak those poke-science fact to anyone)
W: Just look at its face...that heart shape and white color means something- nature says us it's a Pidove of peace among owls...
it's brutal to joke around how "picky" they are when it comes to battling and hunting- they just do in wild and it only proves how various each species role
is to not conflict with each other, but master their niche in this World.
We might could do miracles if at last try to understand the variety and work over them rather laugh or kill what's so different.
- - -
PS: >sob< yeah, that's what I wanted....drawing and writing this made Dartrix grow on me a lot

_______________________________
art belongs to me, Marta Kłeczek
Dartrix as Pokemon belongs to Game Freak