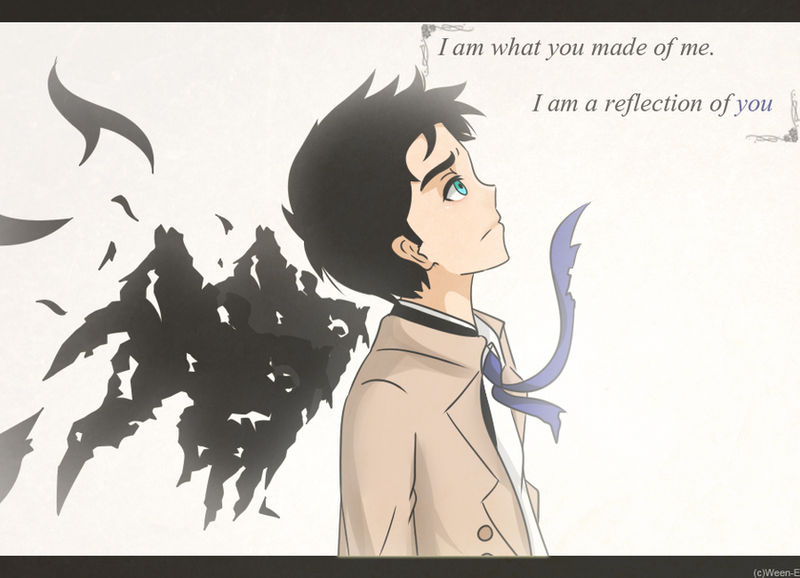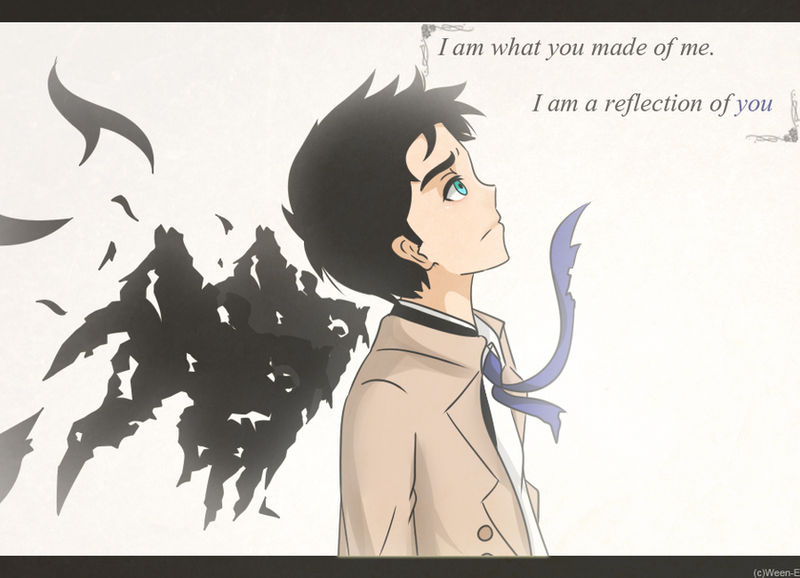 Watch
Angels are not meant to be anything but angels, but when an angel falls they can be forced into the body and life and mind of a human.

After that, there is only one thing they can become.

"Look down at me and you see a fool. Look up at me and you see a God. Look straight at me and you see yourself."
---
This is based on a Supernatural fanfic, "Reflection of You," by Vichan on LiveJournal.
It's very dark and very disturbing (and it revolves around Season 5 Episode 4 "The End.")
If you're into that kind of stuff (and some hints of Destiel,) PLEASEEE PLEASE PLEASE read it!!! I highly recommend you do! You won't regret it!
It really did mess with my mind a little bit.
Warning: There are tons of drug use involved. *Cough*

*Cough*
EDIT
: "The angels just donít have the equipment to care. It seems like when they try, it just... breaks them apart." -Dean Winchester
(Provided by

~
BurningFairytales
)
Link to "Reflection of You":
[link]
Link to the video based on the story (which I am also obsessed with):
[link]
Castiel/Supernatural- Eric Kripke
Art: (c)

~
Ween-E
Programs: SAI, Photoshop CS5

Awwwwwwwwww. Looks like baby!cas
Reply

Reply

Hi! I'm the admin of a facebbok page about supernatural, can I pubblish some of your works? of course I'll give you the credit!!!
Reply

Reply

His broken wing looks sad but beautiful...

Reply

Reply

Really?! (I'm sorry ,I haven't watched season 7 yet...) maybe he's losing it for Dean...it's so sad but romantic situation ! Cas in this picture looks pure and adorable...

Reply

Oo, no I don't think it was in Season 7



The setting was set at around 2014 (so it was based on "The End.") Remember when past!Dean asked future!Cas if he could zap him back to 2009? And future!Cas said that he no longer had his angelic powers?



It'd be nice if he did lose it for Dean!

It would be very adorable and romantic indeed!



Thank youu again~!!



Reply

Reply

YESS~!!

And when they looked at each other (lovingly.)

Also, that was when future!Cas said "What? I like past you," to future!Dean. And future!Dean looked angry!



*Sigh.* I just want their relationship to be canon on the show so bad!

Everyone wants it too!! OH!! OH OH OH! I am going to show you what Misha tweeted today! It has something to do with Season 8. Misha did an interview and this is what the interview said:
"((Talking about Castiel)) He's also had the opportunity to interact with Ty Olsson's Benny, the "strange bedfellow" (and dangerous vampire) that showrunner Jeremy Carver promised would become entangled with Dean (Jensen Ackles) and Castiel while they're trapped in that hostile environment. "I've had a few scenes with him so far," Collins said. "[Dean and Benny's] relationship is budding, and I think Cas is a bit jealous of it, as a matter of fact.""
So we are going to be dealing with a jealous Cas in Season 8


That means he wants Dean all to himself!!

I'm sorry, this just got my hopes up a little bit

Reply

YEAH!! ABSOLUTELY!!:iconforevercryplz:
And I love the line of future!Cas!! And definitely, future!Dean looked angry to hear that!! Let's say Deatisl is cannon!!
And thank you for tell me about Misha's interview about Season8!! OMG, is there Dean's bedfellow?! And Cas is jealous of it?! TRIANGLE LOVE IN THE SHOW?! I'm so excited...


OMG, jealous Cas would be fawn on Dean? Cling to Dean? I can't stand!!

[sorry , I drove recklessly]
Reply

Reply

Reply

You know what it reminds me of?
When Dean said something along the lines of: "The angels just don't have the equipment to care. It seems like when they try, it just... breaks them apart." It was so sad when he said that

Reply

Oh gosh, did he really say that?

Wow, that really relates to the drawing then



I think I might add that to the description

In fact, I'll do it right now


Thank you for that quote, by the way!


I actually drew it to symbolise how Castiel was gradually losing all of his angelic abilities during the time of Lucifer (because it's within the time range of the story.)
It definitely has a connection to the quote though

Reply

Oh well, close enough, right?
I loved that quote, it was so sad

And that drawing is amazing!

Reply

Reply

oh,this picture is really very-very nice



I like the emotions you drew


I really like how you did with his angel-wings

your picture looks so professional


you did really nice illustration



I watched the amv, I think that fanfic is really super nice if someone did amv on it


so sad I've lost my interest to Dean/Castiel

Reply

Gahh


Thank you so muchhh!!





The story really had such an impact on me

I felt really odd after reading it. Like I witnessed everything that happened to Dean and Castiel.

The story takes disturbing and dark into a whole new level

It's scary psychologically



Yess, it's beautifully written, but it's also very long as well

It took me 2 days to complete it

Although it really doesn't focus much on Destiel, more on Castiel's perspective (who just happened to have this weird connection to Dean,) it wouldn't be much to read if it's not a pairing that you have an interest in

I just thought it would appeal to you because of Castiel's drug use and it's dark themes

But thank you for watching the video!




It got me obsessed with the song

Both are very nice

Reply

geez, your talks is so cool about that story

I want to read, but if you takes 2 days to read it, I'm very afraid about my time

Reply

Oo, well I started reading the story very late at night, so I had to stop reading it because I was so tired




If you started early in the morning and just kept reading, I'm pretty sure you'll have it done in one day


But I'm not sure if you want to do that or not.
Personally, I loved it because it had the ability to alter how I thought for a brief moment.

It put me in a very dark mood, I don't know why

I guess it really had a lot of impact



And that's what makes me love stories

But anyways, yes, if you would like, you can split it to reading a chapter or two a day

I think it has a total of 10. But I forget



Reply

you talking about it in so lofty way


but I'm not sure that will keep patient to read it all


I mean if would you wrote fanfiction I'll read it of course, but I'm not sure I want to spend my time and power on another authors
Reply

-thumpa thumpa- So.... PRETTY!!!

Why Cas? Why you soooo smexyy?
Reply

Reply

Ahahahahaha!!!

Seriously- WE NEED MORE NEKKID CAS!!!

Or at least splash some water on his white shirt ;D
Reply

Gaaaah I love Kim!!

I didn't know she uploaded this game!!!!

I have played, and I have conquered! I made Cas niiiiiice and wet ;D

What? I was only helping him....

HONEST!
Reply

Reply

BWAHAHAHA Ooooh man. The dirty dirty lines XD I kept getting caught up with them and kept losing XD So over and OVER again I had to squirt Cas down ehehehehehehe <3

Pfffft Cas isn't a SLUT perse... more of a manwhore, he is XD;;;;

I bet he got caught on purpose. THIS WAS HIS PLAN ALL ALONG!!!!
Reply