I don't tend to post Personal Stuff but some of you knew him, either through the Insecticomics, or just from pictures I've posted, or because of course I will tell you stories about my cats if you do not stop me I am a cat owner: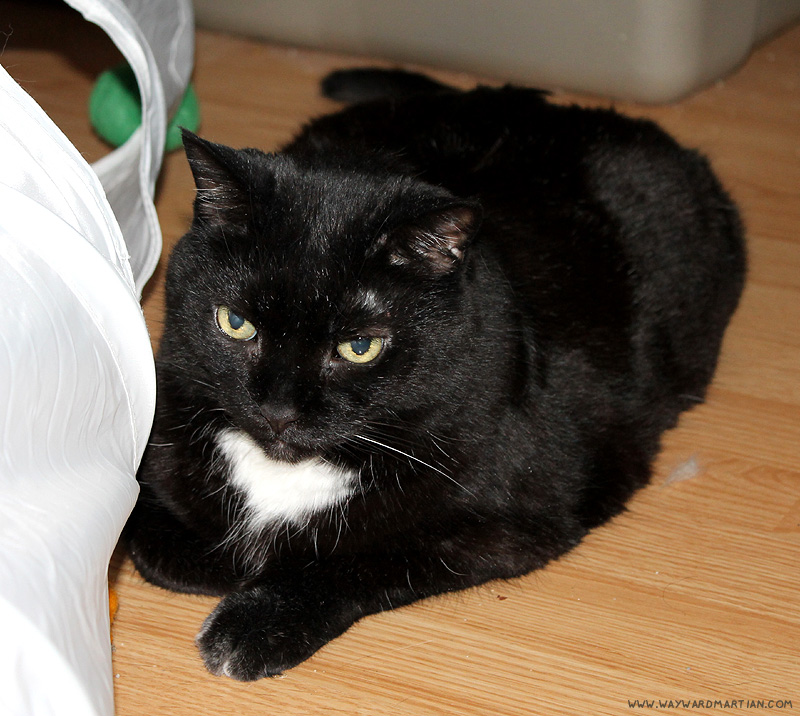 This morning we had to say goodbye to the 'Nim, a cat who would have spent his entire sixteen-and-a-half years on my lap except I had to stand up sometimes. He'd had various health issues for years, but powered through them with feline aplomb until abruptly deciding he'd had enough, thank you.
Knave and I got him as a kitten, and he spent the first day with us hiding in a closet because the apartment was so big and scary. It did not take him long to decide that his place was 'glued to Wayward at all times'.
His primary moods were Sulk ( when he was being good ) and Smug ( when he was being bad. ) If he was mad at me, such as if I'd shut him out of my office because I was trying to get something done and he was in the way, he would go find Mak and pick a fight with him.
He was more a mobile pillow than a cat. 'Nim was so bad at basic cat skills that one time a mouse hid underneath him to escape from Mak.
He remained stubborn and jealous to the last, spending his final days sleeping beside me and only opening his eyes to give stink-eye to Knave whenever Knave dared talk to me.
So I'm taking some time off to be sad and deal with things. I'm still poking around the internet, just not doing work right now.
( Picture is from a few months ago. )