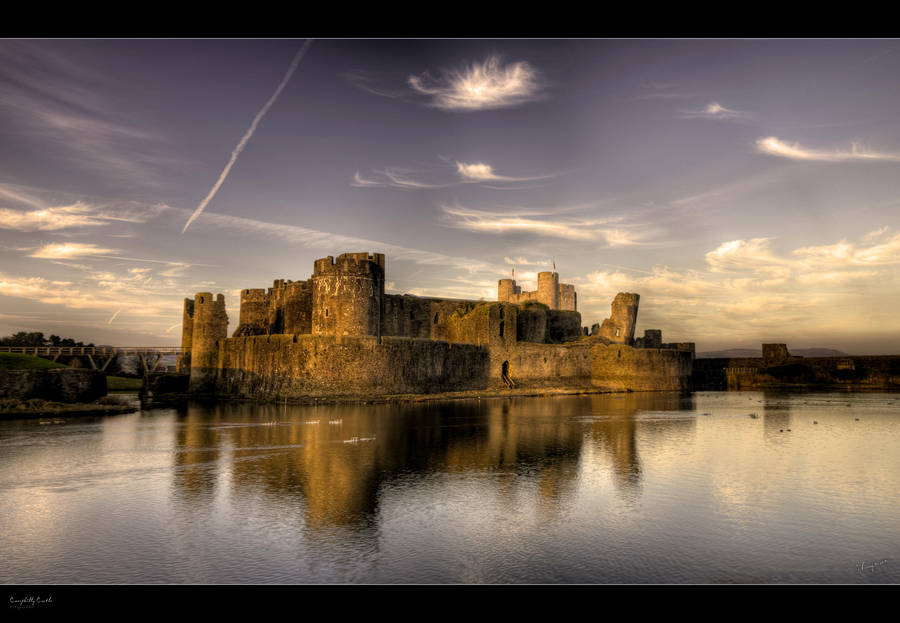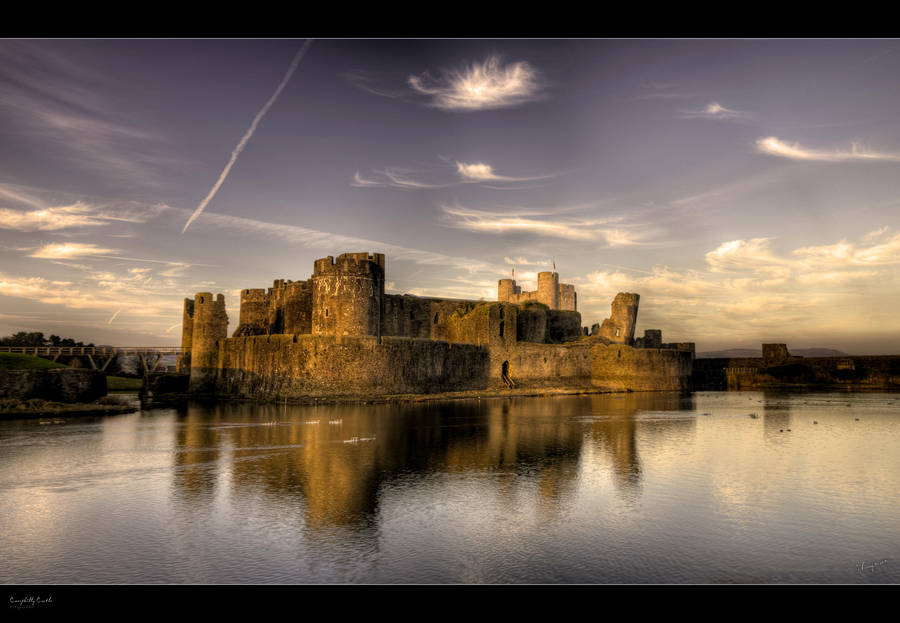 Caerphilly Castle.
Rees 1971; Renn: Cadw Guide
Caerphilly Castle is one of the great medieval castles of western Europe. Several factors give it this pre-eminence - its immense size (1.2h), making it the largest in Britain after Windsor, its large-scale use of water for defence and the fact that it is the first truly concentric castle in Britain. Of the time of its building in the late 13th century, it was a revolutionary masterpiece of military planning
One of Henry III's most powerful and ambitious barons, Gilbert de Clare, lord of Glamorgan, built this castle. His purpose was to secure the area and prevent lowland south Wales from falling into the hands of the Welsh leader Llywelyn the Last, who controlled most of mid and north Wales. De Clare built other castles on the northern fringes of his territory for the same purpose, such as Castell Coch. He had seized the upland district of Senghenydd, in which Caerphilly lies, from the Welsh in 1266 to act as a buffer against Llywelyn's southward ambitions. Llywelyn realised the threat and tried but failed to prevent the castle from being built; it was begun on 11 April 1268, was attacked by Llywelyn in 1270, and was begun again in 1271. This time it was completed without hindrance. Its message was not lost on Llywelyn, who retreated northwards. Apart from the remodelling of the great hall and other domestic works in 1322-6 for Hugh le Despenser, no more alterations were carried out, making it a very pure example of late 13th-century military architecture.
[link]
Specs:-
This is a 12 shot panoramic image

Its 4 x [] Wide; and 3 x "EV +/- 2" deep = 12 images to create one 41 megapixel Image!!

Each of the 4 sections are aligned in CS5 (each section has 3 images) and saved out as a *.HDR format (32bit)
Then all 4 sections were reloaded into CS5 for stitching, before being saved again as on huge *.hdr file.

Tonemapping applied using photomatix Pro 4.0, saved as a *.TIF (16bit) and loaded back into CS5 for post work. (levels, sharpening, contrast & saturation)

Final file saved out as a *.JPG image with resolution of 7765 x 5369 pixels.
© Wayman 2012