Hi everyone  

                                     February 24, 2015
Looks like our moderator
phantsythat
got her first DD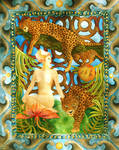 how cool is that

*************************************************
We have added another rule

which will hopefully make it easier to understand if your submission is rejected because of digital applications.

 No digital interference to the artwork is allowed, apart from adjusting brightness/ contrast, watermark, cropping the scan or photograph etc. Works with digitally added content cannot be accepted.
              *******************************************
Here's a neat link for everyone who wants to
explore watercolor

www.deviantart.com/tag/waterco…
              *******************************************
Time again for the
Best of
 feature and poll.  

Dancing-Miriam
 :thumb506390771:
Even before Darwin's HMS Beagle voyage (1831 to 1836) watercolor has been used to help us describe and appreciate the beauty of nature.  Here's a lovely example of that tradition.

OblokMagellana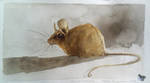 " You walk into the kitchen and on the table sits a mouse eating crumbs left over from dinner.."
 I  expect the mouse to scamper away any second.  Such a beautifully conceived moment in this artist's creative process.  

golden-quince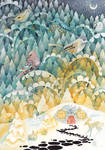 Here's an example of the delicate softness watercolor brings to a concept and what better subject for this delightful design than
Silent Night
?

lukuluku666
This beautiful and skillfully conceived composition takes me back to my own childhood - when art became more to me than crayon, paint and brushes.  

Tabascofanatikerin
 :thumb504900406:
Here again we find an artist with something to say - in an astonishingly bold style all her own.  

NiceMinD
Watercolor brings life to landscapes like no other media.  Here the artist doesn't focus on photorealism but on capturing the emotion and atmosphere of Charles Bridge for all of us to enjoy.  

ferradaart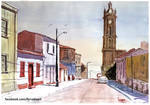 Another landscape - different in style assuring each artist watercolor will bend to their own perceptions -  and while the artist lives in Chili
Diane-Kay
's comment says it all.
"  Don't know where this is but looks like any town, Midwest USA.  

Very nice!!

SophiaSanto
 :thumb508915097:
I don't often

watermarked art


.  Since this piece evokes such an emotional response, I've exempt it from that rule.  Something about the joyful gesture of the guitarist and the loving patience of the dog who doesn't seem to be as lost in the

as his master.   This scene - created with a lovely translucent application of color - makes this image a keeper.    

SuperImki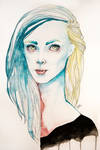 This is an interesting and skillful interpretation of the human face.  Suggestive of a spiritual vortex  sages claim to see, depicting mood and perhaps even a state of health.    Very nice indeed.

CaptainNutmeg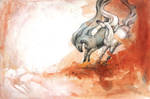 Here's an exception to the group's rules - normally we do not accept images created primarily with acrylic.  Here, however,
the perfectly translucent application of paint
, strong composition and vibrant color make this image exactly suited for display in
watercolorists
- and chosen as one of the best submitted in January 2015.
The following artists will not be in the best of January 2015 Poll as they are
watercolorists
moderators.
 I wanted to introduce you again to the people who make
watercolorists
possible by highlighting their work.   If you have the time

s and

s

s are appropriate thanks for all they do

.
*  

Ithilloth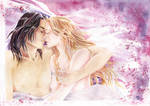 Ithilloth
brings us the perfect intimate moment in this delicate embrace.  Her intelligent use of color brings a gentle calmness to this delightful situation, greatly enhancing the work.
*

phantsythat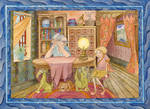 phantsythat
 brings us a delicate balance of warm/cool, while intricate detail incites our imagination and satisfies our curiosity.   Again and again we're rewarded with something we missed a moment ago -  like skeletons dancing in the background.  Perfect for children who easily intermingle  magic and science in their fantasies.
*

BlueCaroline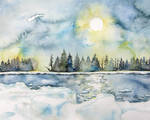 BlueCaroline
 brings us to her river.  She immerses us in the coldest day of the year - where every instinct says, get indoors - but her masterful depiction of utter cold keeps us enduring and enjoying the bitter beauty of the scene.  Think painting ice and

is easy - think again

There you have it - the best according to me - but remember - art is subjective - and next month a

set of

will be making the decisions - also remember - once selected for the
best of feature
you're ineligible for six months.  So, keep on painting and having fun and supporting
watercolorists
.  
Now go

vote !!!  

Cmac13
watercolorists
Founder