I would like to share with you some of the best works submitted to
watercolorists
in the month of May.
Please go vote for your favorite in our most recent poll. I also invite and encourage you to take a closer look at these wonderful artworks ans our members who created them - I selected them because each of them has something special that makes them worth seeing.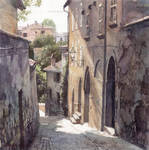 by
micorl
One of my favourite scape artists around dA presents you an old Italian city alley with enchanting composition, astounding details and perfect shading.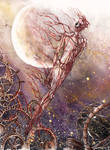 by
GrimDreamArt
Disturbing, surreal atmosphere makes the viewer anxious of what the mysterious Being might see with their dreadful eye... with skillfully mastered details.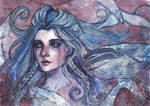 by
Paskhalidi
Beautiful, filled with emotions illustrative portrait.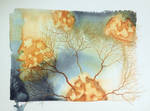 by
cornproduct
Have you ever thought that synapses remind of trees? Now you did! This particular one brought me to the Little Prince's fear of adansonias tearing apart his small planet.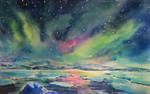 by
Ashvin-3
Skillful use of wet-on-wet technique, showing us another poetic interpretation of aurora's light.
:thumb453755571: by
Hanafae
Simple, yet enchanting composition, focusing on contrast between inverted night sky on the path and bright, moonlit sky on, well, the actual sky

Have you spotted the little girl?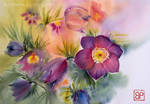 by
stokrotas
Cute spring flowers from artist well known of her marvellous nature paintings, yet another example of masterful wet-on-wet skills.
by
EsthervanHulsen
Wonderful realistic wolf portrait, reminding me of "The Philosopher and The Wolf" book by Mark Rowlands. You can see so much wisdom within his calm brown eyes that you can believe how smart wolves are indeed.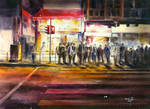 by
rainbowtse
Great, brave use of colours, which is especially difficult in night scenes, the artist shows you another face of some city evening that you would never see in real.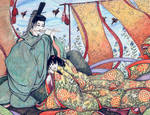 by
vandatais
Inspired by traditional Japanese art ukiyo-e, this interpretation of the famous Tale of Genji gathered my attention with great composition and details.
Thanks to everyone for viewing, if you liked these artworks - please show your appreciation to the artists with a comment or fave!

Ithilloth
watercolorists
moderator