Autumn Greetings to All
& Welcome to the Best of September at

!
Background stuff: We want to let you know the position of Founder of
watercolorists
is in the process of being passed from
Cmac13
to
Ithilloth
. These two fine artists and good friends are dedicated to supporting our members in their continuing efforts to make
watercolorists
the standard for high quality at Deviant Art.
We hope you enjoy seeing this month's selection of ten pieces of excellent artwork submitted by our members.
Stormskog by
Tistelmark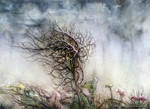 You can almost feel the power of the wind and rain in this forest. The artist has used a rich color palette and strong composition to define the powerful magnificence of a storm.
night dream by
0618623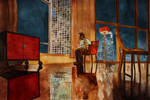 The artist's use of primary colors to create a dramatic scene is exemplary. What makes the image especially interesting is seeing the whole scene reflected in the floor.
Frida by
Vidk000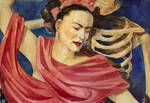 While it's missing her heavy eyebrows and moustache, this is a wonderful portrayal of Frida Kahlo, a Mexican painter who was famous for her self portraits, her marriage to Diego Rivera, and for her passionate love of her country. This bold portrait shows her essence.
Chinese-Style Crimean Landscape by
Badusev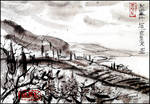 This dramatic image was made by using a symbolic shorthand. In powerful brushstrokes the artist conveys less a report of something seen than a distillation of a mood or a spirit felt.
My Nightingale Is Singing by
Flibertyjibbeth
:thumb560666667:
Storybook pictures are often overdone with the addition of more detail than is required for an essential understanding of the narrative. This quiet and lovely image is exquisite in its simplicity.
The Twins by
dwaynerjames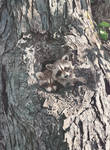 Painting a photo-realistic scene in watercolor is the most difficult challenge. The illusion of depth created by values and contrast, perspective and detail, and unifying washes makes this a magnificent watercolor painting.
Little Shrimp by
ShanghaiSarah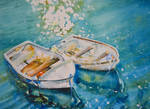 The artist has used dynamic shapes and colors to produce this charming picture of a seaside in summer. Bright sparkling light and rich primary colors harmonize beautifully to create a magical effect.
smell of nature by
Fuytski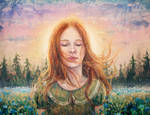 This portrait displays to good effect the artist's skill at drawing contour in watercolor paint. The subject's expression, realistic skin tones, and softly blowing hair against a bucolic background combine to show a deep love and respect of nature.
Khimaera by
Yami-Hydran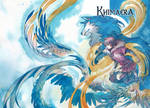 The precision of the design in combination with delicate coloring makes this one a very special example of Manga art. The story that prompted this picture is sure to be a fascinating one.
Mountains and approaching Storm by
GwilymG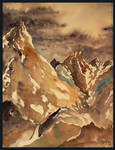 A heightened sense of drama in nature is often expressed deftly through chiaroscuro, the interplay of light and dark. The artist has captured the feel of this mountainous landscape on a tempestuous afternoon.
Best wishes from all of us for October to be a fine and creative month. Please remember to vote for your favorite of the September paintings.