Hello everyone and welcome to our Best of the Month Feature. Since October was the

of Spooky Season, a number of offerings have been Halloween related. Thanks to all who have shared your artwork with us and our esteemed visitors. I hope you enjoy seeing what we've chosen as the best of the month at
watercolorists
and will check out our poll to vote for your favorite.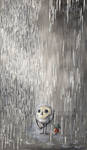 All the Long Rain by
vladimirsangel
Gray, all gray except for the white of a bright light shining through the rain.. lots of rain - and splashes. Then there's the tiny ladybird with a green umbrella standing near a casual skull guy. What's not to like?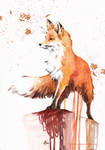 Autumn Fox by
ChristinaMandy
We have here a very confident fox surveying his world. It's an elegant painting with not a line or shade out of place and none that didn't need to be there.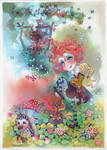 Puffball by
isletree
A fine and subtle color sense and beautiful line work go to make this a delightfully pleasing image. The artist has paid close attention to detail without losing the gentle humor of the concept.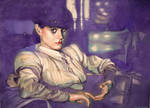 Rachael by
Trunnec
If you haven't seen Blade Runner you won't know who this woman is; if you have, you'll recognize a great image of Rachael Somov, a replicant who's been raised to believe she's human. It's a great movie even after all this time. The portrait speaks for itself.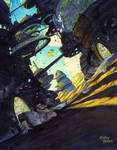 Spa by
ColbyBluth
From the tilted landscape to the odd colors - never mind the bizarre architecture and the flying saucers, you know this isn't a picture of anywhere on earth. Nevertheless, it's an extremely well executed and interesting painting.
Nocturne by
Yami-Hydran
Storytelling pictures have a long tradition among watercolorists and this is a very nice example of the form. The architectural details are well expressed while the masterful use of color draws our attention to the mysterious character playing his violin.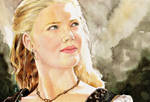 Lucrezia Borgia by
Shigure92
This fine example of portraiture is a delight to see. While the colors are both soft and subtle, the glowing light of the unpainted surface highlights the character's features.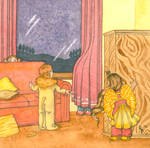 Ready or Not, Here I Come! by
erinclaireb
The design simplicity and soft colors the artist chose to use in this painting are reminiscent of the beautiful work done for children's book illustration early in the 20th century. It's a rare sight these days and worthy of a place here.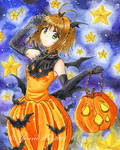 Pumpkin Bag by
Yenni-Vu
The sweet character portrayed with skillfully executed drawing and a mixture of high contrast colors makes this a fine example of spooky season art.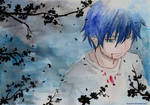 Rin Okumura by
kaczuch-A
The crisp lines and muted blue background all serve to enhance the character's features and expression. The artist has shown great skill in capturing the essence of what makes the Manga form so interesting.
Thanks again for all your efforts as we look forward to another month of excellence at
watercolorists
!