Greetings
from

and
Happy April to All!
We hope you enjoy seeing this month's selection of ten pieces of excellent artwork submitted by our members.



skull by
Andrzej-Korytkowski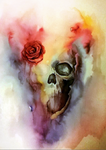 The skillful yet understated design and the magnificent purity of the colors chosen make this a very memorable image. If we see death as a transition then the brightening at the top of the figure is significant.
Fireplace in watercolour ... tutorial by
kios18

Although tutorials don't often make an appearance in our monthly feature, the elegance of this one recommend it to any new or even experienced watercolorists. The artist shows clearly that very little in the way of materials is required in making a fine picture.
St Eia street St Ives. by
MichaelHocking
:thumb594548312:
One of the most striking qualities of Michael Hocking's work is that you recognize his scenes and characters in the smallest thumbnails and can imagine them having the same effect across a large gallery space. His colors are muted as are the forms but the paintings are alive with his love of people and the places they frequent.
Coming Storm by
happytimer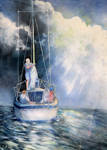 I was surprised to see I'd chosen two of this artist's submissions as possible 'features' this month. The other was his wonderful 'Wood Duck'. On reflection this one seemed the better choice as pictures with people are always more fun. You can see the storm brewing by his skillful representation of light and shadow. The seasoned captain of the 'Lucky' shortens the sail as his two apprehensive passengers observe.
Shadow thief 2 by
isletree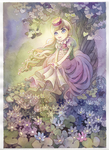 The purity of
isletree
's vision has been a frequent delight here at dA, one sometimes shared here at
watercolorists
. The lines are simple but make complex patterns in multiple hues. The gentle humor and tenderness portrayed in her paintings is heartwarming. (Check out the character's little foot.)
Radagast the Brown by
peet

peet
has been entertaining us with his unique vision of Middle Earth for a very long time. Using subtle colors and his strong drawing skills all of his paintings, with this as just one example, show a sensitivity to the natural magic that surrounds us in this world just as much as in a deeply imagined magical realm.
The Kirin O Ka Fee by
RubisFirenos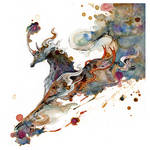 Order from chaos is the best way to describe this magnificent dragon. By skillfully balancing such disparate media as coffee and colored pigments the artist has captured a delicate yet powerful creature out of mythology.
Watercolor lynx by
red-fox-child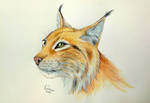 In combination a delicate touch and close observation have led to this truly lovely portrait of a lynx. The colors and brushwork harmonize to bring us closer to the wild world that belongs all living beings.
Spring Flowers 3 by
Til-Til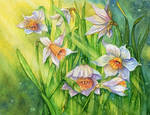 What exactly is the difference between a daffodil, a narcissus, and a jonquil? The simple answer is nothing and, like these pictured here, are always a delight to see. Such wonderfully fresh colors!
When the light is so bright by
Angelina-LG
And after Spring comes Summer. The artist has captured the brilliant light of the high season by her use of just two complementary colors in this fine image of canine contemplation.
***
Many thanks from
watercolorists
for all the beautiful pictures!
Please remember to vote for your favorite.