Happy Summer to all our members and valued visitors!

With no further waiting

invites you to see our:

Best of the Month of June 2016!





Comic by
Martidy
Proving the point that comics are a vibrant art form, we have this fine example of narrative art that needs no words to further its story. The layout is beautifully balanced and the colors and forms a visual delight.
Spices by
jackfox2008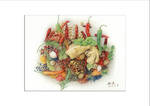 The white background of this elegant still life forces us to focus our attention on the objects. Timeless and unattached to a specific location their subtle colors and shapes show us a meaning beyond the ordinary.
Between Dreams and Reality by
beyondpat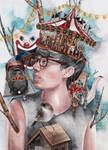 Free association unrestricted by reason can produce surprising, unexpected imagery. With a clever and whimsical disregard for tradition this artist has produced an imaginative and intriguing image.
Night owl by
0618623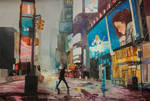 By envisioning the essence of a nighttime city, rather than its exact parameters, the artist has presented us with a dreamlike landscape of shadow and light. Whether it's a place in reality is left to our interpretation.
Wooden church from Kotan by
GreeGW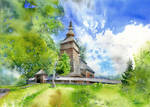 Using strong colors the artist has imbued this watercolor landscape in a wonderfully fresh, luminous style. What makes it special is that the hues most distant from the church dissipate into an ephemeral space that serves to subtly bring the building into focus.
Another Wednesday Walk by
Oddeum
Watercolor and fantasy have always been a good match. This fine illustration shows a the artist's skill and restraint in its elegant arrangement and subtle coloring as the open spaces pull our eyes toward the main figures. It's definitely a painting that tells its own story.
Shire hills by
SarkaSkorpikova
The graceful verdant hills of this beautiful and evocative vision of Tolkien's Middle Earth make it a magical landscape. While there are no hobbits, elves, dwarves, magicians or any other mythological characters in view, the picture is full of their presence.
Watercolor22 by
Viktosa
:thumb613981604:
This is a beauteous cat, a cat of character, a cat of determination, a cat with dignity, a cat whose tiny prominent teeth make me want to give him a home. The fine design and subdued palette almost make me forget my preference for dogs.
Red Squirrel Painting by
EsthervanHulsen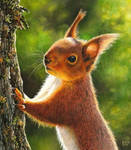 I'm never quite sure where the boundary lies between realistic and photo-realistic but I do know painting realistic watercolors takes time. This wonderfully detailed painting shows the spark of personality and character that makes even the smallest creature a unique being.
Rose garden by
eiger3975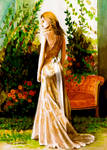 Using high contrast light and shadow, clear and uncompromising colors, and strong design, this artist is skilled at mixing contemporary images with an art deco style. This is just one example from his fine gallery of images.
****
While there are always more beautiful images than we can possibly choose as best in a single month we see them all as a movable feast for our eyes and hearts. This will be my last Journal entry for
watercolorists
. It's been a treat to moderate the work of so many fine watercolor artists.
Don't forget to vote for your favorite

Be good to yourselves and keep up the good work!
All best wishes,
Susan