Welcome to

Best of June 2015!
Once again we've seen a multitude of excellent paintings submitted to
watercolorists
. The particular challenge of choosing this month's selection of the best was in not being limited by our usual six month eligibility rule. We have so many very fine artists that the limits are usually more helpful than not. Nevertheless, since there can only be ten, we hope you will enjoy seeing the ones that are being featured this month.
Letter by
eiger3975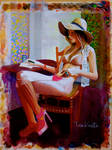 The figure in this portrait, not unlike Garbo's hauteur, is reminiscent of the cool yet sensual side of the Art Deco movement. The rich, informal patterns and colors are thoroughly modern.
Cidre et Dragon edition 2006 by
UnAutreLapin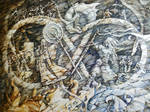 This would be considered a truly extraordinary painting in any medium - never mind watercolor. The design and execution are masterful; enlarging the image shows the amazing depth and detail maintained by this accomplished artist.
Conch by
SKMOON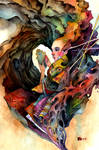 The vibrant colors and sophisticated design makes this one another truly remarkable image. An infinity of shapes and hues is suggested in the intricate patterning.
130615 by
kykie02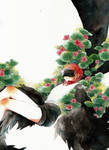 Manga and watercolor go together better than might be expected. The beautifully balanced silhouettes and muted colors combine in generating a meditative painting.
Strawberry Heaven by
couchmochi
This is one of those rare paintings that speaks directly to the heart of all of us who love nature. The colors are soft yet clear and the drawing is magical.
Superior Gulls by
richardcgreen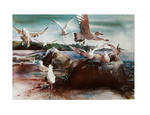 Richard has provided us with a number of his exquisite paintings since joining
watercolorists
. Nowadays he's well known for his magnificent abstracts inspired by the natural world. This one is a fine example of his more realistic work.
-Pterodactylus antiquus- by
RiEile

What we have here is a very skillfully rendered watercolor painting of the elegant building that's home to the British Natural History Museum. Most of us would be content with that. In this painting, however, the artist has added a subtly painted dinosaur climbing over the wall of the walkway.
Cienisty Jasmin/shadowy jasmine by
stokrotas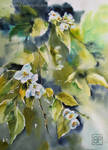 It's easy to feel as though you're looking at this beautiful plant as it appears in nature rather than seeing a painting. The deceptive simplicity of this lovely still life suggests a place of peace and tranquility.
Hauru by
LesDessinsDeSoph
:thumb532824033:
This intriguing image is a wonderful and loving tribute to the artwork of that master of Japanese film, Hayao Miyazaki. The artist's deft design and use of a very limited palette is much to be admired.
Miss Dashwood by
Vasylissa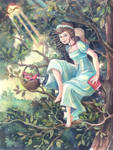 A lovely rendition of Margaret Dashwood, the romantic and silly youngest sister in Jane Austin's 'Sense and Sensibility'. The setting is well imagined and the soft colors of the palette make for a charming picture.
***
May you all enjoy a very Happy Summer.
Please don't forget to vote for your favorite.