Update 3rd March:
Today we were sad to learn our previous Founder, long-term Moderator and Member
Cmac13
is leaving the team back to Members

Please give her a warm farewell in her role as a Moderator. Carole was truly brightening the spirit of our team and we will miss infinitely her reason, diligence and vision.

Hope you will enjoy your retirement from Moderator's duties and keep on visiting us and sharing your new works with the group, dear Carole!






-
Ithilloth
~~~~~~~~~~~~~
Hello fellow watercolor lovers.  Welcome to the Best of February 2016 feature.  Again - warm welcome to our two new moderators
Art-by-Cricket
and
vivapo
.  It's a real pleasure having such talented artists strengthen the
watercolorists
team.  
As usual selecting only ten each month is quite the challenge - here's what I was able to come up with oh and,

don't forget to vote in our Best of February poll

Punk Girl by
AnastasiaBudarina
In your face color and  super hero self confidence makes
Punk Girl
one of the top ten selected this month.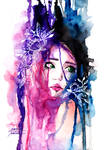 .Anxiety. by
CarlaNatalie
The intensity of anxiety depicted by vivid color and expression prove the versatility of watercolor to express a span of emotion - from extreme self confidence shown above to terrifying anxiety depicted here.
Solstice  by
HollyDOench
Winter Solstice the lowest excursion of the moon relative to the celestial equator on the celestial sphere witnessed by an enchanting voyeur.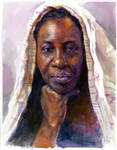 Watercolor Karen Nov 30,2015 by
grobles63
nihilistic-hun
's comment on the work
"Gorgeous work.  The colors are just perfect."
grobles63
's reply
"the color of royalty!"
                   Nothing more to be said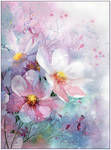 cosmic by
kosharik69
Impeccable color and perfect balance bring the wonder of nature  inside.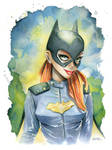 Batgirl by
MikeKretz
A perfect depiction of my favorite superhero.  The vivid color bespeaks her incredible capacities and character.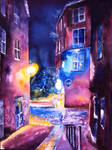 Justaroundthecorner... by
NeoNative
L'Ile Rousse is a laid-back seaside town, lying at the foot of the Balagne hills. It has beaches of white sand, and a bustling marketplace with cafés huddled beneath the plane trees in the village square. And yet, it reminds me of the Greenwich Village side streets I explored as a young woman. (Greenwich Village, NYC : For over 100 years, this small area below 14th Street and west of Broadway has been a Mecca to the creative, rebellious and Bohemian.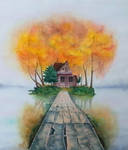 Lake house by
rougealizarine
Reference photo by Aleksandr Nesterovskyi www.instagram.com/p/9q-VIfiDnX…
So often watercolor displays soft, pastel qualities certainly obvious in the reference.
rougealizarine
has, however,  made this image her own with intense color that vibrates off the paper.
Free by
Takuichi
I

this piece.  For me it's a perfect depiction of JOY!!!  The joy of being alive of feeling bliss and being FREE.  A feel good image I could stare at for hours and hours and hours.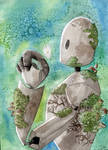 Forgotten by
ThreeLeaves
This image is inspired by studio Ghibli's
Castle in the Sky
  The salting technique is killer! ........Bravo!
warmest regards @watercolists administration