Hello everyone and Happy St Patrick's Day to you all!
I thought you might like to know that our founder
Cmac13
and good friend to all deviant Artists - watercolorists or not - is having knee replacement surgery today. I hope you will join us in wishing her a complete and speedy recovery.
May the road rise to meet you.
May the wind be always at your back.
May the sun shine warm upon your face.
And rains fall soft upon your fields.
And until we meet again,
May God hold you in the hollow of His hand.

*****
Happy March!
It has been another fine month for viewing the many wonderful watercolor paintings submitted to our galleries. I hope you enjoy seeing what we've chosen as the
best of the month
at
watercolorists
. Deciding on just ten is always difficult and all the more so near the end when one favorite must give way to another equally good. Here they are:
Kseniya by
yushnikova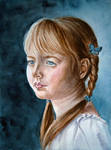 Beautiful lighting and her intense gaze serve to make this a portrait worthy of another look. High contrast, harmonious colors and tender brushwork are all admirable.
Wet Sand by
MichaelHocking
:thumb512764339:
The muted colors and soft shoreline silhouettes make a magical combination. This balanced composition has a quiet, thoughtful feel.
Red Riding Hood by
PowermadMistress

Using a very narrow palette the artist has created an elegant and dramatic image that perfectly encapsulates the terror inherent in this favorite Brothers Grimm tale.
Demons by
Mysteltain08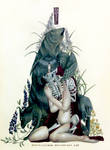 This disturbing and beautiful work is well composed with every element feeding off the other. The blue, gray, and green palette gives this tremendous impact.
Cloudwalker by
Cyggie7
:thumb514638739:
The symmetry and exciting colors make this a very intriguing painting. The beauty and harmony of the work is almost musical in that a few notes have been embellished and arranged within this masklike structure
Chihiro to meet No Face by
Why2be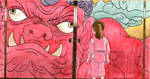 Miyazaki has created marvelous worlds of fantasy. This gentle watercolor captures the spirit of his stories and the design elements have been arranged in graceful unity tying together the soft primary colors with confident ink lines.
Riverbed by
aakritiarts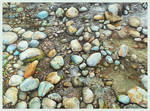 Most artists who paint in a photo-realistic style use oil or acrylic paints. When you see this in watercolor, you take notice because knowing how to handle the precise mix of colors is astonishing. It is all about painstaking patience and it's technical merit is unique.
Bagnoregio by
micorl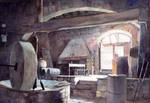 A good work of art takes more than an artist and a subject - it takes an emotional connection that speaks to our collective imagination. In his use of a muted palette and soft lighting the artist has captured the details and craftsmanship of this ancient mill.
Train by
falconcentral67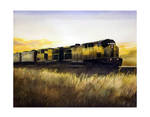 There's something very romantic about trains even when they are freight carriers rather old fashioned passenger trains. In this painting the artist has captured the power and volume of the locomotive reflected against a softly lit evening sky and landscape.
A3 Watercolour Ernie by
Spangledstars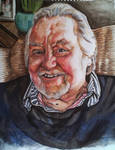 Paintings are like poetry in that they evoke certain feelings, certain emotions that function within our psyches on a more primitive level. I admire the strong colors and composition of this watercolor portrait.
*** *** ***
Wherever you may be we trust the promise of spring is in your hearts and fingertips. Keep up the outstanding work we all enjoy seeing here at
watercolorists
each and every month.
Please don't forget to vote for your own favorite in our poll..