Welcome to

for the final Feature of 2015, our picks for the best pictures submitted in December!










Thanks to all who have shared your artwork with us during the past year and thanks too to our esteemed visitors. I hope you enjoy seeing what we've chosen as the best of the month at
watercolorists
. We wish you all the very best for a Happy and Prosperous New Year!
Aurora Borealis II by
knight-of-sand
:thumb579357259:
A little Inuit girl and an arctic fox under the northern lights is a marvelous winter image. The colors and detail are charming.
self by
Dugolynn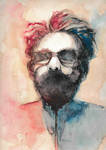 Using just red, blue and gray (or is it black?) the artist has used a simple palette and strong brushwork to make a bold statement.
Gremlin by
tomoyo696
The sweet character portrayed with skillfully executed drawing and a mixture of high contrast colors makes this a fine example of how to characterize a beloved pet.
Couldn't Sleep by
tuliipiie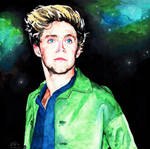 High contrast colors, excellent drawing and a remarkable expression on the character's face all go to make this a very compelling picture.
The Language of flowers by
Vasylissa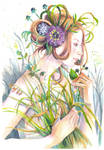 Drawn and detailed, colored with a tender sensibility this flower girl is a beautiful harbinger of the season that follows winter.
Lekkosc/Delicacy by
stokrotas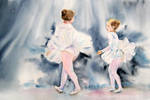 This is a wonderful example of the effects that can be depicted when an artist has mastered wet in wet techniques. The dancers are vibrant and beautiful.
Golden Dragon by
Enijoi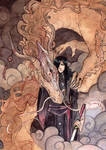 The crisp lines and muted, albeit rich, colors all serve to enhance the features and expression of both characters.
Cidre et Dragon Proposition Affiche 2016 by
UnAutreLapin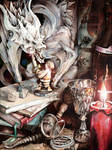 The remarkable combination of a masterful still life painting with a young dwarf fighting off a dragon is both fascinating and stunning.
Mr. Childermass by
LucioCrescent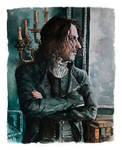 In an illustration from Jonathan Strange and Mr. Norrell, the artist has portrayed the magical and moody atmosphere of that magnificent pseudo Victorian novel.
Chicken Little by
richardcgreen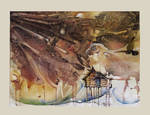 Using an integrated palette and having the sensitivity to know when to let the paint and plastic wrap to become acquainted the artist provides a ground for further invention. This is a fine example of his work.
****
Please do remember to vote for your favorite.