Hi dear Watercolorists!

Hope you are enjoying the spring in her bloom. We waved goodbye to April and welcomed May, which means another of our Monthly Best Of feature. Please enjoy our fellow artists best works submitted this month (as chosen by your humble servant

).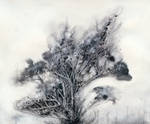 by
Tistelmark

Subtle, monochrome tree artwork, one of many unique wonderful tree portraits from Björn.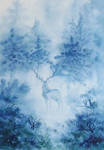 by
SueMArt

Eerie, mystical watercolor from Sue, kept in blue tones. The stag is almost invisible in delicate fog.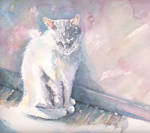 by
ShanghaiSarah

I guess a cat is obligatory in my selection, but this one especially captivated me by soft, pastel colour pallete, pinkish tones and overall coziness of the artwork.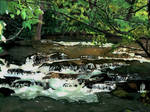 by
ZeldaGeek401

Surprisingly, no Link peeking from bushes on this wonderful waterscape from Tyler. Instead, we have intelligent use of black softened by turquoise and orange to show deep dark creek, lit by a sunlight beam.
:thumb604411771: by
baldeagleart

A skillful combination of sharp edges and wet-on-wet technique on a watercolor from PJ.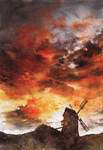 by
Katarzyna-Kmiecik

Burning sunset sky is the main hero of artwork from Kasia. A humble mill seems to be watching the sky, silent and still, another great example of black paint use, powered by wide palette of reds, oranges, yellows and some blues.
by
MissPaperJoker

Sketchy, but substantial artwork from Helene, inviting to explore the nuances hidden in her self-portrait, soft, harmonious duet of pencil lines and watercolor stains.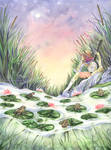 by
Manuela-M

Dreamy, whimsical illustration from Manuela makes me crave for summer and trip to the lakeside with friends and guitar. Captivating atmosphere created by violet shades, pinkish sky and fanciful expression of the character.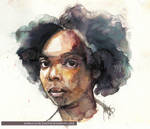 by
greyfin

Expressive, wild portrait of Ellis George character from Doctor Who by Daniela makes me rethink why do we even call dark-skinned people black, with all these shades of ochre, caramel and coffee.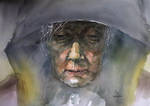 by
duybanco

Beautiful, mystical portraiture of an old lady, glaring thoughtfully down by Duy.
Please go and give these artists some

and

for their hard work and marvelous vision!