and, check out this
neat tutorial

www.deviantart.com/journal/Bas…
Welcome to the mid-spring edition of the Best of the Month paintings submitted to
watercolorists
!

Winnowing through so many excellent artworks to reach just ten is always the most difficult part of this process - that, plus the fact there must be a six month interim between featuring selections by particular artists. So, after much consideration (that included teeth grinding and hair pulling), here are the ones that have been chosen as the outstanding examples for April.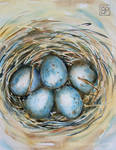 Blekitna Przyszlosc/Azure future by
stokrotas
Using a very limited blue and ochre palette the artist has created an exquisite image. The composition is balanced but relaxed in its formality.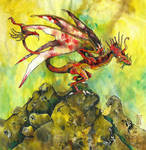 Concept Art II -Mec'H The Red Wyvern by
Chonunhwa
Dragons have to be a hands down favorite among mythical beasts and this one is both weird and wonderful. The design is unusual enough but the colors draw our attention.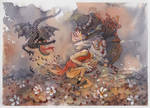 Dragons egg by
isletree
Fantasy, imagination, and the delight of storytelling in picture form are hallmarks of this artist's work. Her ability to add detailed elements over  soft color washes is delightful.
Icy white waters in forest black onyx mountains by
Zawij
Powerful colors and high contrast make this an exceptional example of how a watercolor can match any medium in transmitting the stark beauty of nature.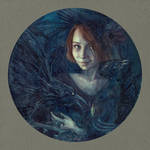 Ravens by
CoalRye
A little macabre, yes, but with enough wry humor to make it almost friendly. The rich, dark shades enhance the mystery of the scene.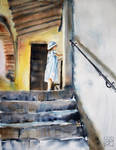 Small Anne by
stokrotas
Diffuse soft light and rich primary colors harmonize beautifully in this classic portrait. Stairs that are suggested rather than defined draws our attention upward.
:thumb528107519: Summer's Crib by
EmbracedByDvorovoi
In a heartwarming series of understated images the artist has created a polished story that has appeal for people of all ages. The creature character is most charming.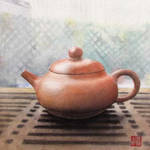 Tea no 1 by
YFYeung
This still life painting is stunningly beautiful in its elegance and deceptive simplicity. It is a transcendent teapot.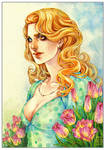 Vivian by
Nuaran
The elegance of line and bright yet subtle colors combine to make for a unique and fascinating portrait. There's something odd but very compelling in her gaze.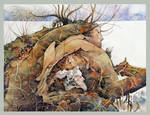 What Goes 'Round by
richardcgreen
The fine line between abstraction and reality come together in the meticulous composition of this piece. The artist is a master of searching out the inherent forms in poured watercolor.
*** *** ***
Many thanks to all of you for your hard work and your devotion to enhancing the world through the creative arts. Please remember to vote for your favorite.
(and perhaps you could send some good wishes to our dear friend and founder
Cmac13
who has been recuperating from knee surgery)





Best wishes to all of you from your fans at
watercolorists