Journal Entry:
Fri Jul 22, 2016, 7:42 AM

UPDATE Aug 5th:



We have new donators! See the prizes section for new stuff!

_______________________________________________
Hello dear Watercolorists!

We would like to announce to you our new project launching in August:
AquaChallenge
.
The idea behind this project is simple: We will throw a theme for you to paint from time to time, and we will reward participants with points, artworks, features and all the love in our watercolor stained hearts

Donators are welcome and can participate too!
The THEME of the first challenge is:
SUMMERTIME!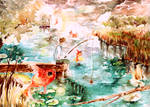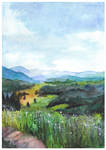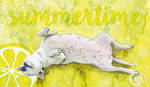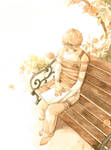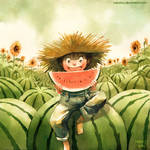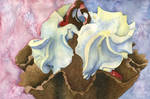 :thumb615112089: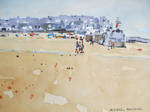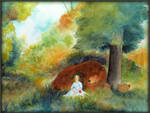 It's currently summer on the northern hemisphere, and summer is time of leisure, vacation and... free time to paint. What are your associations with summer? Is it sunny weather, going to seaside, or a mountain hike? Is it a lazy day with book or hanging out with your friends, eating ice cream, playing summer sports? Illustrate your summertime with watercolor and share it with us!
WHO can participate:
Any member of
watercolorists
can join the fun!
RULES about submissions:

Your work must be new - submitted between 1st and 31st of August in order to participate.

Only
one
entry per member.

Your artwork has to apply to our group's
Submission rules
- obviously it needs to be a watercolor or one of acceptable media! In case you're not sure if your work applies, please ask us directly.

Please mention the AquaChallenge in the description of your artwork so that we know it's supposed to take part in the challenge.

Donators  are welcome to participate too!
WHERE to submit:
Please submit to the
AquaChallenge
folder, a new folder created specifically for this event. We will open it on 1st August

watercolorists.deviantart.com/…
TIME to submit your artwork:
This AquaChallenge starts with 1st August and ends on 31st August, 23:59 Western European Summer Time (GMT +1.00).
To check what hour will it be in your time zone, you can use this page:
www.worldtimeserver.com/
PRIZES:


1st place: 600

, A5 original from
NOLANOS

2nd place: 400

, ACEO and bookmark from
NOLANOS

3rd place: 200

, ACEO from
NOLANOS

ALL participants will be featured on our front page!

A journal feature for winners from
Ithilloth
and
TokyoMoonlight

A llama + fav + feature from
LualaDy
and
Art-by-Cricket
CALLING FOR DONATORS!
If you want to help us with prizes (points, features, artworks, stamps, …), we would be more than happy about it. The more prizes we can collect the sweeter awards can get!
If you can donate points, artworks, features, llamas for winners, please comment under this journal or send a note directly to the group. You can also use the donation widget on
TokyoMoonlight
's or
Ithilloth
's page.

VOTING:
From all of the entries the admins of the group will choose 10 best artworks and make a poll.
You, our members, will decide which 3 artworks are the best by voting in a poll.
Yes, it's YOU who will decide who wins!
Everyone has one vote - also the participants!
We will choose the best 10 artworks for the poll based on the relation to the given theme, creativity and effort. Voting will be closed and winners announced after a week (on 7th September, 23:59 GMT +1.00).
If you have any further questions, feel free to comment!

HAVE FUN, BE CREATIVE AND MOSTLY… BE A BOLD WATERCOLORIST!
We can't wait to see your entries!