Hello watercolor friends!

It's been a great month and we keep rolling out new features! Our admins keep looking for ways to share our art, learn more about making art, using techniques, and learning more about each other.
Welcome to our newest feature, AquaTalk! Each month, we will choose a member of
watercolorists
to interview. you will gain insight to their general artistic goals, their watercolor technique, and little of their personality as well.
This month we interviewed the lovely
CamillaMalcus
, where we get an indepth look at her approach to her realistic paintings and portrayals of nature.

First of all, please tell us a bit about yourself.
I was born and raised in Sweden, where I still live today. I've always enjoyed painting, but it wasn't until a few years ago that I started to approach it more seriously.

When did you start painting with watercolors? Why do you use watercolors to create art?
If I remember right, I got my first watercolours when I was 14 years old.
Initially, I loved the medium for its convenience; easy to bring along when going somewhere, handy for the few materials needed, and, most of all, a real winner when it comes to the ease of cleaning the brushes.
Nowadays I can't think of another medium I'd rather use. I've tried a few other techniques, but I'm always drawn back to watercolours like a magnet. I love everything about the medium, not least the challenge.

Who is your favorite watercolorist? Do you have a favorite on deviantArt?
Oh, tough question. I love many different watercolourists and many different styles, so it's difficult to name just one or two.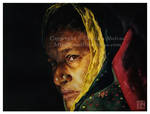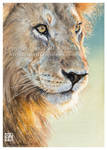 What inspires you to create? If you're uninspired can you paint the same?
I'm inspired by people and my surroundings -both at home and when I travel- but also by photos and images that I find appealing in one way or another. DA is a great source of inspiration.
It has only happened once that I've repainted the same motive (using different media), and I doubt it will happen again. I try to vary my subjects as much as possible.

What do you want to communicate with your art? And how does watercolor help you accomplish this?
Strange as it may sound, I've never really painted with the intention of communicating through my art. I paint mostly because I enjoy the process, and I don't necessarily feel the need to show the outcome to anyone. That said however, all the lovely comments and the support here on DA have really helped to motivate me and inspire future paintings.

What is a watercolor technique you use a lot? Craziest technique you have done to achieve a certain effect?
My main technique is wet-on-dry, with quite a lot of fine detail work.
The craziest technique might have been when I tried using a gauze bandage to create a textured effect. I failed dismally.

What's your favourite color? Do you "abuse" of that color in your paintings?
My favourite colour is a deep bluish green; a slightly muted emerald. I might have abused it somewhat... *laughs* I can never tire of it. As far as clean, unmixed colours are concerned, I just can't live without French Ultramarine. Payne's Gray is another essential.

How do you know when a piece is finished?
I usually stop when I'm somewhat satisfied with the result. I prefer to paint smaller areas at a time and finish them completely before moving on to another. That helps me focus and keeps me from going back and risk overworking particular details.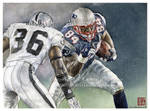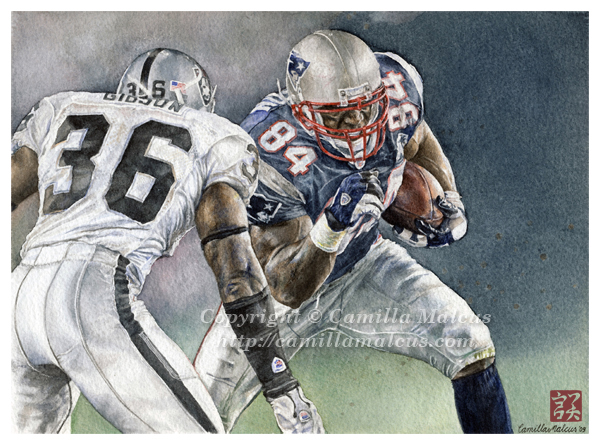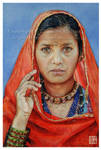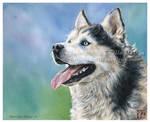 Any watercolors story/anecdote you would like to share?
I've been wrecking my brain, but I'm afraid I can't think of anything at the moment; my watercolour painting sessions are rather uneventful.


Best advice you've been given
Since I'm autodidact and don't really know anyone that paints, I can't say I've been given any useful advice. Odd, when I think about it.

Any other thoughts you want to share?
Hmm...Perhaps that I think DA is a great place, and that I'm very glad I joined.
Tubes or pans?
Pans, always.
Watercolored pencils y/n?
No, I've never taken to them.
Masking fluid y/n?
Yes, I can't live without it.
Hot press or cold press?
Cold press. I like the texture and the way it handles the paint.
Studio or outdoor?
Studio. I'd get too distracted outdoors.
Left-handed or right-handed?
Right-handed.
Morning person or night owl?
Night owl. It sometimes stretches to the morning though, so maybe I should say both.
Sports or couch potato?
A healthy mix in between.
Half full or half empty?
Half full, of course.

Batman or Superman?
Neither. I'm not much of a comics person.
Dog or cat?
I love all animals, but I'd have to say dog. Unless reptile is an option.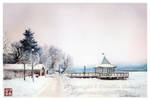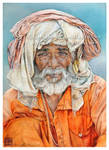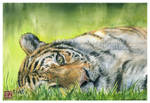 Thank you Camilla!!