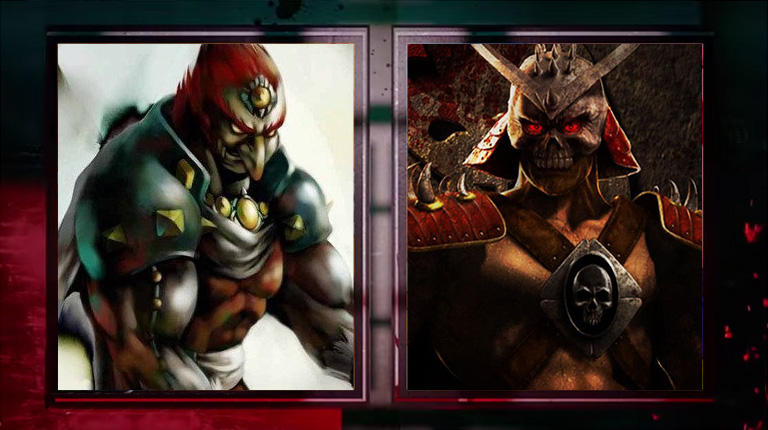 Hydro Frez: The kings have been crowned and the lands are ripe for the taking! I can see the ending!
Tempest: It's time for, a DEATH BATTLE!
---
Outworld Palace, Throne Room
A single soldier ran through the gilded halls, his footsteps echoing through the large room as a satchel bounced at his hip. Making his way to the throne room where his Emperor, the Ruler of Outworld sat, he skidded to a halt on the blood-red carpet, right before the Emperor and his audience. The figure sitting on the throne, a large burly man with well toned muscles and wearing a skull helmet raised an eyebrow at the sudden intrusion. The two people he was conversing with, a shifty eyed sorcerer and a woman dressed in a skimpy purple outfit, glared at the soldier and made to unsheathe their weapons to punish him for showing up unannounced.
"Shang Tsung! Mileena! Stay your hand!"
The soldier was saved as Shao Kahn commanded his servants to stop. Reluctantly, Shang Tsung and Mileena backed off, though the latter continued to glare daggers at the soldier
Shao Kahn leaned forward, resting his chin on his fist and beckoned with his other hand. "Speak."
The soldier swallowed. "My- my lord, I bring news from the western front. A large army has broken through the barriers separating our realms. They are less than a day's march from the palace!"
"WHAT?" Shaking with anger, Shao Kahn got up from his throne and marched down to the cowering soldier. "Why am I only receiving word of this now? What about the scouting parties in that area?"
Shivering as his Emperor towered over him, the solider fumbled for his satchel. "Tha- that's just it sir. We received this not an hour after we had sighted the army."
Shao Kahn grabbed the satchel out of the soldier's hands and peered into it. Disgusted, he threw it to the side, its contents spilling out to show the severed heads of several Tarkatans from the scouting party.
Shang Tsung picked up a head and examined it. "Interesting, I can find traces of dark magic along the severed tendons, indicating that they were tortured. What else do we know of this army? Do you have a description of their general?"
The soldier nodded. "Yes sir. The bulk of the army seems to consist of pig-like creatures, moving skeletons and soldiers in gilded black armour. We also noticed a large being in golden armour walking among them, but we have reason to doubt he's the commander."
"Pigs? Skeletons?" Mileena stepped up to her father in protest. "No species in Outworld match those descriptions and the realms that are populated by similar species are too small to muster an army capable of taking on the might of Outworld!"
Shang Tsung scowled. "Think rationally for a second. There's always a chance they might've been hiding their numbers or allied themselves with an unknown force! To think that I was the one who created you, I should've given you a few more brain cells!"
Snarling, Mileena unsheathed her sais and bared her sharp teeth at Shang Tsung. "Stay your tongue sorcerer! You may have created me, but I will take no insults from you-"
The arguing duo was suddenly cut off by a deep rumbling chuckle. Surprised, they looked at their Emperor, who crossed his arms in amusement. "A brand new army? Species we have not seen before? There's no question about it, the dimensional barriers that separate the realms are weakening." This was not the first time it had happened. Memories of the blue canine-like creature defeating Ermac flashed through Shao Kahn's mind for a split second. "What we are facing here is an entirely new threat! Rally the troops! We will confront this new intruder on the wastelands of Outworld!"
Shang Tsung and Mileena quickly bowed their heads before hurrying off prepare for war. Watching his servants take their leave, Shao Kahn turned to the remaining soldier.
"You! Back to your duties or I'll have you flayed alive for idleness!"
Quickly nodding, the soldier ran out of the room with his head bowed. Alone, Shao Kahn chuckled. Things had been boring as of late. Crushing the commander of the invading army and displaying his broken body to demoralize Outworld's enemies would provide a great deal of amusement.
Summoning his Wrath Hammer from the aether, Shao Kahn strode out of the throne room to join his generals.
---
An hour later, Outworld Wasteland
The barren wastes of Outworld was by no means a pleasant sight. The dry, cracked ground held nary a trace of vegetation spare for a few hardy shrubs, but even those never lasted long underneath the Outworldian sky. The vast area spanning several leagues stretched far off into the distance, the capital of Outworld just at its borders.
On the opposing end, a dark-skinned man wearing black armour with intricate gold carvings surveyed the area. Before him, a legion of Moblins, Stalfos, Octorocks and Dark Nuts amongst many other monsters awaited his command, their numbers swarming the entire length of the battlefield.
The King of Evil, The Prince of Darkness, the Immortal Bane of Light, he was known by many names and titles. For all intents and purposes though, Ganondorf would be the name he would use to strike terror and despair into this pitiful world he had found himself in.
Duly noting the scavenger birds in the sky, waiting for the inevitable feast that awaited them, Ganondorf smiled softly as he saw an army emerge from the walls of the capital.
"Excellent. Seems like our message has gone through." Two shrivelled old hags floated beside Ganondorf on broomsticks, cackling in raspy breaths. "This world shall be yours! They will rue the day they dared to raise arms against Ganondorf!"
The Dark Lord nodded. "Yes, though I may have been casted from our world by those blasted goddesses, this world will be a fine place to gather resources for my revenge." Turning to his generals, Ganondorf pointed at a giant man in shining golden armour. "General Onox, you shall lead the charge. Teach them the meaning of true overwhelming power."
The General of Darkness nodded and hefted a large spiked ball and chain into the air. "Yes sir! I will not disappoint you!"
As General Onox stomped down to the army, a smaller man wearing an odd helmet and a pale blue sorceress proceeded to follow, but were quickly stopped by Ganondorf's hand.
"Veran, Zant, you stay here. Your abilities will be more useful as the battle carries on."
"Eh? What makes you say that? Wouldn't it be better to crush them all in one fell swoop?" Zant the Twilight King asked, rather surprised that he was being relegated to the second line.
Smirking, Ganondorf turned to face the battlefield, the opposing army of sharp toothed monsters, muscular four-armed men, and giant behemoths already taking up ranks. "We do not know the strength of our opponents. It would be unwise to play all our cards first."
Veran, the Sorceress of Shadows, raised an eyebrow. "I do not understand my lord. I have no doubt General Onox alone would be enough to crush these miserable insects."
Ganondorf nodded. "He will, without a doubt."
"Then why-"
Veran quickly quieted as Ganondorf held up his hand. "That is exactly why I sent him out first. In case our opponent has some powerful magicians in their ranks, his very presence will weed them out."
Cackling, Zant doubled over with laughter. "You're using him as a pawn! A scapegoat to make those fools reveal their hand! How cruel! How genius!"
Grinning, Ganondorf chuckled himself, Zant's laughter being rather infectious. "Like the game of chess, war is a mind game. Predict the opponent's move and force them into a corner. And like chess, in the game of war, the pawns go first."
Hearing the distant sound of a war horn, Ganondorf motioned to Kotake of the Twinrova Witches. "Sound the battle horn! We go to war NOW!"
---
A thunderous roar shook the battlefield, the two opposing armies belting out their own cries of war. A legion of Tarkatans at the front of the Outworld army brought up their machine guns, weapons provided by Kano of the Black Dragons, and opened fire. Hot lead pierce through the front ranks of Ganondorf's army, downing Moblin after Moblin in an instant. The fallen were immediately trampled by their brethren, ignoring the bursts of machine gun fire as they charged on. Several Tarkatans and Shokans quickly set up several mortars behind the front ranks, shooting shells of explosive death into the ranks of the opposing army, blasting Moblins and Octorocks to shreds.
Alas, the modern weaponry that had been brought were few in number. Though effective, it was like squirting a bottle of pesticide at a swarm of several dozen angry hornet nests. Ganondorf's army quickly closed the distance, the number of losses inconsequential due to their large size. The Tarkatan firing squad quickly abandoned their firearms and unsheathed their arm blades, roaring at the top of their lungs as they charged at the enemy as their Shokan comrades joined them.
There was the terrible clash of metal smashing into each other and anguished cries of pain as the two armies collided. With the reach of their long spears, the Moblins quickly struck down the first line of Tarkatans and Shokan, shoving their weapons through throats and into hearts.
As the first line collapsed, enraged Tarkatans leapt over the corpses of their fallen, thrusting their arm blades through Moblin skulls. The monsters that avoided the attack squealed and pushed back.
Watching the front line struggle, General Onox barked an order at the squads of Moblin and Stalfos archers. Within seconds, a swarm of arrows dotted the sky, blotting out the sun. Words of warning were quickly snuffed out by screams of agony as soldiers of the Outworld army fell to the ground, dead. The survivors quickly returned fire, launching a barrage of fireballs and rocks into Ganondorf's army.
At the far back of the battlefield, Shao Kahn sat on his throne surrounded by his most trusted and powerful warriors, silently watching as the opposing army slowly, but surely made their way closer to the capital. Taking note of the giant in gold armour easily clearing out a battalion of Shokan with a single swing of his ball and chain, Shao Kahn leaned back in his chair as Shang Tsung ordered the dragon fliers to take to the sky. Two dozen of the winged reptiles took flight, swooping over the battlefield and blasting the enemy with gouts of fire. The smell of charred flesh quickly joined the metallic scent of blood as the enemy archers tried to shoot them down. Three dragons were shot down, crashing into the ground with horrible cracking noises while the rest converged on the enemy general, bathing him in a torrent of flames.
But even as the flames coated his body, General Onox roared and rose above the flames, not as a humanoid, but as a dragon himself, one many times larger then any dragon in Shao Kahn's army. With two swipes of his claws, the entire squad of dragon fliers were sliced to ribbons.
Slightly surprised as General Onox changed back to his humanoid form, Shao Kahn turned to a strikingly white sorcerer standing beside him.
"Quan-Chi! Take care of the general however you can!"
The oni bowed his head. "As you wish." Creating a portal, Quan-Chi stepped in and disappeared.
Bringing his attention to the rest of his generals, Shao Kahn quickly barked out orders. "Baraka and Reptile, join the front lines! Mileena and Skarlet, find the commander and kill him! Goro, Kintaro and Motaro, take command of the squadrons and break through the enemy lines! Shang Tsung, you will stay here and aid me in forming a competent strategy!"
As one, the kombatants hardened by Mortal Kombat roared and charged to accomplish their respective tasks. Within seconds, Baraka and Reptile had leapt to the front of the battle, the Tarakatan general saving a few of his brethren by slicing through several Moblins while Reptile plunged his claws into an Octorock and ripped out its intestines. Goro, Kintaro and Motaro rallied the troops in pushing back against the invading force, allowing Mileena and Skarlet to slip by undetected.
---
Roaring at the top of his lungs, General Onox swung his ball and chain, smashing through the opposition with ease. Shokan and Tarakatans were easily reduced to mangled pulp. Swinging the chain over his head, Onox brought it down on one of the enemy behomoths, crushing its skull into the dirt.
Stomping forward, his golden armour already splattered with blood and flesh, Onox barked an order at the squad of elite Dark Nuts beside him, ordering them to push forward. The black soldiers hurried forth, cutting Tarkatans to pieces before clashing with the Shokan troops.
Onox allowed himself a brief glance back to where Ganondorf watched. For his commander and lord, he would not fail.
Turning his attention back to the battlefield, the General of Darkness was suddenly taken aback by a glowing green skull smashing into his visor. Roaring, he took a step back from the surprise attack, his vision clearing up to see a pale oni stepping out of a green portal. Snarling, Onox raised his chain over his head, preparing to swing when Quan-Chi suddenly darted forward, avoiding the lengthy chain and leapt into the air. Before Onox could react, the sorcerer slammed his heels into the general's breastplate with surprising strength, actually denting the armour and sending Onox stumbling back.
Landing on two feet, Quan-Chi waved his arm, a large portal opening up behind Onox. His eyes widening, Onox managed to halt himself, right before he entered the portal, only for Quan-Chi to blast a green skull at his helmeted face with enough force to send him reeling backwards into the portal, the General of Darkness' enraged screams quickly disappearing as Quan-Chi closed the portal shut with a simple hand gesture.
---
Surveying the war from his vantage point, Ganondorf raised an eyebrow when he saw General Onox vanish off the battlefield into a portal. Squinting a bit, he spotted the pale sorcerer closing the portal shut. His army had done well enough through the use of brute strength, and it seemed his fellow commander had decided to raise the stakes.
Ganondorf smiled. All was going to plan.
"Zant!" Calling out to the Twilight King, Ganondorf pointed at Quan-Chi who was visibly panting, likely from the strain of opening such a huge portal to take care of General Onox. "That man down there can teleport soldiers away from the battlefield. Take care of him!"
Giggling, Zant stamped his feet in excitement. "My pleasure!" Long sharp blades protruded from his sleeves as Zant hollered and vanished into a Twilight Portal.
Turning his attention back to the battlefield, Ganondorf watched as Zant teleported right behind Quan-Chi. Before the oni could react, Zant shoved his blades into Quan-Chi's back, lifted him up, and vanished, likely bringing the sorcerer to an area where the Twilight King held the advantage.
Nodding in satisfaction, Ganondorf motioned to Veran and the Twinrova witches. His army was making great progress, but the appearance of the two four-armed monsters and centaur had slowed progress down quite a bit. "Veran, take down the general on the right, Koume and Kotake, the general on the left."
As the sorceress and witches flew down to join in the carnage, Ganondorf raised his fist, dark magic collecting within his knuckles. Within seconds, a ghostly phantom wearing a demonic skull mask rose from the ground atop a pitch-black steed in steel armour.
"Go! Take down the centaur!"
With a hideous cackle, Phantom Ganon galloped towards the enemy. Any enemy soldier unlucky enough to stand in its way were swiftly decapitated by the phantom's ghastly blade as it made its way to Motaro.
---
Shao Kahn growled in annoyance. The battle was not in his favour, even he could see that. Reptile and Baraka had already been dealt with, the former meeting his end after trying to challenge a Dark Nut while the latter had been killed after being overwhelmed by a squadron of Moblins.
Even before his very eyes, pale fireballs pounded Goro into the earth by a blue-skinned woman, who's laughter chilled even his bones to the core. On the other hand, Kintaro had already been reduced to a smoldering skeleton by the combined fire and lightning magic of two witches who were now dealing with straggling soldiers. Motaro was fairing a bit better, dueling on even grounds with a ghostly rider, fending off the quick strikes with lashes of his tail.
But even then, the Outworld army was faltering. Tarkatan and Shokan corpses littered the wastelands, their blood quenching the thirst of the previously dry ground. The dragon riders had fallen, as well as the last behemoth, who let out one last groan of agony before collapsing before the might of a Stalfos squad.
A portal opened up next to Shao Kahn, but he paid it little heed as Quan-Chi stepped out, heavily injured. In his hand, was the remains of an odd shaped helmet, still dripping with fresh blood.
Quan-Chi tossed the helmet aside. "How goes the battle my lord?"
"Poorly. We should've brought some of your friends from the Netherrealm."
"I'm afraid that's outside of my jurisdiction my lord."
"Bah." Shao Kahn grunted. Noticing the blue-skinned woman had finished off Goro and was now flying towards him, Shao Kahn scowled. "Shang Tsung and Quan-Chi! Dispose of that harlot!"
Shang Tsung gave a wry grin. "Finally, I've been dying to add to my collection of souls!"
---
Ganondorf frowned as he watched Veran make a beeline towards the opposing commander. No sooner had she entered within range, the commander's body guards leapt to their feet. With strange hand motions, a green light seeped out from Veran's eyes and mouth and into the enemies hands. The sorceress was clearly panicking, struggling to fight back with some fireballs, but it was for all in vain. With a strangled gasp, Veran's once beautiful features withered away until she resembled a shrunken old woman. She collapsed onto the ground, but Shang Tsung and Quan-Chi kept at it, stealing away her life force with their soul powers.
Within seconds, Veran crumbled into dust and was swept away on the wind.
Clicking his tongue, Ganondorf shook his head in disappointment. He had high hopes for her. Maybe it was time for him to join in the battle as well.
Behind the Dark Lord, two shadows skulked by a cropping of rocks. Eyeing their prey hungrily, Mileena twirled her sais in her hands while Skarlet unsheathed a small sword. Once they were sure Ganondorf's attention was entirely focused on the battle, they dashed out from the shadows, weapons posed to strike!
SHING!
In a flash of steel, Ganondorf had withdrawn two longswords from his belt. Both Mileena and Skarlet fell to the ground completely bifurcated, their entrails spilling onto the dry dirt.
"Assassins? Pah. Worthless." Ganondorf spat on their corpses and sheathed his swords. As he turned away to walk down towards the battlefield, Skarlet's body suddenly dissolved into a puddle of blood. The blood quickly slithered up behind Ganondorf, transforming back into Skarlet as she took out a tanto and jammed it into Ganondorf's neck before he could notice.
Her victory was short lived. Before she could react, Ganondorf whirled around and grasped her by the throat with one hand. Gagging, she tried to escape by transforming into blood, but for some reason, found that she could not.
"Bastard! My Emperor will have your head! You will not have our realm!" Skarlet spat and swore, but it only served to amuse Ganondorf further.
"Yes, this was your realm." Raising his free hand, Ganondorf channeled dark magic into his fingers and plunged them into Skarlet's torso. The red clad assassin screamed as she felt Ganondorf's fingers close around her spine, sharp pain flashing through her entire body.
"And now..." Bright purple light shone from Skarlet's eyes and mouth, her entire body spasming as Ganondorf focused dark magic through her body. Shrieking, Skarlet violently struggled, but it was all in vain.
"It's mine."
With one final scream, Skarlet's entire body exploded, every bit of flesh and blood completely annihilated by dark magic.
Smirking, Ganondorf pulled out the tanto and tossed it to the side. Turning around, he marched down to join the battle, leaving Mileena's corpse alone to decay and rot.
---
The battle was entering its final throes. Shao Kahn's army was all but destroyed, the few remnants desperately retreating. On the other hand, while Ganondorf's army had suffered a large number of losses, a great number of Moblins, Stalfos, Octorocks and Dark Nuts still remained, chasing down the survivors and burying them in the dirt.
The Twinrova witches flew down beside Ganondorf, giving him a report of the battle. Ganondorf paid little heed to their squacks, instead focusing on Phantom Ganon as it finished off Motaro by lopping off the centaur's head and proceeded to gallop up the path to where the enemy commander awaited.
Scowling, Shao Kahn stood up from his seat and ordered Shang Tsung and Quan-Chi to deal with the phantom cutting down his remaining soldiers. The two sorcerers ran down, sickly green energy coiling around their arms. As Phantom Ganon came closer, the two did a few hand motions, calling upon their mystical powers to drag out the phantom's soul.
Right before the magic could take place, Phantom Ganon leapt off his steed, letting his horse take the soul absorbing attack. The stallion from another dimension collapsed, much to the surprise of Shang Tsung and Quan-Chi. Hastily, they tried to strike again, but Phantom Ganon was instantly upon them, sword raised high in the air. Before the duo could do anything to counter, Phantom Ganon swung.
Their heads rolled in the dirt, a most shocked and alarmed expression on them.
Before the bodies had even hit the ground, Phantom Ganon landed and continued running straight towards Shao Kahn, cackling with joy. It would take the enemy commander's head with pride. It would not disappoint it's creator, the almighty King of Dark-
"Fine."
Before the Phantom knew what hit it, Shao Kahn had dashed forward, grabbing it by the throat, and smashed it into the dirt.
Raising the struggling phantom into the air, Shao Kahn glared at it with contempt.
"I'll do it myself."
Tightening his grip, Shao Kahn's eyes suddenly took on a green glow. Within seconds, Phantom Ganon, being little more then a construct of spectral forces, was absorbed into Shao Kahn's body with an anguished howl. Savouring the power of the phantom's soul course through his body, Shao Kahn stepped towards the army approaching him and raised his arms.
To Ganondorf's shock, green light shot out from his soldiers, their very souls being taken away. Moblins and Dark Nuts collapsed lifelessly as Stalfos crumbled into pile of bones. Even the Twinrova sisters were not exempt, their withered bodies falling to the ground with a soft thump.
Snarling, Ganondorf mentally prepared himself to fight for his soul, but a shining golden light surrounded his body, protecting him from the soul robbing magic. Slightly surprised, Ganondorf shook it off as a magical ward Veran had casted on him beforehand.
Once the final soul had been sapped, Shao Kahn chuckled and walked towards Ganondorf, stepping on the corpses of the fallen.
Where there were once two armies, there were now none. Corpses were scattered across the entire wasteland, their bodies nothing more then carrion for the birds and treasure mines for scavenging peasants.
The King of Darkness and the Konqueror of Worlds stood face to face, angry and unamused.
"Impressive." Ganondorf was the first to break the silence. "If you had used that sort of power at the beginning, you would've surely won. So why didn't you?"
Shao Kahn grinned. "It was a test. My army was far weaker then I imagined, so you have my thanks for exposing their flaws." Shao Kahn placed his hands on his hips and laughed. "I will have to find new replacements in the future."
Ganondorf snorted. "You speak as if you'll live long enough to put your plan into action. You are sorely mistaken."
Glaring at the dark skinned man, Shao Kahn roared. "I am Shao Kahn! Konqueror of Worlds! It was a mistake to make an enemy of Outworld for one reason! You angered ME!"
Scowling, dark magic flared in Ganondorf's hand. "Such misguided arrogance. You will taste no victory!"

Deciding to test the waters a bit, Ganondorf's fist lit up with dark energy. With a casual swing, a dark fireball shot towards Shao Kahn. Scoffing, the Emperor of Outworld chuckled. Did his opponent think he'd dodge such a feeble attack? Pathetic.
Much to Ganondorf's bewilderment, Shao Kahn's entire body took on a green glow before he ploughed right through the fireball, the magical energy dissipating into vapours and straight towards Ganondorf, the spikes on his shoulder acting as a battering ram. Just as the spikes were about to impale Ganondorf, the dark wizard jumped into the air, avoiding the attack and letting Shao Kahn race past him. Purple flames raced down Ganondorf's leg as he dive-kicked Shao Kahn from above, aiming to take the Emperor's head. Snarling, Shao Kahn grabbed the leg in a steel-like grip. With a mighty heave, Ganondorf was sent flying several feet away.
Righting himself in midair, Ganondorf clenched his fists in annoyance as Shao Kahn placed his hands on his hips and laughed.
"Is that your best? You disappoint me weakling. "
A vein throbbed near Ganondorf's forehead. "Such arrogance will be your undoing." Raising his hands into the air, dark energy began to swirl and condense within his palms, creating a large crackling sphere of dark matter. "BEHOLD TRUE POWER!"
The sphere of dark matter came crashing down onto the battlefield, incinerating every corpse it touched to ash. Shao Kahn crossed his arms, bracing the attack as it pounded him into the earth.
Hovering in the air, Ganodorf smugly looked down from his position, confident that his power reigned supreme. As the ash cleared, his smile turned to a frown as Shao Kahn emerged relatively unharmed from the smoke. "All too easy mortal."
Tensing his legs, Shao Kahn suddenly leapt into the air at such speeds, Ganondorf was unable to react in time as a fierce uppercut snapped his head back. Still in mid-air, Shao Kahn summoned his Wrath Hammer in a burst of green energy and swung down, smashing the mighty maul right into Ganondorf's cranium and sending the warlock crashing headfirst into the earth.
Before Ganondorf could recover, Shao Kahn summoned several light spears and threw them down. One hit Ganondorf's shoulder, eliciting a grunt of annoyance while another one grazed his cheek, drawing a thin line of blood. Quickly grabbing his cape, Ganondorf swept it around his body, just as the remaining light spears rained down. The moment they struck the cape, each one was sent flying back at Shao Kahn. Snarling, the Emperor swatted them aside and came flying down, green after-images flowing behind him.
Jumping slightly out of Shao Kahn's range, Ganondorf quickly focused power into his hand as Shao Kahn landed with a loud crash before dashing out to grab the Emperor around the neck. Lifting the muscle bound brute into the air as he flew over the battlefield, Ganondorf slammed Shao Kahn into the earth, dragging him across the blood soaked dirt for several yards. Reaching a large cluster of rocks, Ganondorf leapt into the air, his knuckles brimming with power. With a loud roar, he slammed Shao Kahn into the cropping of rocks.
BOOM!
An explosion of dark magic erupted from Ganondorf's hand, obliterating the rocks to pebbles and engulfing Shao Kahn's entire body. To Ganondorf's surprise though, the point-blank attack did nothing but serve to fan the flames of hatred in Shao Kahn's eyes.
Before he could pull back, Shao Kahn wrenched the warlock's fingers from his throat and proceeded to rear his head back and smash his forehead into Ganondorf. As warlock stumbled back in pain, Shao Kahn brought his Wrath Hammer out and swept Ganondorf's legs out from under him. As he fell, Shao Kahn brought his hammer around again, this time in an upwards swing, nailing Ganondorf right underneath his chin and sending him flipping head over heels.
With a loud crunch, Ganondorf found himself laying in a pile of dead Tarkatans, a couple of their arm blades protruding through his chest. Furrowing his brow, Ganondorf stood up and pulled them out with slight discomfort, the blades still attached to the arms.
Examining the crude body pieces in his hands, a blast of green energy struck Ganondorf, sending him skidding back. Cracking his neck, Ganondorf grabbed two arm blades and charged at Shao Kahn, using the Tarkatan arm blades to strike at several light spears and energy balls and send them right back at the Emperor.
Bracing his arms, Shao Kahn grunts as he is struck by his own projectiles. Seizing the opening, Ganondorf closed the distance, shoving one arm blade straight through Shao Kahn's beefy forearm and one into his kneecap, forcing him to buckle and kneel before the dark lord.
With his opponent down, a sword glowing with divine power was brought out as Ganondorf slowly circled Shao Kahn. "How weak. Conqueror of Worlds was it? Your army has fallen. Your kingdom is but one step away from being mine. Now look at you, keeling over like a dog." Ganondorf gloated. The Emperor paying little heed to his opponent and slowly pulled the arm blades out. "The power of the Goddesses flow through my veins."
Stopping in front of Shao Kahn, Ganondorf grabbed him by the neck and lifted him into the air, tightening his grip and causing Shao Kahn's eyes to bulge out slightly from under his helmet "But you? You have nothing."
In one fluid motion, the Sword of Sages was thrust into Shao Kahn's chest, easily piercing the thick skin and emerging from his back, dripping with blood.
Ganondorf released Shao Kahn, letting him fall to his knees as blood leaked from his mouth.
"You are nothing."
"Heh."
A deep chuckle rumbled from Shao Kahn. Despite the surprising amount of pain coursing through his body, the Emperor of Outworld slowly stood up, much to Ganondorf's amusement. Grabbing the holy sword in his chest, Shao Kahn pulled it out with little effort before grabbing the blade with his other hand and snapping it in two.
"So that's how it is." Shao Kahn muttered. "As expected from a mere pup trying to earn its place among the pack. Only the strong will acknowledge the weak, so you talk a big game to prove your worth. Pathetic."
Irritated that the Sword of Sages had failed to kill Shao Kahn, Ganondorf unsheathed two long silver swords. Without wasting a breath, both swords were brought them down on Shao Kahn. To his surprise, Shao Kahn caught the swords in his hands, ignoring the small trails of blood trickling down his hands. "Words mean nothing! Only through action can superiority be brought!"
Planting his boot into Ganondorf's chest, the dark lord was sent flying back across the battlefield. Stopping his momentum mid-flight, Ganondorf floated down to the ground. Briefly inspecting the large indent in his armour, Ganondorf took a step forward when a pole arm snapped in half under his foot
Pausing, Ganondorf took note of all the corpses, both from his and Shao Kahn's army laying scattered across the field. A wicked smirk spread across his face as Ganondorf charged dark magic into his sword. Shao Kahn observed from afar, slightly curious as to what sort of petty trick his opponent was trying to pull.
Roaring at the top of his lungs, Ganondorf stabbed his sword straight into the ground. No sooner had the blade pierced the blood soaked dirt, thousands of dark tendrils erupted from the earth, each one snaking its way towards a fallen corpse and entering its mouth. Bodies seized and twitched, as if something was trying to escape from within. Bones snapped back into place as strings of magic flowed out from amputated limbs and headless torsos, attaching themselves to the missing limbs and dragging them back to the body, the corpses opening their eyes to reveal empty sockets glowing with a dark purple shine.
Shao Kahn himself paid little heed to the groans of the dead as they picked up their weapons once again. Chuckling, Shao Kahn gathered green energy in his palms and quickly blasted a pair of zombie Moblins ambling their way over to him, reducing them to a pile of soot.
"Hiding behind numbers? You coward." Taking out his Wrath Hammer, Shao Kahn smashed a Tarkatan to pulp, the rotting flesh splattering everywhere. Stomping on an Octorock, Shao Kahn booted another of the octopus like creatures before blasting a Dark Nut to pieces with a blast of magic. "By relying on others, you are admitting your weakness. Only by relying on oneself can you truly call it power!"
Dodging an attempted stabbing from zombie Baraka, Shao Kahn grabbed his former general and hurled the Tarkatan at Ganondorf. In a flash of steel, Baraka was sliced into several pieces and fell to the ground with sickening splats. Raising a sword in the arm, lightning began to crackle across the sky as the zombified remains of the Twinrova Witches flew overhead. Cackling, twin streams of fire and ice blitzed the battlefield, freezing and incinerating multiple zombies unlucky enough to be in their way.
Tightening his fists, Shao Kahn's fists lit up in greenish energy. Smashing a couple of zombies in his way, dual energy balls were sent hurtling from his fists. The Twinrova Witches easily looped around them before continuing their attack, freezing Shao Kahn in place before blasting him with gouts of fire.
Summoning a light spear, Shao Kahn brought his arm around to throw it when a bolt of lightning streaked down from the heavens and nailed him in the forehead, the impact actually
forcing
him to take a step back.
Grinding his teeth in rage, Shao Kahn quickly shook off the smoldering spot on his helmet. Grabbing a Moblin and Tarakatan zombie that were getting too close and crushing their necks, Shao Kahn glares at Ganondorf, who sneered at him before waving his swords once again.
With each swing, lightning struck down from the sky, blasting large holes in the battlefield. Unlucky zombies were blown to pieces as Ganondorf paid little heed to his allies. Snarling, Shao Kahn took a running start, dodging the lightning blasts with surprising agility. Blasts of fire and ice missed by a mile as Shao Kahn pulverized the undead in his way with his sheer weight and strength.
Growing bored with the way the battle was headed, Shao Kahn's arm took on a green glow. This time, as a lightning bolt shot down at him, he swung in an upwards fashion, creating a small translucent barrier in front of him. The moment the lightning struck, it rebounded like it had hit the Mirror Shield. Kotake of the Twinrova Witches shrieked in surprise as the reflected lightning bolt struck her. In a flash of light, she fell to ground as nothing more then a smoldering skeleton.
Before her twin sister Koume could react, Shao Kahn leapt up into the air and rammed into her with his shoulder, the spikes gouging out her eyes and tearing off her decaying cheek. Grabbing her with two hands, Shao Kahn brought her over his knee and snapped her and her broom in half before tossing her down onto the field. The moment she hit the ground a fiery dome rose up from her remnants, reducing every corpse in the area into ash.
Landing with a heavy thud, Shao Kahn summoned his Wrath Hammer from out of the aether. Spinning on his heel, the heavy maul became a whirling top of death that smashed zombie after zombie into pulp. Once he had picked up enough momentum, he released his hold, the Wrath Hammer soaring through the air towards Ganondorf at blistering speeds, enough to catch the dark lord off guard.
Just in the nick of time, Ganondorf swung with both swords, pushing agains the Wrath Hammer in a shower of sparks. With heavy strain, he roared and sent the hammer right back. With a roar of his own, Shao Kahn jumped into the air, just a little higher then his deflected weapon. Using it as a foothold, Shao leapt off the weapon, straight towards Ganondorf. Bringing his arm around, Shao Kahn ploughed his knuckles straight into Ganondorf's gut, blasting the wind right out of him.
Bellowing at the top of his lungs, Shao Kahn summoned a burst of soul power to blast Ganondorf back down to Earth. The moment the dark lord hit the dirt, seismic waves rolled through the earth, splitting the ground apart and causing large pieces of terrain to uproot, sending zombies flying everywhere.
Before Ganondorf could recover, Shao Kahn dropped down on top, his fists alit with green magic, and slammed them down into Ganondorf's chest, creating a huge explosion of magical power.
When the dust cleared, the earth had sunken in, creating a huge crater that stretched out for several miles. Every zombie that had been caught up in it was gone, completely obliterated. At the very bottom of the crater, Ganondorf was on his back, his armour dented and smoking. Every part of him ached like hell. Groaning painfully, Ganondorf tried to sit up when a heavy boot slammed into his chest, keeping him grounded.
"You weak pathetic fool. All your petty tricks, and this is the best you can come up with?"
Standing above him, Shao Kahn sneered down at his prey as he continued to grind his heel into Ganondorf's chest. "I have conquered countless worlds. I have made their greatest warriors TREMBLE beneath the heel of my boot. My hammer has crushed the skulls of GODS and these muscles have bathed in the blood of heroes and monsters alike!"
Taking his foot off for a second, Shao Kahn pressed it against Ganondorf's side instead and kicked him across the dirt. "Rally your worst armies, King of Evil! Send your LEGIONS to try and overcome me! RUN AND HIDE while you still can! Tonight, you will know the WRATH OF A GOD!"
Rage flared in Ganondorf's eyes. Clenching his fists, dark purple magic flared to life in his enclosed fingers. "Truly, I am surprised you've managed to push me to this state." Chuckling, Ganondorf made it to his knees. "But I suppose even a mere dog can bite." Smirking as Shao Kahn approached him, Wrath Hammer in hand, Ganondorf focused his magic. "I have lost countless times, but no matter how many times I'm killed, no matter how many times they try to seal me away, I always come back."
"Enough of your prattle! Your life ends here!" Snarling, Shao Kahn brought his hammer over his head. Smirking, Ganondorf opened his fingers to flare his magic, teleporting away at the last second. The Wrath Hammer smashed into the ground creating a large cloud of dirt.
"Fool. You're just like all the rest." Ganondorf's voice echoed behind Shao Kahn. The Emperor turned around, but saw no one. "So confident in your power, you run in blindly without using your brain, arrogant enough to believe yourself a god."
"COWARD! SHOW YOURSELF!" Enraged, Shao Kahn threw his hammer to the sound of the voice, only to hit nothing, the hammer hitting the side of the crater and embedding itself there. Frustrated by Ganondorf's taunting, Shao Kahn roared and struck the ground, sending out a wave of soul power.
"Do you know why I can always come back? Do you know why I've never proclaimed myself to be a god?"
In that instant, Ganondorf reappeared in front of Shao Kahn, his invisibility and intangibility proving valuable in enraging the Emperor. Before Shao Kahn could react, Ganondorf grabbed him by the face and flew him over to the side of the crater, slamming him hard into the dirt wall. Without wasting a beat, Ganondorf flew up, dragging Shao Kahn against the side of the crater the entire way up. Once they reached the top, an explosion of dark magic sent Shao Kahn sprawling in the ground.
Ganondorf chuckled as Shao Kahn clutched his throbbing head, floating down to land with a soft thud. "Because in the end, even a god can die. Their names and deeds will be forgotten, lost to the passages of time."
Snarling Shao Kahn got up, several wounds leaking blood across the dirt. "Your prattle tires me. Words from a konqueror who can't even hold his throne holds no worth!"
Cracking his knuckles, Shao Kahn's body takes on a green glow. A twitch tugged at the corner of Ganondorf's mouth, but he kept it contained. All was going to plan.
"Yes, I have lost more times than I count to that damn hero. But even as I lose, it's inevitable that I shall rise again. I am not a god. I am an
immortal.
And with each rebirth, I grow more powerful. I learn from my mistakes, improve upon my imperfections, and if I fall again, I shall simply start anew within the next life."
The two lunged at each other, one fist coated in black flames, the other glowing a sickly green. Their knuckles met dead on, creating a powerful shockwave that rocked the battlefield.
"Centuries of victory have tempered my power!" Shao Kahn roared. "A millennia of konquest has proven me INVINCIBLE!" Blocking a right hook, Shao Kahn slammed his knuckles into Ganondorf's side, denting the armour. "Failure means you are weak while victory brings strength! You are nothing more then a FOOL if you believe otherwise!"
With a loud bellow, Shao Kahn brought his arm around, ready to cave in Ganondorf's head. Grinning, the dark lord parried the arm away with his hand. Tucking his elbow in, Ganondorf thrust his palm into Shao Kahn's solar plexus, sending the Emperor skidding back, gasping.
"Your arrogance blinds you. All you think about is power. A man who only uses brute force and only sees what's in front of him is not fit to be a ruler."
Dark magic flared in Ganondorf's palm. His mind clouded by anger, Shao Kahn roared and charged at Ganondorf, his entire body shining with spectral energy.
Ganondorf smiled. "And that is why..."
He snapped his fingers.
"I win."
So fixated on bashing Ganondorf's skull in, Shao Kahn failed to notice the flash of light right behind him. Before he could do anything, the creature Ganondorf teleported in grabbed his arms and hoisted him in the air.
"What mockery is this?" Angered, Shao Kahn struggled to get out when the creature behind him, none other then his most powerful kombatant, opened its mouth and wreathed the struggling Emperor in flames.
"Hehehehe..." Ganondorf watched with amusement as Shao Kahn screamed in surprise and agony as the zombified Goro continued to roast his former master. Hovering in the air, Ganondorf reached out with his magic. Every weapon on the battlefield took on a purple glow and floated into the air. Swords, spears and axes hovered in the air behind Ganondorf, covering the entire sky.
Breathing heavily as Goro shut the flames off, Shao Kahn glared at Ganondorf, the dark lord's cape billowing in the the air with his hands stretched to either side.
"Your thinking is faulty Shao Kahn. Never losing does not make you invincible."
Twisting his fingers a little, all the weapons realigned themselves so that they were pointing at Shao Kahn.
"It simply makes you arrogant until you actually lose."
The moment Ganondorf snapped his fingers, every weapon shot down like a bullet, becoming little more then streaks of silver. If Shao Kahn didn't act now, the mighty Emperor of Outworld would be nothing more then a pile of mangled flesh.
Flexing his muscles, Shao Kahn grabbed the arms that were holding him. With a bit of strain, he flipped Goro over his head, putting the Shokan between him and the sharp pointy weapons heading his way. Spears, swords and javelins rapidly impaled the undead Shokan, an ax even embedding itself in Goro's forehead, but not a single weapon touched Shao Kahn, save for a single blade that nicked his arm as it shot down.
As quickly as it began, the onslaught was over. Numerous weapons dotted the landscape, stuck in corpses or sticking out of the ground. Goro was the spitting image of a pin-cushion, much to Ganondorf's disbelief.
Acting as fast as he could, Shao Kahn grabbed Goro by the legs. Before Ganondorf could form another plan of attack, Shao Kahn leapt into the air, bringing Goro's corpse over his head and slamming it over Ganondorf's head with so much force, Ganondorf was sent rocketing towards the earth, crashing painfully into the dirt.
Groaning, Ganondorf tried to get back up when Shao Kahn landed beside him, corpse raised over his head. Refusing to let Ganondorf get away, Shao Kahn relentlessly slammed Goro's body over and over into the dark lord, refusing to let his foe get a moment to even think. Efforts to teleport or escape were futile as Shao Kahn continued the unrelenting beat down.
Finally, Goro's body could take no more. The Shokan's body split in two, spilling rotting organs and black blood over the dark lord, the weapons that were embedded in his body shattering to pieces. As Shao Kahn threw the bottom half away, Ganondorf seized the opening. Gathering as much dark magic in his fist, he lunged at Shao Kahn with a bloodlusted roar!
THOOM!


The air shook from the impact, vibrations rippling outwards across the entirety of Outworld. However, rather then gloat in his victory, Ganondorf immediately knew from the onset that something was
wrong.
Shock, anger, but most of all, for the first time in his life, absolute
dread
ran down his spine. The scene that was unfolding in front of him was inconceivable, but the reality did not lie.
Despite his best efforts, Shao Kahn had caught his punch in
one hand.
"You miserable wretch." Shao Kahn twisted Ganondorf's hand, forcing the dark lord to his knee. Bringing his leg around, Shao Kahn hammered his foot into Ganondorf's chest, sending him sprawling on his back.
"You say the power of the Goddesses grant you strength..." Grabbing Ganondorf by his chest guard, Shao Kahn hauled his prey up to eye level. "But in truth, their power is nothing more then petty parlour tricks."
Balling a fist, Shao Kahn struck Ganondorf across the face. "At the end of the day, your power is a crutch. You rely on that power so much, you forgot that true strength cannot be given, only forged by oneself." Ganondorf growled and bared his teeth, only to be struck across the face again. "Pathetic."
Shifting his weight, Shao Kahn grunted and tossed Ganondorf away, the dark lord hitting the dirt and sliding across the ground until he was at the edge of the crater.
Coughing up blood, Ganondorf rolled onto his back and tried to summon some magic in his hand. Chuckling, Shao Kahn walked over and stomped on Ganondorf's arm. The dark lord grunted in discomfort, his magic quickly fizzling out.
Grabbing Ganondorf by the throat, Shao Kahn lifted him up and held him over the edge of the crater. Ganondorf clawed at the thick fingers clamped around his neck, but it was a futile effort. The Emperor smirked as Ganondorf struggled in vain. "Your crutch has failed you. And without it, you have nothing to lean on, nothing for support."
Balling his fist, Shao Kahn punched forward, embedding his arm into Ganondorf's chest all the way up to his elbow, his knuckles protruding from the Gerudo's back. "In the end, you are nothing
weakling.
"
As Ganondorf screamed in agony, Shao Kahn's eyes began to glow a sickly green. Green trails of energy began to slip out from Ganondorf's eyes and mouth, entering into Shao Kahn's body. Little by little, Ganondorf could feel his essence, his very soul pull away from him. Streams of green energy snaked out from the wound on his chest, coiling around Shao Kahn's arm as the Emperor absorbed it.
Within seconds, a green spectral image of Ganondorf emerged from his body, the power of Shao Kahn dragging out his soul. His consciousness on the verge of fading, Ganondorf screamed to reign himself in. Was this what fate had decided? Centuries of planning and accomplishments, about to be snatched from his very fingertips?
"No..."
Squeezing his fingers, a golden triangle on his right hand lit up, yellow light washing over Ganondorf's body, expelling the green and returning his spectral soul to his body. Acting before Shao Kahn could try again, Ganondorf pulled his arm back, the Triforce of Power shining brightly amidst black flames, and rammed his fist into Shao Kahn's head, successfully pushing the Emperor away, a piece of his helmet falling off.
"Haa... haa..."
Tucking his arms in, waves of dark energy rose up from the battlefield towards Ganondorf as thunder rumbled in the sky. Wisps of purple vapour were torn from the corpses of the fallen, drawn towards the dark lord.
Scowling, Shao Kahn summoned his Wrath Hammer. "Your attempts to fight back shall be in vain! Your soul will rot in the pits of hell!"
With a mighty heave, the Wrath Hammer was sent flying at Ganondorf. His eyes glowing like a burning flame, Ganondorf threw his arms out, a sphere of bright blue energy surrounding his body and knocking the Wrath Hammer off course!
"Haa...
HAAAAAAAAAAAAAAARGGYUUAAAAAHH!"



Death Battle: The Konqueror of Realms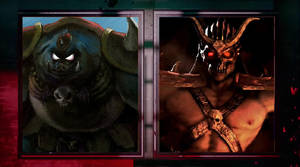 The energy was drawn in once again, condensing on the warlock. From outside, Shao Kahn could just barely make out the dim outline of Ganondorf's body rapidly bulking up, becoming several times larger then he was previously.
With a loud crash, the dark lord landed on the ground. Instead of a tall humanoid, a MASSIVE boar like beast packed with muscle roared, shaking the entire battlefield. A mane of fire-red hair trailed behind his thick nape, twin tusks protruding from both corners of his mouth, a long, visible scar on his belly.
Beast Ganon bellowed and raised a massive paw into the air. Shao Kahn chuckled and held out his hand, catching his Wrath Hammer and propped it on his shoulder. "So now I fight neither man nor god, but a simple beast? A mere pig cannot hope to match the powers of a go-HURRGH!"
With a single swing, Shao Kahn was sent flying across the battlefield. Tumbling across the Outworldian landscape, Shao Kahn