(The prices on this page are now outdated. Head to the link above for current prices.)


Welcome to my commission page!
What I do:
For the most part, I do character illustrations. These can be action shots, emotive shots, simple concept art, or what have you. Fanart and OC commissions are both welcome. I am extremely familiar with Toriyama's DBZ style (I've been drawing DBZ characters for most of my life). I am also familiar with Yu-Gi-Oh!, Naruto, Warcraft, and Pokémon characters, among others. I am open to and should be capable in other styles as well. That said, ultimately things will be created in my style, or my version of the styles I pay homage to, which is well represented by all of the examples you'll find down below (
full images can be found in my gallery
).
What I need from you:
If you want to commission something from me, awesome! Let me know via PM/Note. When you message me, I'd like you to provide me with as much information as possible.
Here's a link to my commission template
that you can fill out. Make sure you let me know what type of piece you're interested in. If you're not sure exactly which works best for what you want, no worries, we can talk about it and figure it out.
If you have any questions, feel free to message me and ask!
Full Body (Simple) -- $125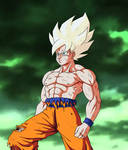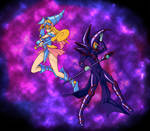 Standard full size image of a full body character or near full body character (at least just above the knees). These images are typically vertically inclined, and therefore not typically suited toward wallpaper compositions (though they can be, depending on the pose or action).
Includes sketch, linework, base color, basic shading, simple background, and can include minimal effects.
May take up to a week.

Half Body (Simple) -- $95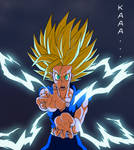 Includes half of a character's body, down to about the waist. These images can be good for avatars or wallpapers.
Includes sketch, linework, base color, basic shading, simple background, and can include minimal effects. May take up to a week.

Head Shot (Simple) -- $65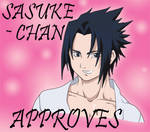 Includes the character's head, and may go down to about the shoulders. These images can be good for avatars or wallpapers.
Includes sketch, linework, base color, basic shading, simple background, and can include minimal effects. Should be completed in less than a week.

Full Image (Complex) -- $250
This type of image concentrates the totality of my efforts, using more in-depth shading for more detail and imo a superior look. While other images might be great for capturing the look or even personality of your character, this is what you want for a finished picture you can display on your desktop.
Includes sketch, linework, base color, advanced shading, background, and effects. May take up to two weeks or more.
Sketch Piece -- $20
This is simply a scan of a pencil sketch of the character.
Should be completed in less than a week.

Line Art -- $30
This is for an image taken as far as the linework step (or if you like, I can provide you with a SAI file of the linework). You will get an image of black outlines and whitespace/transparency (
or you can opt for colored outlines and/or a plain color background
).
Should be completed in less than a week.

Special Requests
If you'd like something not quite covered by any of the categories above that you think might be in my wheelhouse, feel free to ask. I might be open to creating other things. Maybe you want something that's a lot simpler than something character-based, and therefore might be cheaper than the prices listed above. Maybe you just want a piece of gear or a weapon designed. Or maybe you want something special added to another piece. Whatever it is, let me know. It can't hurt to ask.
Complicated Characters
A complicated character is one that contains elements that make coloring, lining, and shading it take significantly longer than most other characters. Such elements may include a significant amount of gear or straps, a lot of very sketchy areas like fur, very intricate or multi-layered armor or clothing designs, or the like. Such a character may call for a higher price on a project than those listed above, and will take more time than a standard piece. This will always be discussed upfront. (Examples: -
Jaraya
,
Vyndavian
,
Rivu
)
Multiple Characters
Having more than a single character means the piece will take substantially more time, pretty much double for a second character, in fact. Each additional character increases the price by an amount depending on the type of addition. These are almost the full price of a single character, with reductions accounted for steps that should be unaffected by the additional workload (such as the background, and in most cases, effects). You can mix and match these (so you can have a half body character with a head shot of a character), and that will likely determine how the composition will shape out.
Add. Full Body Character +$110
Add. Half Body Character +$80
Add. Head Shot +$50
Add. Character (Full Image Complex) +$235
Additional characters for a Sketch Piece or Line Art piece have an additional cost equivalent to the cost of a single character.
Pricing:
Prices are in USD, and pricing is based on the roughly estimated amount of time a type of project should take me, and what I feel that time is worth, given my skill level.
If anything should cause a deviation from the listed price of a project, these things will be negotiated upfront, prior to my accepting of the project.
Payment:
I am currently only accepting Paypal.
Payments are to be made up front in full, after I have accepted a project. If you're hesitant about paying upfront, we can negotiate a pay-by-step method instead.
Refund Policy:
If you commission me and later decide that you do not want the piece while I am still working on it, I will likely offer a refund on steps of the image I have yet to complete. I will most likely not refund steps of the image that I have already completed and provided, or a step I have made significant progress on. If I am somehow unable to complete a piece, I will offer a refund.

Time Table:
The estimated duration mentioned under each offering are considered only from the time that I have accepted a project and have received payment for that project. This duration also does not account for projects I am working on ahead of yours - Before accepting a project, I will place you in a queue so that you can see when your project will come up and when I'll be ready to accept it. I will message you when it gets to your spot in the queue.
I will update you on the progress of your commission, reporting in with stages I have completed (it is at those times that you should let me know if there's anything about the image relevant to that stage that you'd like changed).
Rights:
I reserve the right to reject any request for any reason. I retain all rights to my work. You are free to use and display the image for your own personal use. You may not distribute or sell the image. If you wish to purchase rights to my work, that can be negotiated. Fanart characters are properties of their respective creators and all that. Please support the official release~