Hello! I am now accepting sprite commissions. Send me a DeviantART note or email to discuss everything.

Contact Email: Warioware125@gmail.com
Paypal Email: Warioware125@gmail.com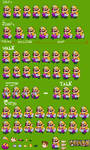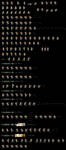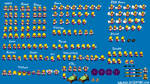 • Sprite Commission Pricing (Only an estimate. Prices will vary being more or less depending on the size. Prices below are based on 64x64 sprite dimensions)

-$10 for the initial frame ($15 if the character has no visual design created. Provide a good description of their appearance)
-$5/additional animation frame(s) ($8 if the additional frame requires making an entirely new angle of the sprite.)

• Payment

-Must be paid in full before I begin working. No refunds. Do not pay until I have agreed to your commission.
-For indie game services, it's full payment per given task. Such as a full tileset/partial changes to an existing tileset or a single character animation sequence.
-I accept only PayPal as a payment method.

• Info I require from you
-Provide a detailed description of how you'd like it to be animated. (Providing an animation reference can work, as well. You can also leave it up to me if you're not picky)
-Reference of the character.
-Desired sprite size and style. (You can either pick one in my style or show me examples of other sprite works that you like which I can mimic the style of, for instance)


•Indie game services-I can be hired for indie game projects if I'm available. Pricing may be different there. I will only work with one indie game project at a time. So you'll have to wait if you wish to have my services.
If I'm not available to work, I'm still available to discuss.-I want detailed task list of required assets.
-
I can provide some past works in this regard.•Other Info
-I can do tilesets. We can discuss pricing for that if it's what you're looking for.
-I can provide further examples of my works in email/notes
-I do not accept commissions involved with nudity/pornography


COMMISSIONS: AVAILABLE!

INDIE GAME SERVICES: Currently not available.