Burning Bridges, a FireRed Nuzlocke.


Click here to read on the Nuzlocke Forums

It's fall in Kanto and Team Rocket has just occupied the Saffron City district. While the world watches on in abject horror, Moira Del Rosso has bigger problems on her hands. She's just gotten fired. Now, armed with nothing but a vague hope that she may find her father, she and her old Squirtle police buddy set out for a pilgrimage down the road her dad and many trainers have taken before her.

The goal is simple - walk the Way of the Pokemon League, meet some friends, watch out for the Gyms. But Team Rocket's keeping Kanto's policemen busy with the promise of something larger and more dangerous to come. And, as luck would have it, destiny (and all her burnt bridges) isn't about to leave Moira alone.

Did I mention Silver's in it?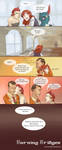 Extras: