Please notice that I'll take more time to do your commissions since I've got commercial commission in progress.
Progress and deadline can be saw HERE !
[ G E N E R A L ]
Before commission me, here are some things you should know beforehand.
What I'm doing :
Couples (OC x OC, Canon x Canon.)

Yaoi / Yuri / Hetero

Any type of OC (I'm better at drawings bishonen and bishoujo though)

What I'm not doing :
Furry

Mecha (Gundams and such - armor suits with face visible are Ok)

Canon x OC


I just don't like drawing either furry and canon x OC. But just animal ears and tail like kemonomimi and mermaid / mermans are fine.
You may request not safe for work drawings, but they automatically comes with a +20€ extra.

Disclaimer (VERY IMPORTANT)

I have the right to publish my commissions done to you in any social websites, unless you want your commission to be private (please state it). No refunds after payment made unless I tell you so (unable to complete your commission, etc...). I usually complete a commission within the month you requested your commission. If not, it's at the beginning of next month. I'f I'm not completing your piece in this time, I'll send you a notice, and feel free to remind me past this time. Also, if you want to use your commission as a commercial project, we may discuss the price.
If you're not happy with the final product, you're allowed to tell me one time what is bothering you. After that, there will be an extra charge for all changes (depending on the task). Squares headshots sketch are not included in this terms. If I forgot something on your commission on the sketch phase, you need to be careful and tell me if it need a correction.
[ B U T T O N . C O M M I S S I O N ]
They are 30
€
each, and pixel size is 700px x 700px.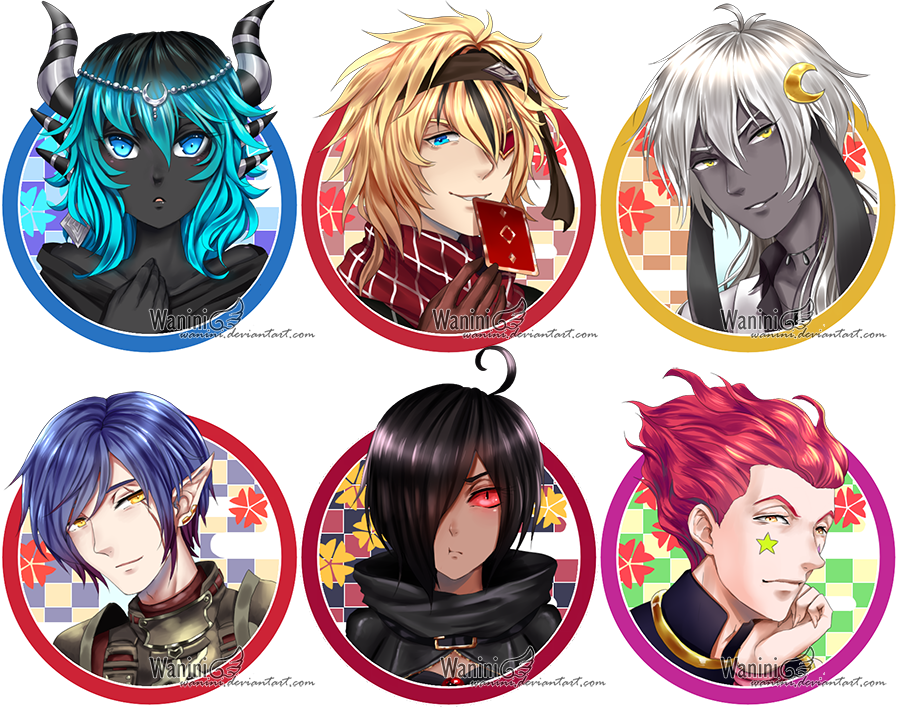 Pattern will remain the same, the color of elements will change according to the character scheme. Noting system remain the same, just tell me the expression you want for your character, and of course, personnality and such.


[ C O L O R E D . S Q U A R E . H E A D S H O T . C O M M I S S I O N ]
THEY ARE 30€ EACH, PIXEL SIZE IS 600x600PX.
Flowery pattern behind (free to use pattern).
T
he color of background will change according to the character scheme. Noting system remain the same, just tell me the expression you want for your character, and of course, personnality and such. They are ideal for avatars and expressions.
---
[ C H I B I . C O M M I S S I O N ]
---
Chibi are 40€ for each character. Couples are 75€.
+5€ for complicated designs (the girl with angel wings)
+10€ for multiple props or animals
---
[ H A L F B O D Y . C O M M I S S I O N ]
---
It's 60€ for each character (115€ for two)
+10 € for complicated character designs
+5-10 € for small animals / complicated but small props (small weapon for example, objects floatings depending of the details...)
+15 € for big animals / complicated but big props (big weapon with insanely details on it for example)
Max characters : 3
Notice that
I won't do any backgrounds
on your commission request, it's only gradients and sometimes patterns like the examples above. If you want a
particular gradient color
, you may tell me.
[ F U L L B O D Y . C O M M I S S I O N ]
Price is 90€ (+10-15€ for detailed characters |175€ for a couple.)
This contains a composition of a fullbody character with a simple background. (solid color with a pattern or props. Props won't be that much detailed, or charged higher depending on the request).


3 max characters on a picture.




Will be less sketchy
The price for a dakimakura is 135€ for one side. Double for 2 side The size is of course printable.
The total size will be 9000px x 3000px, 350DPI. You can ask for safe version (slightly undressed, damaged clothes etc...) or nsfw version (+20€ extra charge for nsfw), male or female. Please remind that I won't give you the pillow, I only make the digital file.

You can ask for official characters, but these will be strictly restricted to personal use.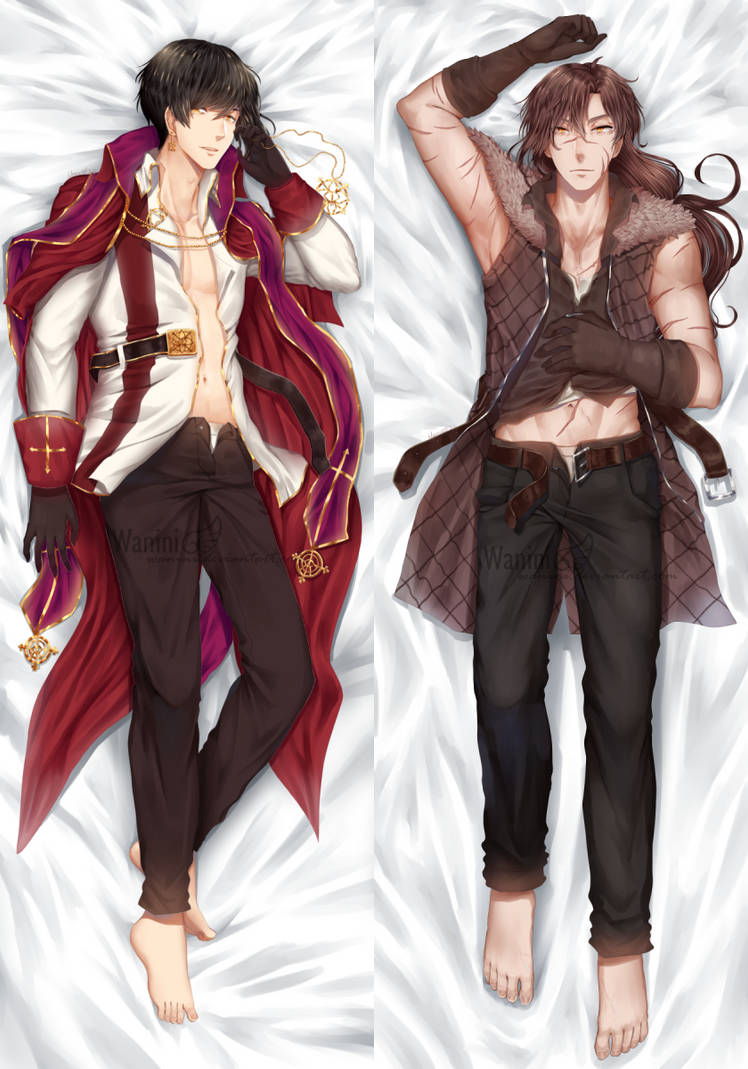 [ F U L L . I L L U S T R A T I O N ]
Price range between 200€ to + ~ 500€ or more depends on amount of details of the scenery AND character. An additional character are 90€. This type of commission is :
Between halfbody, 3/4 bodies to fullbodies pictures depends on the composition. You can ask for a quote of your idea.




This option contain background, you can request any type of background.




Unlimited amount of characters! If the character is really far in the background, it will not influence the price.



Characters interactions and everything is very important here. Picture may look better when it includes 2 characters or more.
Usual pixel size is A4 with 350 DPI. If you want a higher resolution it'll cost more (+20/50€ depending the size)!
If you'd want me to draw for a commercial project, please send me a note and we will discuss about it.
Oldest => Newest
An illustration like that would be around 200€ (halfbody to fullbody with a simple background)
Illustrations like that would be 400-500€ish and + more (If the group characters are in the background, like silhouette they count in the background price. Depends also on size and number of characters, details...)
[ C U S T O M . D E S I G N ]
Prices : Chibi are 80€ | Fullbody are 140€ | Full ref are 250€


You can choose 3 options for your custom design.

Price may be higher if the design is very highly detailed (~ +25€) (him for example : Kian)

You can provide me pictures, refs and descriptions (eye color, hairstyle...), but please be clear about what you want, no need to make extra texts, in short, 1 page word maximum.

Most of changes will be done on the sketch phase.

It'll be better if you also provide me their personnality.

Full references are 2 view of the character + 2 headshots
---
[ N O T E . E X A M P L E ]
If you're interested, send me a note with these informations (
Not wall of text please. I'm not a native English speaker so understanding would be difficult, please remain as simple as possible.
):
Title of the note : Commission, Commission request, anything including commission.
Type of commission you'd like to have (Halfbody, Chibi, Full illustration...)

Ref of your character (colored, please be specific about the outfit you'd want if they have multiple on their reference)

Global personality of your character

If one character, do you have a position or expression in mind? If two characters, relationship of these characters (friends? couple? hate?). If you want special expressions or interaction between them.

If full illustration, what type of scenery you'd like to have? City? Forest? If you want the overall feeling of the picture romantic, dark, sorrowful, joyful? Any interaction between characters if you want 2 or more characters? Any infos is ok.

If custom design, please state all the info you can, condensate if possible.

If chibi, expressions, poses in mind? If you'd want props?

Paypal adress so I can send you an invoice
Remember, 1 slot = 2 commission request MAX. If you'd like to order more than 2 commission, you'll likely have to wait when I'm opening again, or taking multiple slots at once.Final notice
: You may ask if you want a specific type of commission will be open / You'd want to request (like more than 2 characters on a single picture, custom designs...). We will discuss about it and the price.
As for the payment, I'll send you a paypal invoice.
You can see here the progress of my commissions
W O R K I N G . O N
:
COMMISSION PROGRESS : CLICK HERE
S L O T S . A V A L A I B L E
:
OPEN
-Open for commercial works-
W A I T I N G . L I S T
:

---
The commissions done (since 2015) More recent < - > Older :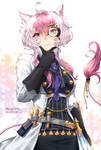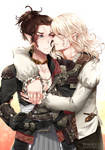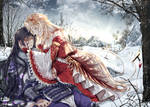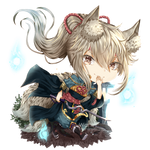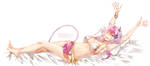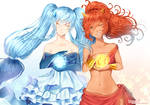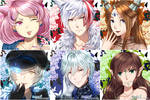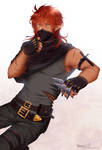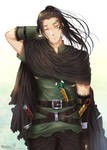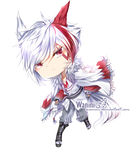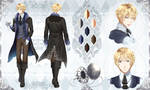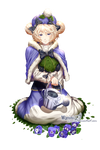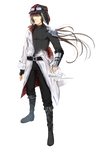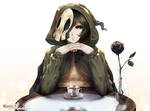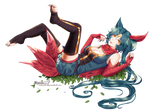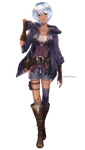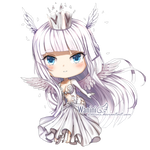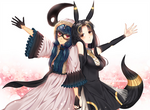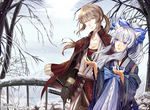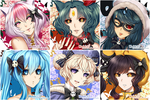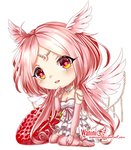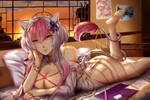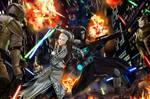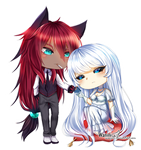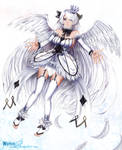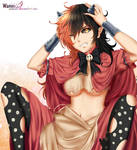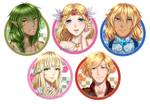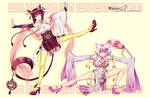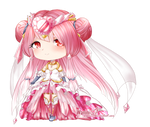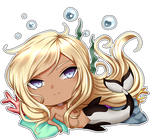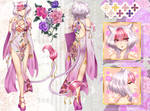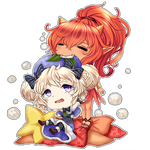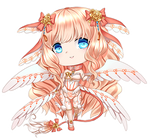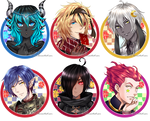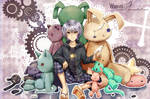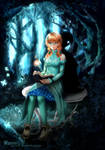 Rest is on my second account

---
Art Trades :
KejserVann
-part not received-
Sallynyan
-part not received-
Laulaubi
Netheryel
---
Other stuff :
Laulaubi
CollabWaiting from :
ssyolk
KejserVann
Sallynyan
nechin