People showed interest in paper versions of their characters, and my paper Ember picture feels too empty, so I want to try out a "Your character here" thing to help liven up the picture!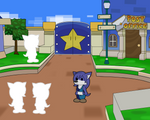 WIP
Also doing this to help pay for my table at Tidewater Comic Con. Basically the planets aligned to make this happen XD
Slots:
1: Ketzal
2: Stormland
3: Osean
4: MarvTheHugPharaoh
5: Jm-J
6: Murder Snep
7: Yatadraws
8: DarkRiderexe
[Slots are full]
Please send me a note on DA including your character and the name associated with your payment. Thanks!


If slots are full and you're still interested, let me know in the comments! I might do a second scene if 3 or more people can't get in on this one, and if a reserved or pending drops, I'll go to the comments.