Hello everybody,

I know, i'm not often on DA since several months. Being honest, I'm not a lot on the web since several weeks. Some troubles, some IRL mishaps and some more reasons from my private life I prefere not describe here.
So, first, I want to say thank you for all the one who wished me a nice "happy birthday"

This is always a nice time reading your messages.

Then, let's talk about my work !
Finally, English version of the Chronicles of Arcea is begining to be translated ! I hope to make the book available as soon as possible and I will advice about it on my DA journal,
FB fanpage
( www.facebook.com/vyrhelle ) and Tumblr (art-of-vyrhelle.tumblr.com/ )
I'm working on the pages of 3th book currently.
I'm still working on two artbooks on Arcea world, on a new sketchbook too.

I'm preparing too an illustrated book from another universe/story, but only in French. Sorry, it's too big to make it translated easely. F
or the moment,
this is just a project I do to change my mind when I'm tired. Writting seems to be a good way to work when I'm not able to draw anything

This project book is named " Over a single tango" ("Le temps d'un tango") and all the pictures I did and will do for it are in black and white. I will post some of them on DA soon.

Now, I know I will not be as present as I was few months/years ago. But I will try to being here a little more than currently, because I still love you all


OFFICIAL SITE

Flash Gallery

My Facebook

My Tumblr

My webshop




Tagged by

1- What's your current wallpaper. Describe it, or better : show us !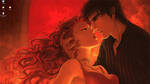 Perfect for a hot summer time

2- What's your own favorite OC and why ?
This is a question I always hate because I don't have only one favorite character ! So, I will give you them all !
Arcea universe, Pilgrims time : Elwen and Xar'Zith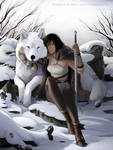 Arcea universe, Trial period : Zakériel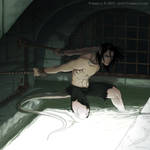 Arcea universe, Ocean times : Eareen and Tjalelh ( they are inseparable ! )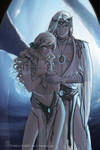 Over a single tango : Célia Avonis ( a new redhaired character !! )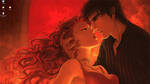 3- What's the most viewed / faved deviation in your gallery ?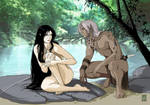 ... OMG, this one is soo old...
4- In your humble opinion what's your most underrated deviation, the one that deserves more exposition ?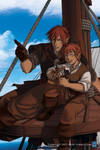 5- What's your current main project ?
Ah. Ah. Ah. Ah... You mean all ? T__T Ok let's try to show that...

So... left to right :
_ storyline of the 3th book of the Chronicles of Arcea, Im' working on the storyboard.
_ "Over a single tango" book. Page layout, 4° proofreading
_ "Over a single tango" B&W illustrations
_ A crossover sketchbook with
Obsidiurne-Morgil
_ Arcea Sketchbook n°3
_ Arcea comics book n°3
_ and the colored picture I'm working on today : I can't show you it for the moment, this is a commission, the poster for a French Fantasy Literature convention.
6- What's the last deviation you put in your fav and Why did you fav it ?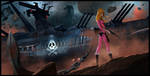 Because I'm a fan of Leiji Matsumoto universes and this picture is really well executed !
I tag : ... I hate to tag... It seems that my near friends had already done this tag... So, I don't tag anybody! Na!