22 Favourites
20 Comments
1K Views
"Annnd there she was, out of the blue, bright as the sky, Sugar-Rushin' sweeeeet... BAM!" Berri blurt in sing-song, she strummed her guitar in vigorous playfulness; it strung in weird tunes of dullness strictly for the fact that it wasn't plugged into an amp.

"Annoying as all get-out," Turbo muttered, as if to finish the verse. He slumped over his knees a little more and let his irritated, pixel-cubed gaze gloss over Orion City. It boasted the morning sun with all of it's magnificence, though just as he was about to take another inhale of his cigarette, he flinched as Berri suddenly strummed her guitar a little harder and leaned into Turbo's side.

"ANNOYINNNNG as all get-out," Berri retort, she wrinkled her nose at him in dry annoyance and noticed him go for said puff of his bad habit, though she lulled the guitar in her lap and gingerly plucked the cigarette from his hand.

"Ah- HEY, HEY!" Turbo grunted in high pitched annoyance as Berri flicked the cigarette off of his massive sixty-fourth floor drop. Turbo grappled the railing of his balcony and peered down to the loud city life far below, though he slowly came back to the couch the two were comfortably lounged on. He inhaled a slow, seething breath and desperately tried to contain the thought of rocketing her guitar over the edge, in retaliation. Berri cocked an eyebrow and gave him a stern look of full-blown girly sass, though he glared her down, "Don't you have to meet up with Throttle or something? Some other poor soul to torture?"

"In forty-five minutes," She muttered as she remained still and peered to him with a dull smile, though her eyes twinkled with all the energy and excitement in the world.

"Forty-five minutes, huh... You could go sit in Game Central Academy's Library and, oh I don't know... Hear silence for once," Turbo huffed as he crossed his arms, though he couldn't help but let a wide, annoyed smile plaster his face as he noticed Berri get ready to excitedly strum at her guitar once more. Turbo jolted to sit up, he uttered a hard noise of grimacing annoyance and grappled the neck of her guitar, "DON'T... Make a song about it, for User's sakes."















!!!!!!!!!!!!!!!

Okay... I have a question for you guys.

I SO. DESPERATELY want to make more fanart and reveal the title of my 4th story, but, I'm at war with myself.

Y'see... I was planning on beginning writing the 4th story AFTER Wreck-It Ralph's sequel came out, next March, but... I honestly am not sure if it will take me an entire year to finish the rest of Rectifying Origin. R.O. maybe has about 60-80 more chapters left in 'er, and that won't take me 12 months to complete.

Would it be more wise for me to wait until after the sequel to write for this 4th story? Or should I just balls-deep and disregard whatever the sequel throws at me?

It's just difficult because, clearly, this 4th story revolves around Turbo and a select other characters (including all the ones you guys have grown to love) - but... I would hate for the sequel to totally fuck with what I have going, and then I don't get around to it.

I foresee myself completing R.O. by the time Thanksgiving or Xmas comes around, and then, it's just 3-4 months of nothing... I don't want to give myself that gap, cause if I do, then I won't ever get around to writing the 4th story.

I already have the cover art for this story, the title, the plot, the new (and old) characters... IDK what to do, and I'm literally bursting at the seams, as you can see

















I'm extremely proud of this piece, this is likely my favorite piece to date. This features, obviously, Turbo and Berri, who is Tessa's and Zed's second born (if you couldn't guess by the hair

) I'm totally floored by their dynamic, and adding that Berri is, indeed, a musician, I'm excited to expand on different plot points, twists and the like. Turbo is a total hermit, and though he remains to be a clam, somehow, the bright-eyed new Sugar Rush kidlets find a way of drawing him out.



Enjoy guys!

You can read my Wreck-It Ralph saga at the links below, in this order!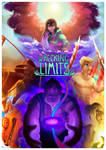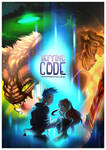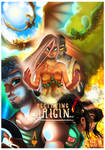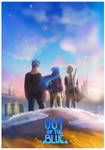 Wrecking Limits
Defying Code
Rectifying Origin
Out of the Blue
IMAGE DETAILS
Image size
6010x2310px 14.94 MB