Hey Guys!
Wow I haven't wrote one of these in forevvveeerrrrrr...
I hope all is well. I've been crazy busy with my new job. I am an architectural designer so I haven't really had much to dedicate to making pretty swords (and instead making pretty buildings). Sadly this means that commissions are really restrictive. I may consider some super serious clients, but otherwise I barely have time anymore. It's sad but still exciting that I'm doing new stuff.

COSTUME DESIGN COMPETITION 2015
So I have some pretty exciting news. I am working on a collaboration with 3 international companies to design a costume/garment for them to compete with other designers! It's kind of like the TV show Project Runway but I have to use my company's materials and I have a few months to design and complete it. I have to be vague right now about the details, but I'm having a blast so far. The best part is that a lot of huge firms are participating as well so it'll be a lot of exposure for me and my brand! I'll be posting some of the artwork on here and the final costume once the runway event has ended in mid-September!. It's coming together so well, It really is the best I have ever made so far. –you can tell I'm excited haha-
WOLF ART / LEATHER WORK
I've been teasing a new series of new werewolf / wolf inspired leather masks and gear recently. I am hoping to submit more artwork on this soon. I recently got the opinion of some wolf and leather enthusiasts and they were really receptive that I could start a whole line of leather products / masks! I'd like to get everyone opinions on this. It would be definitely quicker to make than the months it takes for swords and keyblades. Let me know if you're interested in one!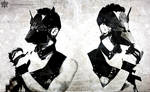 DRAGON CON 2015

I've uploaded recently my TRON Zack Fair in collaboration with my new TRON x Cloud Strife cosplay. Me and Animeman553 had a blast at MomoCon 2015! We were also tumblr famous for a little bit (aka not actually famous)! thomassanders.com/post/1207195… Anyways, Everyone was so positive about the collaborations that we will be at DragonCON 2015 in two weeks! Super excited.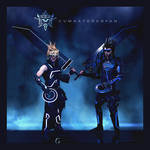 PHOTOGRAPHY

I'll be posting some of my photography from my recent travelling to Chicago and Seattle. I don't usually post photographs but i need to put them somewhere and I'm an artist soooooooo please excuse the spam of photos DONT HATE ME OMG. I CANT MAKE KEYBLADES FOREVER (or at least once Kingdom Hearts 3 comes out then i have no excuse XD)

COMMISSIONS

I am accepting extremely limited and very serious commissions for clients looking for exclusive work in regards to props and weaponry. If you have sent me a message regarding a commission of this severity, then please be patient as I have a lot of mail to sort through! Don't hesitate to resend as I have a lot to keep up with. My time is super limited so please understand I am only accepting very limited numbers of commissions each year. If you are interested in my masks and leather work, those may be easier for me to accept.

Well that pretty much covers it! I'm still alive so let me know your thoughts and let me know you're alive too!

-Johnny