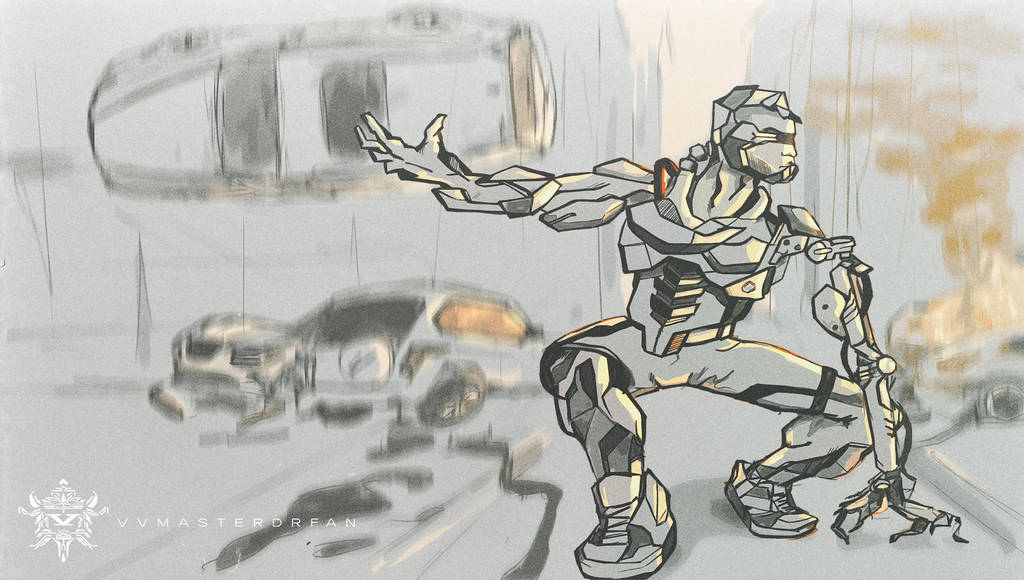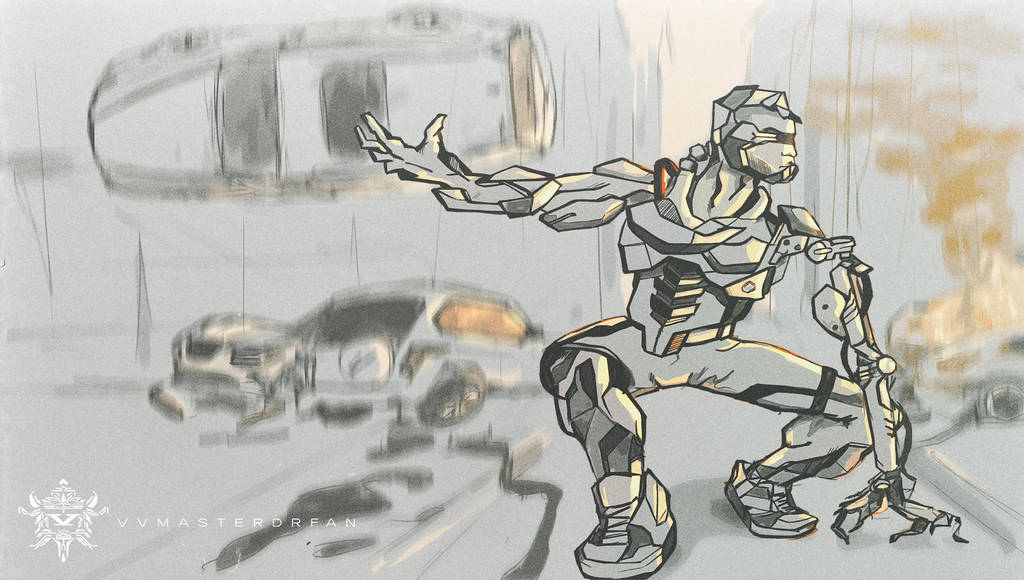 Watch
Here's the final concept artwork!

So this is a new costume I've been designing for the International Interior Design Association for a fashion show using architectural materials. I have paired up with 3 Sponsors to design a costume using their materials. I have received some really awesome product from 3M, Interceramic, and Global Total Office. Really exciting stuff!

The theme for the fashion show is Circus so I chose a Strongman concept but with a futuristic twist. A lot of my sponsors have really high-tech materials so I wanted to showcase that by designing something 100 years from now that looked more robotic. The human shown in my sketches is almost like a hybrid between man and machine.
This is the final design that took me forever to draw. I have him throwing cars and making explosions. This is really the first try at my own line art style. I'm really hoping I can continue drawings in this style. Let me know your thoughts!
Concept Statement for the show: THE YEAR IS 2215. SCIENCE HAS ADVANCED ENOUGH TO WHERE DEFECTED HUMANS CAN BE REPAIRED BY MEANS OF ADVANCED TECHNOLOGIES. THEY CALLED THEM CYBORGS. HOWEVER, THE PROCEDURES FOR THESE HYBRID HUMANS ARE RARE AND VERY COMPLEX. THUS, THE CYBORGS ARE DISLIKED BY MOST HUMANS, DISCRIMINATED FOR THEIR SUPERHUMAN STRENGTH AND UNNATURAL APPEARANCE. THE FEW CYBORGS WOULD OFTEN JOIN THE CIRCUSES AND USE THEIR NEW FOUND STRENGTH AS MEANS OF ENTERTAINMENT. SINCE THE 19TH CENTURY, STRONGMEN WERE AN IMPRESSIVE DISPLAY FOR THE SHOW BUSINESS. THEY COULD LIFT ASTRONOMICAL WEIGHTS AND OBJECTS WHILE INSPIRING AN AUDIENCE. TODAY, CYBORGS GIVEN THEIR UNNATURAL PROCEDURES, HAVE TWICE THE STRENGTH OF A HUMAN STRONGMAN WHILE BEING HALF THE SIZE. THE CYBORG STRONGMAN CONCEPT WILL TRANSPORT YOU TO A TIME WHERE HALF HUMAN AND HALF MACHINES ROAM THE EARTH. THEIR BODIES ARE MANIPULATED WITH A UNIQUE BLEND TECHNOLOGIES AND MATERIALS THAT NOT ONLY SUSTAINS THEIR LIFE, BUT ALLOWS THEM TO ACHIEVE SUPERHUMAN ABILITIES

Previous Concept art:
fav.me/d9druy1


damnnn he's gonna mess someone up =w=;
Reply

haha xD thanks alex. Yea I need to upload the real thing. I've been so busy!
Reply

Reply

A Futuristic Cyborg Strongman with an almost B-Boy like appeal...I can dig it! haha He looks Great!

Reply

haha yes! I actually walked into work the other day and my boss was like.. I like this new B-Boy look you're doing lately. haha i just got a new hat
Anyways, Thanks steven!

i'll post the finished costume soon
Reply

this is actually awesome work!

I can't wait till you get it done~ It looks epic !

Reply