If you enjoy this work, please drop in and lend support so it can continue:

www.patreon.com/VulnePro
2012, so far, has been rather productive, I've been quietly studying new tools to work with and working on new material. The big thing is I'm returning to Zbrush in a significant way (expect to see some peeks of that work some time soon-ish... FOILs maybe? Mmmmmaybe) and trying to get work rolling I had to shelf due to events last year. You can expect to see a lot of new stuff so stay tuned

To kick things off for '2012 The Mayan UFOcolypse of un-time-en-ing... ing' we have a full paint of Harma Bhatra I had been dying to get to for some time.
The Harma Bhatra MJ-11a was developed by the Waimanu FOIL Works, the company also responsible for the dreaded Gottheitzerstorer FOILjaeger's of the wildly experimental 3rd generation of FOIL development (Waimanu is the company Karl :icongenocidalpengion: coined for his FOIL designs and derived aesthetics/design collabs). There are some clear visual cues that nod back to the Gottheitzerstorer. Though the Harma Bhatra is a very formidable Faedai combat frame it's nowhere near as massive as the Gottheitzerstorer was so the similarities have more to do with the manufacturer's distinct visual design cues than anything. Begining service toward the very end of the 4th gen period the Harma Bhatra might as well have been a 5th gen. Clear design cues point to what was to come in FOIL development; the covered limbs with equipment ports for customization, the appearance of enigmatic sensor equipment, the more streamlined aesthetics. The FOILs were changing before anyone, not in the know, knew why. Change was on the horizon as the sendai moved more, and more toward spiritual and political concerns, more freedoms. As such the Hindai movment (derived obviously from Hinduism in name and some core concepts but also having aspects of Buddhism and Taoism as well) spread and it's influence began to inform the naming conventions of the FOILs, Harma Bhatra is certainly an example of this.
It was cool to finally paint this beast because I knew it would really look ace in full color. It seemed doing the familiar military O.D. green would look great on this guy along with a hefty caking of dirt and dust to show it's been out there kicking ass for some time. The markings on this one are sparse with just the 40 r TAC number being identifiable (this machine is stationed in the Rience territory, the same Rience razed to the ground by a Gottheitzerstorer. Yes that is a biiig ass weapon, absurdly so... indeed I just wanted to draw a big ass cannon shettier for this one. The weapon would likely be fired from fixed positions with weapon mounts created to support the thing. To move from position to position the weapon would also employ an Icar field (anti-gravitic drive) in concert with the FOIL's field.
As I noted in the original line art postings for this thing...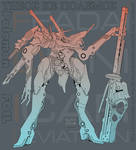 www.vulnepro.com/2011/03/new-t…
the design was a very direct collaboration between

and myself. Karl's original design I launched my new FOIL interpretation off can be seen here: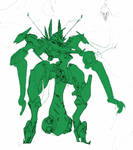 Full details of how I went about creating the new design can be found in the line art posting (see link above).
I felt it apt to post this one as a really hi-res image so click download for full view, the beastie be loaded with all kinds o textures, parkarization, and details. More work is coming in due time

Stay tuned...
Original design concept foundation by

(Karl Östlund)
New pencil illustration, digital inks, FOIL concept re-design/re-imagining and colors by Mike Majestic Photoshop CS3
Image size
1824x2000px 1.38 MB