Journal Entry:
Fri Jul 15, 2011, 1:59 AM


What a surprise this morning!
I've got a DD for this Snape painting: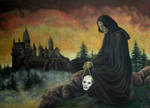 Thank you so much, Phyllis


I'm sooooo happy now


I'm member of:

#GetWatchers
help artists to share their creativity, increase their audience and get more feedback by getting more exposure and pageviews. If you want more exposure of your arts, constructive criticism, watchers and/or if you would like to discover new talented artists, you can join us

Here

.
Listening to: Six Feet Under sound track
Reading: your kind comments
Watching: Six Feet Under
Playing: with my dogs
Drinking: poison

Watch