Each evening, I walk back home... Working days are long, traveling, work, traveling back home nothing really exciting. But tonight, I felt like to walk looking at the stars like if something special was there. I was thinking that we - frenetic workers - don't look enough to these beautiful stars. Stars are here every evening, but we go under them without even looking at them. We even put lights as much as we can in our streets to ignore them or to forget about them. And tonight is special night...
I've spent my childhood as much as I could in the nature, walking, biking, just enjoying being there. But the most important was the friends who were there with me, without who this nature as beautiful as she can be, would be without colors. Those friends, are the true ones, the ones who are here not only when time is clear and beautiful for you. We are used to say that you can count them on the fingers of one hand. After years and years together, it became like brotherhood, something you'll never forget whatever is coming. These friends also even saved my life once. I'm and will be grateful for them as long as I will be. Thanks to them, I am.
As we became adults, our lifes went on their own, each of us started to build their own story. Story in different countries, story with beloved ones, story with new little ones. With our "busy" lifes we see less and less each other, get news less and less. Not that we forget about each other, but just we're absorbed by many things from our busy life. "Busy" for what... We all know what... busy to put the light in the street not to see the stars...
But tonight, this bright clear and beautiful sky was telling me something. I came back home and got news that two of my stars are now up there bringing us light and beauty when the night is too dark.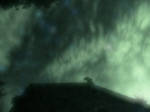 Maybe time to look more often to our stars and to avoid as much as we can this stupid busy life.
Don't wait tomorrow to be with your beloved ones and to live your own life.