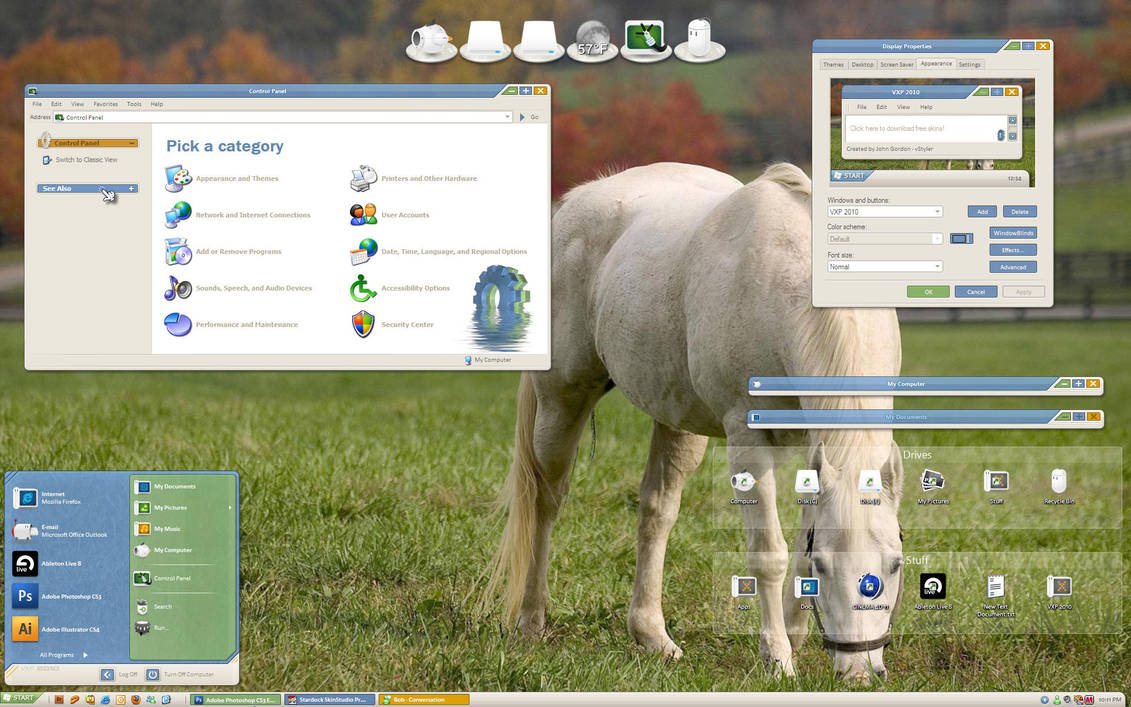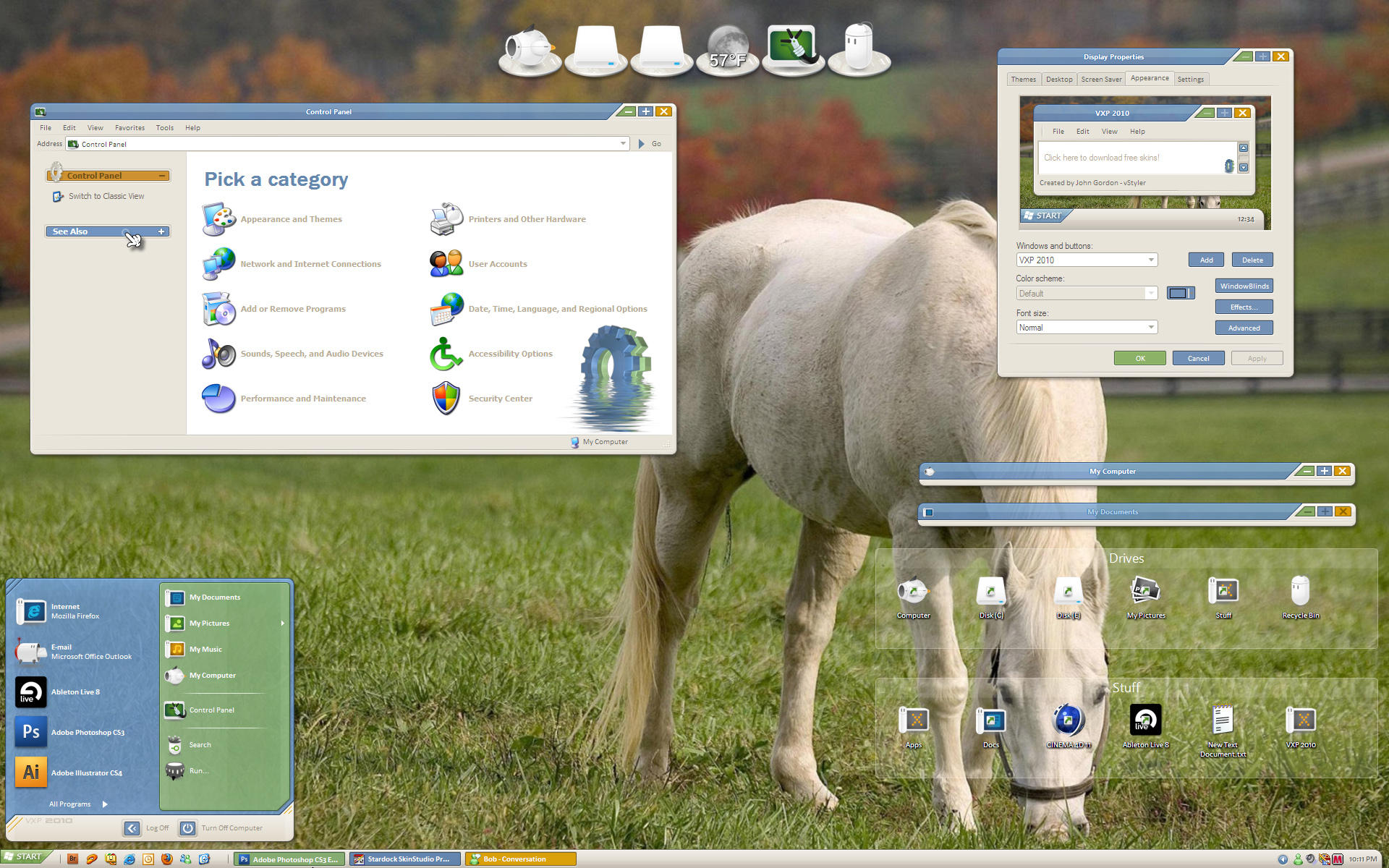 Many of you may remember using my old VXP skin, next to the Vienna trilogy it has been my most popular skin and was popular long before Vienna was a twinkle in its Daddy's eye..

Anyway.. Ive been planning on redoing VXP from scratch for quite a while, it was a VS port, didn't have most of the newer WB features like per pixel frames, transparency, dropshadows, tool icons etc, so this will be a totally new skin, designed from the ground up and hopefully will be the first skin I do a Win 7 version of also. With 7 coming out and 2010 right around the corner...
VXP 2010 it is...
It will have more modern stylings, as smooth as possible graphics, transparency, borderless frames and tab backgrounds, all the bells and whistles and designed to make the best use out of scenic nature walls which personally I cannot get enough of.

Anyway.. here is a shot of the alpha workings of XP.. where I always start.... will update as I progress. The blue area of the top frame is transparent too.. just hard to tell over this background.

To see updates on this or my other work, please stop by my customization site
[link]
Thanks


I like the colors I just can't seem to get passed all the "slants" and "boxes". I've gotten so used to your last few themes being so smooth, crisp and rounded that when i see something with so many abrupt slants it kinda reminds me of really old xp themes. Don't take any disrespect by my comments please, i just think the theme would flow better and be a little more modern with curved slants insntead of being so sharp, if that makes any sense..lol
Reply

none taken of course

this is how I see it though, when you make as many themes as I have you just have to change some direction sometimes, Its actually designed to be exactly what you have described, an XP looking theme, but with updated graphics, transparency, dropshadows etc.. after all, 71 % still are.. on XP. After 40-50 themes, different approaches are required and there are only so many ways to skin a rectangle, Ive done the Aero clones, done the sci fi themes, pretty much skinned windows and many ways as you can , I just wanted to get back to basics, redo an old favorite in a different way, and really.. there's only 3 angles in the entire theme, I'm willing to bet it will grow on ya..(maybe)

Lastly I imagine in 7 it will look a quite a bit different, the screenshot after all .. is XP.
Btw i did try curved slants first and just didn't like how it looked, reminded me too much of a couple of other themes... like the old WMP skins.
Not sure what you meant by boxes.
Cheers Joe.
Reply

Gotcha. Crazy how many people are still using xp though

I guess it's just been so long since i've used it, i've gotten too used to vista/7 style theming.
Reply

I gotta tell ya, as soon as I'm done on the new OS's, I go directly back to XP, for me its faster, navigation is easier and overall I think the Aero UI was a massive step backwards. I've had 7 for weeks now, ordered it pre-release and i might have spent an hour in it total.
One other thing, if you like the colors and want an aero clone similar to this, I did the Helios Skin for Stardock, was released a couple of days ago as a subscriber skin.
[link]
Reply

yeah i got Helios and am using it now, it's pretty damn nice.
Reply

Uh thank yuh. thankyou verah much... anyway.. as u can see, with a similar color scheme, I had to go in a different direction with VXP...(even if I did make Helios) but.. if u think that's nice... this is way smooother.... trust meh Joe

'specially on XP

Hope you liked the walls too, that lighthouse one took damn near as long as the WB did !
Reply

wanted to add the old addage about not being to please all of the people all of the time.
Ces't la vie

Reply

I know this comment is not ego-boosting enough, but I'll let your entourage handle the size of your head; I just had to say "PONY!" (complete with a little-girl type squeal).
But honestly, it looks like a horse that I used to have

Reply

*blinks*
um, that's how a normal person calls a horse...*blink blink*...am I missing something?

*hides head*
Reply

Not
talking to lightstar on msn?


Looking forward to this one for sure! Excellent skin for daily use!
Reply

Dude - where the hell were you when Microsoft was designing the GUI for XP??
If only you were around at the time - then we'd have had this in stead of the Fischer-Price playmobile GUI...

Reply

You got to be kidding me. You psychic?

When I saw the Helios blind posted over on WC and I looked at the screenshot of it and saw the taskbar the first thing that came to mind was VXP (it even made me open up WBs and take a look at it) and when I posted my comment there wondering if you had done Helios I almost asked if VXP would be one you would update for 7 but decided not to since I wasn't sure if you'd read that thread. And here we are not even 12 hours later

The preview looks great.

p.s. the transparency of the blue section shows well above the horses mane

Reply

Yes, Yes I am Pyschic

Helios started out as a VXP update but Brad bought it and took it in an Aero Direction so now that it's out I can do the real VXP update I've been wanting to.
p.s. I added the rolled up frames after the post and never deleted the part about transparency.
Suppose i could change it

Thanks Z
Reply

Excellent concept and design John!
Reply

looks great. Love that shade of blue.
Reply

my fav too. dead center.. no red , no green.

Reply

nice update bro

Reply