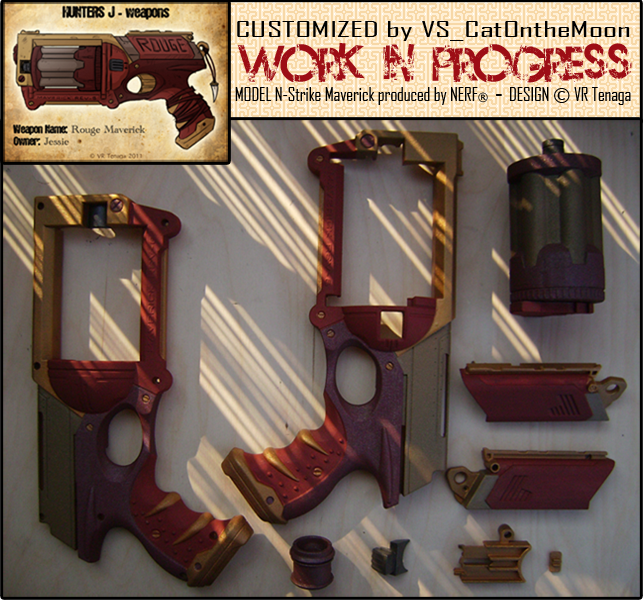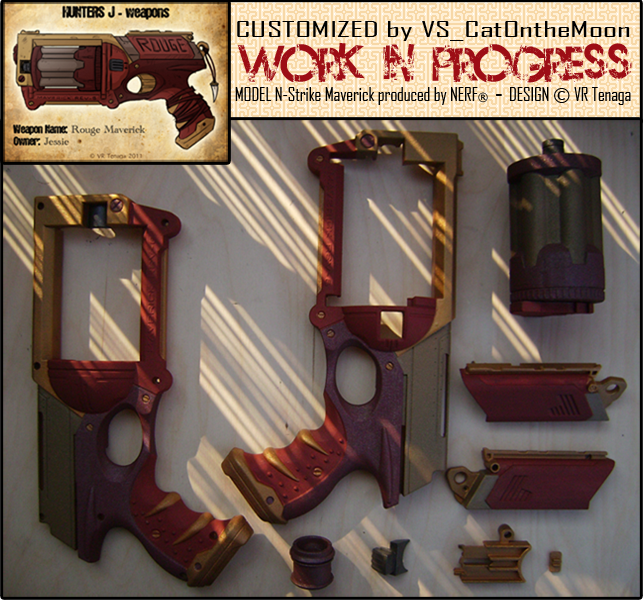 Weapon customized by VS_CatOnTheMoon 2011
∼OPEN COMMISSIONS∼
If you want a commission send me a note with the description of you're reference!
WORK IN PROGRESS
Hunters J - Real Rouge Maverick © VR TENAGA 2011
[link]
MODEL N-Strike Maverick produced by NERF®
[link]
Related works
Don't use without permission,don't use for site/blog/forum/gdr,don't re-color it,don't use the pose like reference



---
ART BLOG
[link]
GRAPHIC PORTFOLIO
[link]
PHOTO GALLERY
[link]

only advice is that a little weathering can make a prop really pop. Practice on other (cheap/expendable) things first though before you do it on an already finished product.
Reply

Thanks a lot for your advice

However in the final version there are several scratches, but they have been applied after the painting because the person that I did wont the grooves are filled with paint were used.
Reply

Yeah I already commented on the lack of weathering, but if you look at the reference photo in the upper right hand of the pic, you'll notice that it's a cartoon/comic style drawing, and the painted Maverick does look like the reference photo. I think that's the style *VS-Catonthemoon was going for, not "realistic" with heavy weathering.
Reply

Thanks for all the questions is very nice when people ask you about the work done!

Reply

how and what did you paint it with? iv been meaning to color my maverick but i wasent sure how to color it and still have it work
Reply

I used micaceous iron enamel colors, water-metallic enamel and acrylic mixed, because metal effect spray paint didn't give the result I wanted to achieve in this specific customization, they would be too glossy and shiny.

Reply

Wow, ma è davvero bellissima!!! Sembra proprio quella vera O.O complimentoni!!!!

Ma...piccola domandina stupida: funziona? (intendo a pallini XD)
Reply

Grazie mille fa molto piacere vedere che il duro lavoro fatto viene così apprezzato!

si si funziona, una volta rimontati i pezzi nel modo giusto, ma non spara pallini sono cartucce lunghe con della gomma sulla cima.
Reply

Reply

Are you done with the painting portion of the customization? Any chance you'll be doing any drybrush and wash weathering techniques?
Reply

The painting is now finished, then I had to add small details like the inscription on the charger and some scratches to make it living. I used micaceous iron enamel colors, water-metallic enamel and acrylic mixed, to make the matte finish and not glossy like with spray paint usually used.
Coming soon publish the full version and the tutorial to achieve it!

(Sorry for my bad english!)
Reply

Perhaps the WIP pictures doesn't do justice to the material, I used metal effect paint (micaceous iron enamel). However, such parties in light red and burgundy are deliberately matte because the comic book character that created this gun painted it with opaque colors. I hope that when you publish the photo of the finished effect is felt more.
Thanks for the link, there are wonderful customization and many useful ideas!

Reply

Looking sweet!

Reply