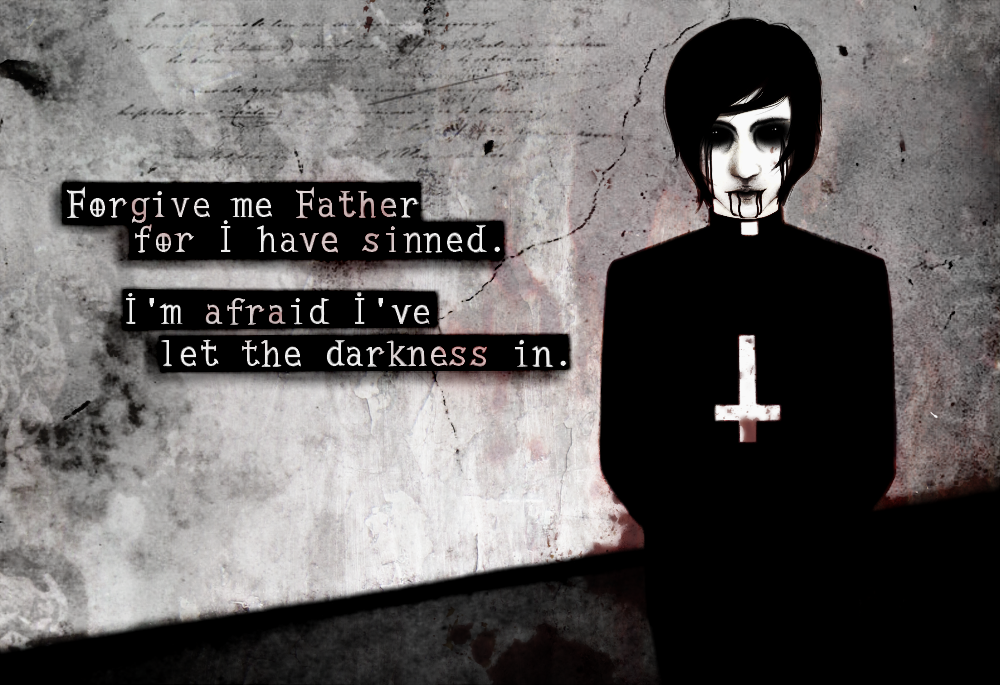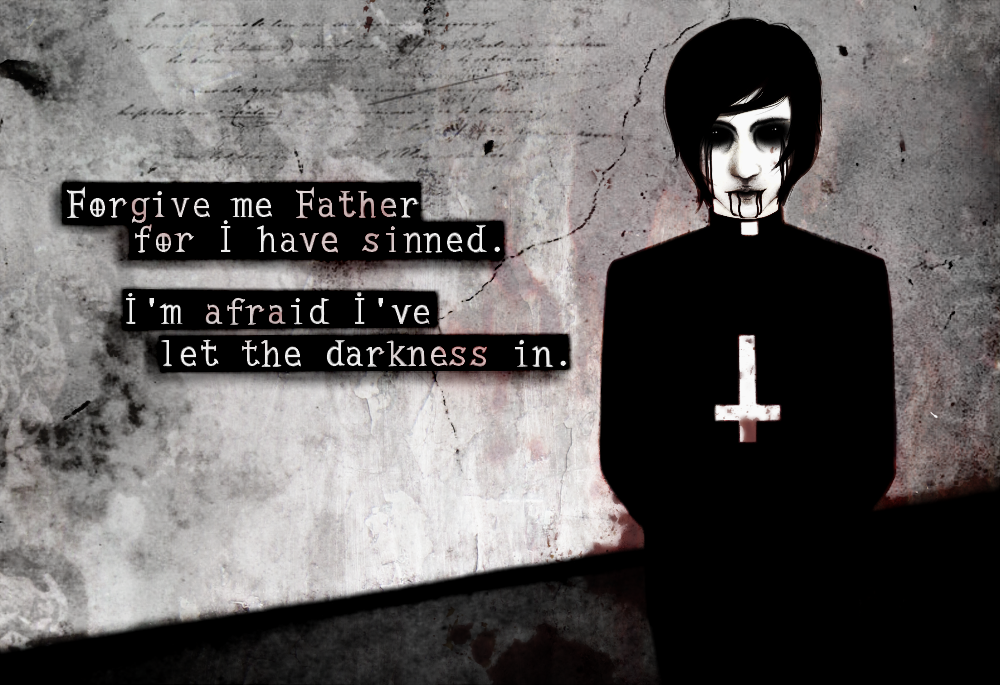 Forgive me Father, for I have sinned.
I'm afraid I've let the darkness in.

Just another bit from another song I'm writing. If there is a Hell,
this raging priest fetish I have is surely going to send me there.

Edit: Yes, I am aware that the inverted cross is not a symbol
directly linked to evil.

It is first and foremost the symbol of the martyrdom of Peter. It
is believed that Peter requested this form of crucifixion as he felt
he was unworthy to be crucified in the same manner that Jesus
died.

Though I used it here with a deeper meaning than mocking Jesus's
crucifixion or portraying the Cross of St. Peter. The inverted cross
is a symbol of a Christian martyr. During the early Christian centuries,
the term 'martyr' acquired the extended meaning of a believer
who is called to witness for their religious belief, and on account
of this witness, endures suffering and/or death.

This priest is possessed by the embodiment of the very belief
system he refuses. He's going to be called to witness for his
own beliefs and will, indefinitely, endure suffering and death.
I'm using it here to mock the martyr.



---


Texture: fav.me/d1091kt



---


Tools: SAI & Wacom Tablet
Hours: 4



---


Art: ©Voxsi
Lyrics: ©Voxsi

ALL RIGHTS RESERVED
Do not redistribute, claim, copy,
edit or use it any way. Thank you~
Firstly let me say why I think the piece works as there is only one minor element that I would personally alter for more impact:

Diagonal lines and the sharpness of their angle are what guide the eye as it absorbs in a new artwork so: the gentle gradient of the hillside matched against those of the shoulders create a slow movement after the eye is done reading the text for as it hits page, mostly due to the heaviness of the line used in the hill, it is the first slope the eye follows. If all line slopes were equal the eye would begin with the upper left corner's first met slope line but weight trumps position in most cases. As you will not is the case with the very sharp low weight stone crack to the left of the priest. The weight is so low that the eye doesn't follow it, too many of these will confuse the eye-path, here however it cushions and assists a later eye movement.

Since the hill line doesn't hit a mass of detail and shade variation at the body it passes through it, follows a backward 's' up to the face, here assisted by the crack, whose symmetry leads the eye around and the down the left shoulder into the text. In this there is a complete circuit. That pleases both left and right brain.

Here is really the only non-positive point I see: the font and weight of the text itself. The quickly resolving curves of it are in direct conflict with the slowness and ease of movement of the rest of the piece, add the serif and its a lot of fast eye micro-movements in a piece whose feeling is of a very cool and collected form of evil, which could work as a conceptual contrast of oooooh say 'the voice of the priest trying to speak beset upon by this thing'. I don't think that would work here though as nothing at all in the piece aside from the text suggests conflict, and I think with a sans serif font with more sharpness in its angularity the conflict would become instead a punctuated sarcasm coming from the demon. I would also try to achieve the blocking without use of the deep blacks, maybe only with font and accentuation with the blood splashing so as to take out those platforms which would further amplify the eye route of the diagonals.

Hope this helps. Cheers.
Revscrj
The Artist thought this was FAIR
6 out of 6 deviants thought this was fair.
i would hope to say one would see this as a positive critique on this work. this piece could be interpreted in many ways, as it seems to me its a rather surreal piece. there is a lot of texture, a lot to catch the eye and make it stand out at you. after initially reading the text, as one would do, which is very poetic, and a good choice of font and graphics, the eyes gravitate to the figure, rather two-dimensional, and with the amount of blackness in the figure's construction, attention is centered on the face. not too detailed, which would take away from the art, but the point of it clearly made. after that, one can speculate on the background. which i would interpret as a concrete looking construct. at first glance. then noticing the placement of the angles, i would suppose a piece of parchment set at an angle, with delightfully detailed and placed blood stains, to add the effect that this piece is no fairy tale, and you can feel the negative tension and impact in the work. its lacks gory detail, which would take away once again from the initial surreal concept of the work. all in all, a wonderful interpretive piece.

on other notes, as my critique is sounding a little too opinionated, the speculation on the three elements, the text, the figure, and the background: the main concentration should have been on the text, and the rest of it set a little more into the background. the figure, and other components could have been added a little more subtle, as to set the mood for the text. as it is, it appears more as a caption rather than quotation. acceptable either way, though very difficult to ascertain between the two options. as the figure lacks a shadow, it appears more as a two-dimensional character add on, overlapping the artwork, rather than blending into it.

positively speaking, the three elements do well with each other. though they appear separate, and give off three separate tones in the piece. the figure stands upright, has no detailed definition of his body. the background has a lot of definition, but leaves a lot of room to speculate its meaning. the text, that one would initially point their eyes to, doesn't have as much detail as the rest, which separates it as well.

i hope i have giving you some insight with my critique, as overall this is a wonderful piece and you have a lot of talent.
The Artist thought this was FAIR
6 out of 6 deviants thought this was fair.