Hello friends,
As you can see I have made it through the surgery safe and sound!
Actually, the surgery went a lot better than I expected (keep in mind this was my first surgery and I was pretty scared)
So for those who are curious here's how yesterday went! (If you don't care, read past the second break line)
~~~~~~~~~~~~~~~~~~~~~~~~~~~~~~~~~~~~~~~~~~~~~~~~~~~~~~~~~~~
I got to the hospital at 10am (10:00) and they brought me back into the pre-surgery waiting room.
I had to strip on down to my birthday suit then get into a gown, booties, hospital underwear (which are just sad mesh panties XD) They got me into my bed and got me comfortable.
Then the sweet nurse came in and put my IV in, another nurse followed her and put these sleeves over my legs (they would puff up every few seconds to promote blood flow to avoid blood clots) She also put a heating blanket over me.
After that they let my boyfriend and

join me in my room. Hana said they were calling her into work and ended up leaving at 11am (11:00). My boyfriend kept her updated though so she could update you guys on Discord.
The previous surgery ended up taking longer than expected so my surgery didn't actually happen until after 2pm (14:00). The nurses came into my room, gave me another medicine via IV, and put a cap on my head. I had my boyfriend snap a pic and then the nurses rolled me off for my surgery.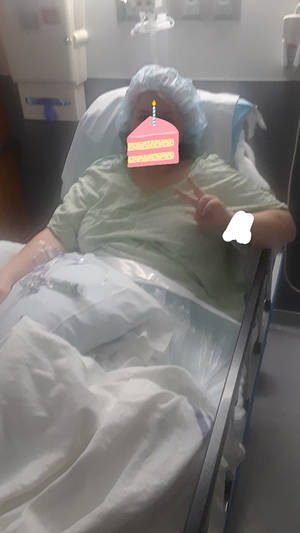 I remember getting into the OR and sliding from my bed to the OR table. They had me extend my left arm and then decided to extend my right arm as well. I remember them propping up the right arm and then that was it! I fell to sleep before I could do anything else. I don't remember counting backward or any of that jazz, as soon as I hit the operation table I was gone.
Next thing I knew I was waking up coughing. I had mask on my face and everything was blurry. I could see a person moving next to me and heard her talking. My throat hurt and my stomach was sore from coughing. I began to groan and the nurse patted my arm and told me "Sweetie, you're alright, no need to make so much noise, just relax" I stopped groaning but I continued to bobble my head around trying to see straight. It didn't feel like it was taking me long to come through and I soon began talking my slurred words at the nurse, I don't even really remember what I was saying. I think I told her my throat was sore (they put a tube down my throat after I fell to sleep to make sure I kept breathing and took it out before I came through) and all I kept saying was "my stomach... it hurts... it hurts..." So the nurse gave me more medicine in my IV and I started coming through even more.
Pretty soon I was talking to the nurse just fine and they determined it was time for me to go to the recovery room to sit up in a chair, drink water, and wake up more. My boyfriend could reunite with me there.
They got me transfered into my nice little chair, gave me water and crackers, and more medicine as I started to hurt again.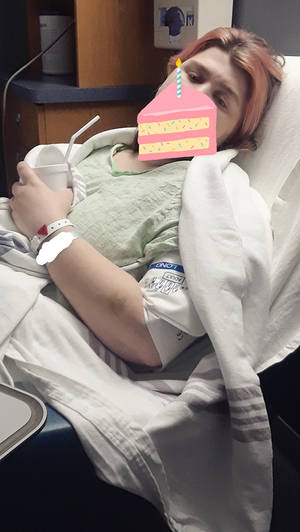 I started chugging the water as it was now like... 5pm (17:00) and I hadn't drank anything all day. I couldn't quench my thirst for anything! And the graham crackers weren't helping but I was soooo hungry! I think I drank at least 6 glasses of water trying to fix my problem... it wasn't working DX
Once I came through really well, was talking just fine and feeling better the nurse brought in more medicine (oral meds now) for me to take for my pain before leaving. She then helped me get dressed in the clothes I came in with and helped unhook me from all the stuff they had attached to me.
Seriously, all the staff at the hospital were freaking fantastic and they helped make my surgery experience sooooo much better than I could have ever asked for, it was some above and beyond service and I'll have to go in and bring all the nurses candy and cards for the specific nurses once I'm fully recovered.
I finally left the hospital at 6pm (18:00).
Once we got home there were bags in front of my door and a note. Unfortunately I was having a rough time with standing and couldn't do everything I should have done. Sorry Hana DX
Anyway,

wasn't called into work! She actually left so she could come to my house and decorate the crap out of it and make me an awesome surprise party! There was LoZ:MM stuff everywhere and she had the Song of Healing playing through her phone! It was freaking awesome and the best surprise I've ever gotten. All you guys need a friend like Hana, she's the absolute best and wasn't joking when she said she was going to make my birthday the best!
Thank you again Hana! I love you so much and I'm so happy I have a best friend like you

~~~~~~~~~~~~~~~~~~~~~~~~~~~~~~~~~~~~~~~~~~~~~~~~~~~~~~~~~~~
Anyway tl;dr, the surgery went great and I'm feeling pretty good while recovering. I'm keeping ontop of my medicine and am feeling very little pain (besides when I cough, laugh, or hiccup but that's normal).
I'm very in and out of consciousness but hopefully that will pass as I continue to recover.
Also, thank you to everyone for the birthday wishes you guys are all great and make me feel so loved

I'll update more as I improve. Until then, I'll do my best to keep getting better!
Love and Hugs,
Rose